The small Democratic Republican Party, Wednesday night, launched its manifesto for the Dec. 9 general election in which it outlined a seven-point to do list for its first 100 days in office.
"If you're fed up of the government, punish them with your vote. If you're fed up with the opposition and their failed attempts to move the government, punish them too with your vote by putting you X next to the heart for the DRP candidates in the constituencies we bring to you," party leader Anesia Baptiste said.
At a campaign rally in front of a small crowd at Fountain Gap, Baptiste announced the six candidates who will contest the general election on behalf of the DRP and said there is still time ahead of nomination day on Friday for persons interested in representing the party to come forward.
There are 15 constituencies in St. Vincent and the Grenadines.
The manifesto says that during its first 100 days in office, the DRP will establish a special education institute for training in small businesses for Vincentians, for example in agro-processing.
It will also identify useable agricultural lands and establish a plan for producing agricultural output from SVG to other countries, for example bananas, peanuts, beetroot, tomatoes and carrots.
During the first 100 days, the DRP will review the banana industry with a view to assisting farmers in accessing equipment to make products such as soap, toothpaste, etc., from bananas, the manifesto says, adding that details will be provided in due time.
The DRP will also boost tourism by developing certain areas of SVG as tourist destinations, for example, develop infrastructure around the La Soufriere volcano and the Grenadine islands for nature tourism, filming industry, etc.
A DRP administration will negotiate with friendly nations to establish electronic and other important businesses in SVG in partnership and will seek out training from Taiwan to make high-quality technological devices for sale/export.
The party will also vigorously work towards the safe and timely completion and operation of the Argyle International Airport.
Also, during its first 100 days in office, a DRP administration will find sources of funding, and create a mortgage finance institution in SVG to give soft loans to persons who need houses/lands (including fixing homes, etc.) to be paid back at low interest.
In presenting the manifesto, Baptiste outlined the DRP's policy on agriculture, food security and the environment, including the party's opposition to genetically modified organisms, and toxic chemical in agriculture.
The party will create a "new industrial revolution", which, she said, will facilitate a return to modernisation and introduction of industries and factories from which unique Vincentians products can be created for local consumption and export.
In the area of foreign affairs, tourism and trade, Baptiste said that a DRP government will maximise the nation's potential as the unique tourism destination and will build on existing niche markets such as pursuit of new and lucrative niches.
The party's foreign policy is founded on the principles of belief in the right to self-determination of all countries and freedom from persecution and discrimination, including that of ethnic and religious minorities.
The trade policy will open SVG to great markets in eastern and other European countries that will find the nation's products unique and cost effective because of currency exchange, the manifesto says.
The DRP is promising a revolution in health care, "based on our duty to enhance and protect the right to life of our people and all within our shores.
"We will promote an exponential development in health care and availability of medicine for the people of SVG," the party said.
In the area of fisheries, among other things, the party will facilitate the creation of industries in the area of canned fish and corned fished.
"Through discussions with the Republic of China on Taiwan, we will aim to provide greater assistance to Vincentian fishers to benefit from their quota in fishing in the Atlantic through the right tools (vessels, etc.)"
The manifesto also lays out the party's policy on crime, including a focus on restoring broken homes.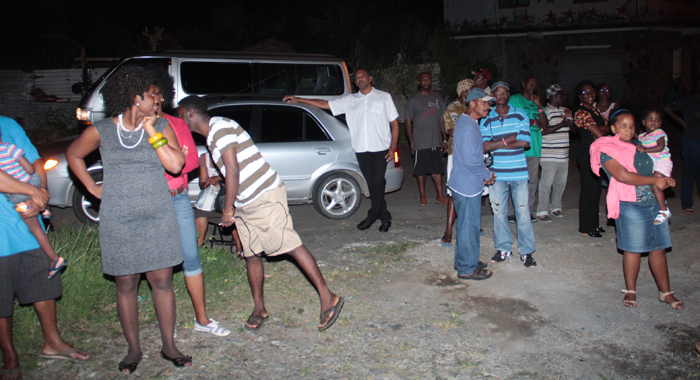 The party says it will pass laws such as procurement legislation and integrity legislation to eradicate white collar crime.
The manifesto also speaks to other policy areas, including sports development, constituency development and public sector reform.
"I want to tell you that many of the things I have spoken about can be found in this document. It is our manifesto booklet of the Democratic Republican Party. It is our effort, and it is only 36 pages," Baptiste said as she held up the document.
"So often we get manifestos, big and long and thick and people take them and they put them aside but if you open this document, you will see text that can be easily read and understood.
"You will see photographs illustrating different things and you will recognise that we are about educating the people so we have presented it in a very clear and easy manner to understand.
"And so I am asking you – we are not rich like the others. We are coming from the ground up, from scratch, from our already empty pockets, you see us here. But we are coming with heart. We are coming with compassion, with genuine interest and love for the people of this country," Baptiste said of the 3-year-old party.
"There is no level playing field here. The others can bring in 15 campaign vehicles if they want, one for each constituency, free of duty.  They can bring in their printed manifestos and t-shirts and all sorts of things free of duty. So when you ask us for t-shirts and we say, "I'm so sorry, we don't have', it's because we can't afford it.
"But let me tell you something, not being able to afford thousands of t-shirts, not being able to print 10,000 manifestos, not being able to have the most vehicles on the street, etc. is not evidence of not being able to represent you and your interest, fellow Vincentians."
She noted that three children who performed at the event are not political nor were they paid but she asked their parents to allow the perform because she likes their talent,
"We are not spending thousands to bring artistes here, because we complain about how hard this country is and we have mothers asking me every day for food for their children, but we have political parties spending thousands to bring all manner of artistes and to put on a show to pull out a big crowd.
"This DRP leader will manage this country well. We will not be extravagant and we will not waste money while people suffer. We will live within our means. So, on election day, remember that everybody starts at zero," Baptiste said, adding that crowds will not cause a party to win the election.
Baptiste, who is her party's candidate for West St. George, urged voters to vote for the DRP if they are fed up of the ruling Unity Labour Party's governance and the main opposition New Democratic Party's failure to remove the ULP from office.
"… let us together create better representation in the Parliament; better research, better debate, better contributions. Contributions that are mature, contributions that can say this is good, even if it is coming from the other side and contributions that can say this is bad; contributions that will not let partisan politics blind our eye.
"We will do what is best in the interest of the nation, because we are nation builders in the DRP," Baptiste said.