Prime Minister Ralph Gonsalves says landing a LIAT aircraft at the incomplete Argyle International Airport before the Dec. 9 general elections would prove that the opposition is speaking "nonsense" about the long-delayed airport.
"It would certainly convince people further that the nonsense the opposition has been talking about the airport is simply that — nonsense; that the airport is just about finish," Gonsalves told a press conference of his Unity Labour Party (ULP) on Monday.
The EC$729 airport has been under construction for just over seven years and has missed completion deadlines annually since 2001.
The government said earlier this year that the airport would be completed by year-end, but revised that timeline last week to suggest that it would not be complete before the first quarter of 2016.
The Eastern Caribbean Civil Aviation Authority (ECCAA) landed a small plane at Argyle on Thursday and gave permission for three other aircraft, including a 19-seater plane, to also land at the airport.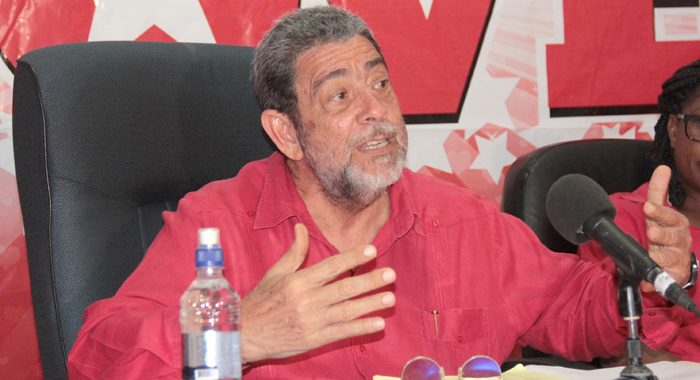 During a ceremony after the ECCAA test flight on Thursday, Gonsalves, who has ministerial responsibilities for civil aviation and is chair of LIAT's shareholder governments, said that if the opposition doesn't stop badmouthing the airport, he will land a LIAT aircraft there.
LIAT, which is owned primarily by the governments of Antigua and Barbuda, Barbados and St. Vincent and the Grenadines, operates ATRs 42-600 and ATRs 72-600 turbo prop aircraft.
Related: 
Gonsalves was asked at Monday's press conference what would be achieved from landing an aircraft at the airport and whether it was possible to get clearance to do so.
He said ECCAA would not have given permission for the other three planes to land at the airport on Thursday if it wasn't sure about the safety and security of what is already at Argyle.
He spoke of the work of Radiola Aerospace Limited, New Zealand firm that specialises in flight inspection, navigation and communication systems and services.
"I am sure that they would confirm that it is safe and secure for a LIAT aircraft to land there.
"The tower is working, the lights are — the PAPIs (Precision approach path indicators) are in order, the fire engines are there, the runway — over 6,000 feet of runway has been paved," he said, noting that E.T. Joshua Airport at Arnos Vale, the nation's main airport, is only 4,600 long.
Gonsalves said that the taxiway and apron at Argyle are also in order.
"And, you see, what happened, and the journalists know this and the country knows this, when the airport was being badmouthed by various persons who presumed to be professionals," he said.
"ECCAA is an excellent regulatory mechanism," Gonsalves further told reporters, noting that he, as minister with responsibility for civil aviation in the quasi cabinets of the Organisation of Eastern Caribbean States and CARICOM, led the work for ECCAA to return to category 1 certification.
"Now, we have been working with ECCAA all the time," Gonsalves said.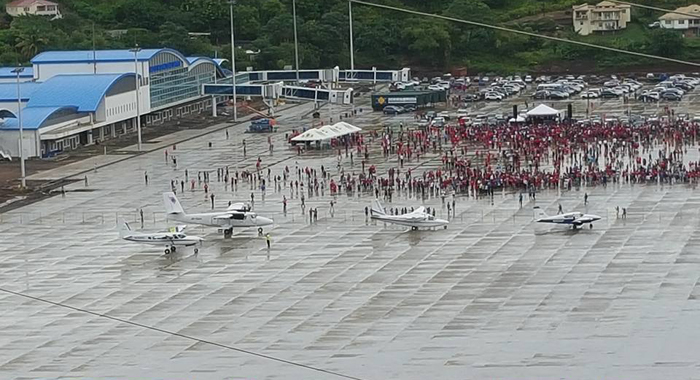 He said critics had said that no planes will land at Argyle   because the alignment is wrong.
"Then they said if any plane were to land you would need to have a crosswind runway and that is not there.
"And my answer was, we have been testing wind studies for the requisite period that if you need a crosswind runway it would only be half of one per cent of the aerodrome itself," Gonsalves said, noting that the Caribbean Metrological Organisation recently confirmed that a crosswind runway is not needed at the airport.
Gonsalves reiterated that permission could be granted to land a LIAT aircraft at Argyle.
"I'm saying to you that under the existing regulatory framework they can permit LIAT to land there, because they have been working with us all the time and the progress …" he said, as he again noted the work that has been completed at the airport.
"That's why I answer you this way. I wasn't talking in the abstract. That's why I give you details.
"And it will demonstrate further the folly about what they are talking," he said of the promised landing of a LIAT aircraft at Argyle.
"Whether or not I would carry out my promise would be for us to see, but it would be fascinating to watch, if it were to take place," Gonsalves, however, said.