Prime Minister Ralph Gonsalves has accused the main opposition New Democratic Party (NDP) of wanting to overthrow his Unity Labour Party (ULP) government.
The ULP was re-elected to a fourth consecutive term in office on Wednesday after it won eight of the 15 Parliamentary seats, according to the official count.
Related:
But the NDP, which won the remaining seven seats, says it is the legitimate government, claiming that it won the Central Leeward constituency also, which officials have placed in the ULP column.
Speaking at the ULP election victory rally in Argyle Saturday night, Gonsalves said:
"And I am urging them to stop this nonsense about bringing out a few hundred people to try and block roads to stop people from doing their work."
He said it was not a question that there is a policy of the government that is being challenged with a view to reversing it.
"… this is a free and fair election in which a government won," Gonsalves said.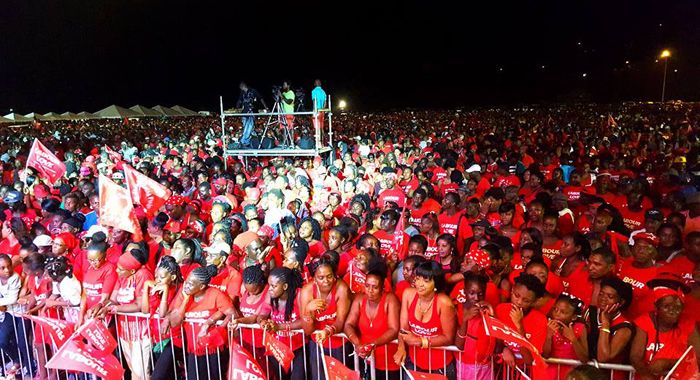 "The party won, the ULP won. And what they are wanting to do, in short, is to carry out a coup d'état against a legitimate government. And I will not tolerate, and I will not allow the NDP to undermine the free and democratic institutions of this country.
"Up to now, I have not asked Labour people to come out and confront the NDP. I haven't said that, because I don't want any war and bloodshed," Gonsalves told party supporters at the construction site of the Argyle International Airport.
Gonsalves, however, invited party supporters to come to the swearing in ceremony of the Cabinet at Heritage Square in Kingstown on Monday.
He said he, the Governor General and three pastors will speak at the event, where the ministers will take their oaths of office.
"And I want you to be there, because what we are doing there is your business and I want to see you there coming out in your numbers."
Gonsalves told party supporters to come early, saying they will not get transportation, as vans will be taking passengers home.
"I want you to come earlier and hang around and wait until we start the proceedings at 4:30. It is important that you listen to what I am saying on this, if you want to be there. And it is important that you be there. It is a historic occasion," Gonsalves said.
He said it is the first time in the Caribbean that a party with the same leader had won four consecutive terms, both with the seats and number of votes.
"And on this fourth term, what makes it particularly historic is that we increase the number of votes we got over the year 2010. It's a remarkable performance, and I thank you," Gonsalves said.