The Canadian investors who are building a resort at Peter's Hope are also hoping to cash in on the country's marijuana.
Ellsworth John, St. Vincent and the Grenadines' ambassador to Cuba, who wooed Canadian firm PACE Developments to the country, made the disclosure on radio last week.
"One of the reasons I think they are focused on the black sand is because black sand, the volcano, it's supposed to have some kind of medicinal purposes," John said on Boom FM on Wednesday.
"And so, one of the benefits that's going to be pushed for the resort is the whole concept of medical marijuana. I know they are in discussions right now about different things — Oh, I'm not supposed to say those things? There you are," John said, apparently after receiving a cue that he had said too much.
John, however, said, "There's a lot of give and take with locals in terms of that aspect and in terms of medical personnel who will be coming in to provide service."
John was speaking during a programme in which Joseph Romano of PACE was engaged in a public relations appearance on the station, promoting the development.
PACE Development will build a 200-room hotel and 50 villas at Mt Wynne-Peter's hope.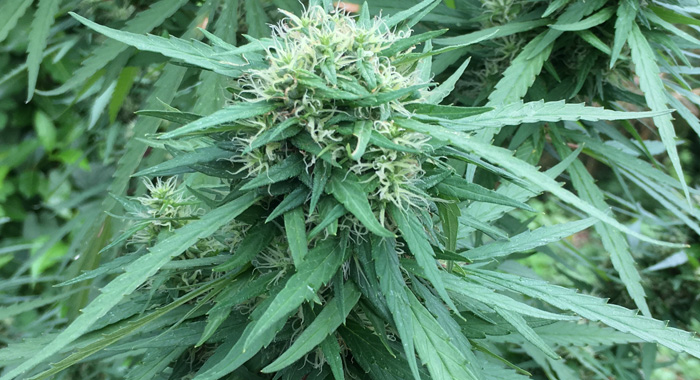 Romano was told that Prime Minister Ralph Gonsalves has spoken about a Canadian firm being interested in Vincentian marijuana for medicinal purposes.
He confirmed that Gonsalves was speaking about his company.
Romano said he is a personal injury lawyer who has been practicing for over 15 years.
"And I've been effectively advocating the use of medicinal marijuana for my clients who are injured, chronic pain cases, serious injuries, depression, anxiety, sleep disorders. We work with a group of doctors in Canada that prescribe medicinal marijuana. So, it's different than ganja, different from marijuana and we monitor the effects, the health benefits."
Romano said that what he has seen in his practice is that injured persons are often prescribed anti-inflammatory and painkillers.
"Painkillers can lead to addiction… But there has never been that same problem with monitored medicinal marijuana programme," he said.
He told listeners that he will be speaking in Toronto at a conference advocating medical marijuana, organised by the medical legal society of Toronto.
Doctors and lawyers are members of the society, Romano said, adding, "I'm considered one of the leading experts legally in medicinal marijuana."
Asked if marijuana was one of the draws to St. Vincent, he said, "It's more the geography. Where you grow marijuana–"
Romano said he has never tried marijuana and doesn't know what kind of marijuana is produced in St. Vincent.
Asked if he was in discussion with Gonsalves about medical marijuana, Romano said:
"The mountain marijuana is not gonna pass… You need to set up pretty much like a pharmaceutical company here."
He, however, told listeners that PACE has no plans to get into that.
John, in an apparent attempt to shift the discussion back to the resort, chimed in, "And we are here to discuss PACE and the ground breaking tomorrow."
Romano said there will be pain management centre at the Black Sands Resort "where medicinal marijuana, should it be legal, should it be prescribed by a practising doctor here, where we can follow all the laws, where we can treat people there".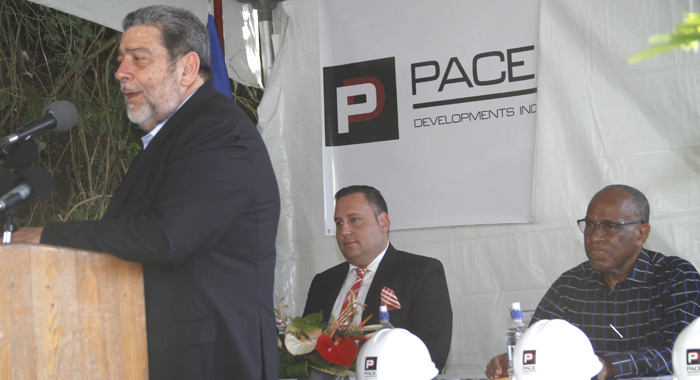 Romano said Black Sand Resorts also want to do medical tourism, providing aesthetic procedures such as hair transplant and liposuction.
PACE has said that it will not import white said to cover the natural black sand at Mt Wynne — as was done at Buccament Bay, where Harlequin built Buccament Bay Resort.
Speaking on Thursday during the ground breaking ceremony for the resort, Gerald Gouveia of Roraima Airways, a Guyanese company hoping to provide flights into Argyle International Airport when it opens on Feb. 14, said that Canadians are happy when black sand is found in his country.
"… in Guyana, when you hear people discover black sand, the Canadians go crazy because that is where the gold is," he said, light-heartedly at the ceremony also attended by Romano.
"So, I hope that that the Canadians here are really building a resort and they are not digging for gold," Gouveia said to laughter.
"On a very serious note, though, tourism is, in fact, gold," he said, adding that US$600 billion is being spent on tourism across the world.
Addressing the same ceremony, Gonsalves reiterated that his government is interested in a medical marijuana industry.
"Not to sell the ganja overseas but to have a laboratory established here where the medical properties are extracted from the marijuana grown for the specific purpose for export to places such as Canada and European countries where export licenses are granted."
He warned persons against behaving as if marijuana has no medicinal properties, even as he said that if abused and misused, marijuana "is a dangerous drug".
"And we are not talking about decriminalising for purposes other than medicinal marijuana…" the prime minister said.
Mt Wynne developers have half the money needed to build resort