The star witness in the case in which a pastor, his wife, and their daughter are charged with pouring hot water on a man in Mesopotamia told the court on Friday that the couple held the man while their daughter poured a hot liquid on him.
Pastor Nigel Morgan, his wife, Althia Morgan, and their daughter, Krystal Morgan, of Hopewell, Mesopotamia are each being tried at the Mesopotamia Magistrate's Court on one count of causing grievous bodily harm to Cuthbert "Mafia" Victory, a resident of Caruth, Mesopotamia.
In an April 9, 2016 video, circulated on social media, the older Morgans are seen holding Victory while their daughter pours what is said to be a hot liquid on him.
The incident occurred near the Morgan's home and Victory suffered severe burns about his body, which he has said resulted from the incident.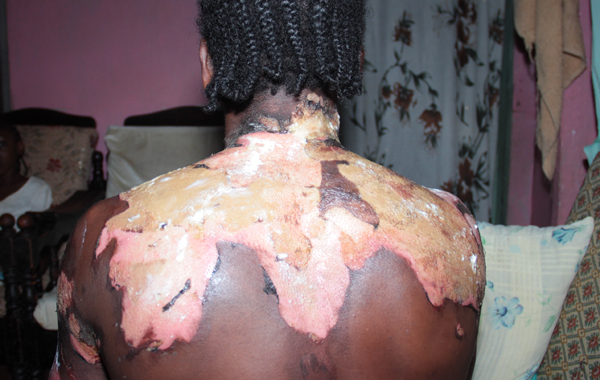 The "star witness", Clint Antoine, of Biabou, who was living in Hopewell at the time of the incident, took the stand on Friday.
He was escorted to court by two police officers, a compelling summons having been issued for him on Feb. 28, 2017, after he failed to turn up to court for a second consecutive time.
Antoine told the court that he has known the defendants for a short time, but has been friends with Victory for about five years, adding that the defendant used to visit his home in Hopewell.
He said that about 3:15 p.m. that day, he was preparing to go out when Victory visited him. He said he went back inside to complete his preparations.
Antoine told the court that sometime later, Mr. Morgan came to his house and asked him why he was harbouring Victory there, claiming that whenever Victory comes by, he would harass him (Mr. Morgan) and his family.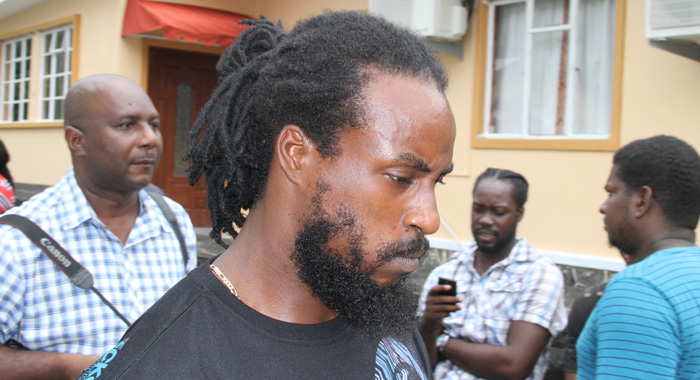 The witness told the court that Morgan began cussing Victory, telling him that he can't read and write.
Victory, who was playing music, began cussing Morgan, telling him to "study" his own family, Antoine said.
He told the court that one of the songs that Victory was playing on his juke box was Vybz Kartel's "Tell Me If You Like It".
The witness told the court that Mrs. Morgan came out of her house and told Victory to leave her out of the skirmish. Antoine said she was waving her hands in the air, then came over into Antoine's yard and placed her hands in the air in front of Victory and was saying she pleads the blood of Jesus on him.
He said Victory then left and walked to the corner of the property and went into the public road, at which time he placed his juke box into a backpack he was carrying.
Mrs. Morgan went back to the road and she and her husband began cussing Victory, Antoine told the court.
Antoine said that Mrs. Morgan then shouted "Bring the thing for me!" and "Bring the gun!".
The witness told the court that Mr. Morgan had a "tube bottle" in his hand along with the book. The witness, a mason, who told the court that he cannot read too well, said he could not say what type of book it was.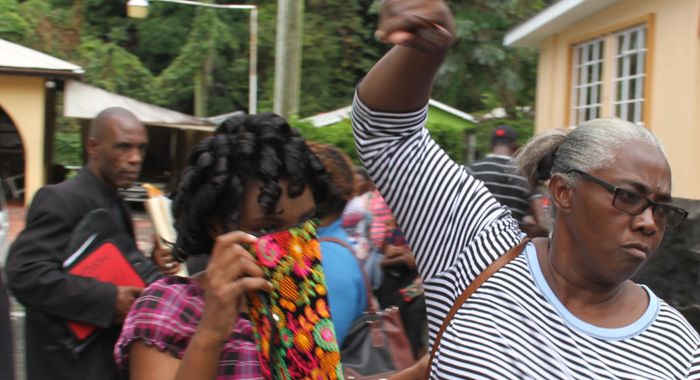 He said during the exchange of words, Mr. Morgan placed his hand on the bottle then placed it above Victory's forehead. Victory swung his hand and Mrs. Morgan held on to him and they began fighting, Antoine told the court.
He said Mrs. Morgan shoved Victory about two times and he held on to a tree and they were still wrestling. He said that Victory and Mr. and Mrs. Morgan fell into the drain and the fight continued.
Using a police officer to demonstrate, Antoine told the court that Mr. and Mrs. Morgan each held Victory on either of the sides of his body in such a way that he couldn't set his free his hands. He said that while they held him in that position, their daughter came with a black and silver kettle.
While she was approaching, Mr. Morgan looked around twice and appeared as if he was about to say something, Antoine said.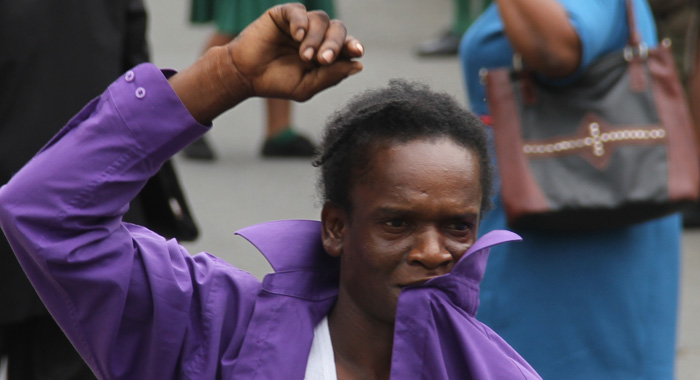 While Mr. and Mrs Morgan were still holding Victory, with his back turned to all three of the Morgans, Khrystal poured the contents of the kettle onto him, Antoine told the court.
He said that Mrs. Morgan then swung Victory, causing him to hit his head against the stone wall of the drain and he then saw what appeared to be blood on Victory's body.
Victory then staggered out of the drain then began to run, Antoine said, telling the court that it was at this point that he, too, left the scene.
He said there were some children around by that time, but added that they only came out of their homes after the fighting began.
During cross-examination by defence counsel Kay Bacchus-Baptiste, Antoine said that "Mafia" is just a nickname and that Victory did not have that alias because he was "a bad egg", as the lawyer had suggested.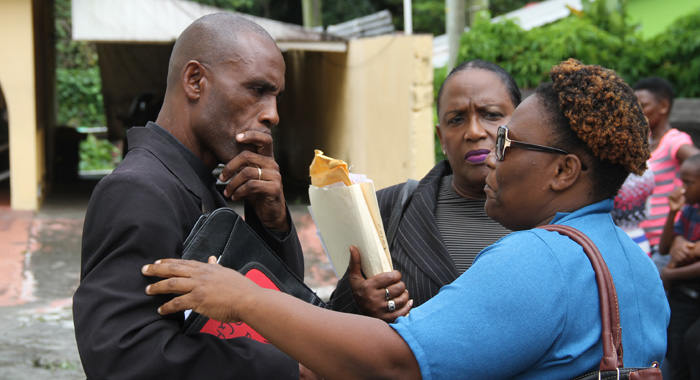 He further said that he does not know that Victory comes to his house to harass the Morgans as the lawyer said, adding that since he lived in the area, Victory has never caused trouble at his house.
Antoine admitted to the court that he had gone to hide when he saw Victory coming, but said he did this in jest.
He told the court that while Victory had told him that he was going to collect some "weed" (marijuana), he did not know the virtual complainant to have been drunk, as the defence counsel suggested, or that he smelled of alcohol.
The defence will present its case when the trial resumes on June 2.
Magistrate Rickie Burnett is presiding.
Jesus' blood couldn't restrain man burnt by pastor's family, lawyer says