By Gabriel Patram (DPI/GINA, Guyana)
GEORGETOWN, Guyana — "An artist's work should speak for them", these are the words of 70-year-old Josette Norris, the oldest functioning artist from the Caribbean nation of St. Vincent and the Grenadines.
She is currently in Guyana displaying her work in an art exhibition being held at 160 Waterloo Street from 6 p.m. to 8 p.m. and will conclude on Saturday, June 10.
Her pieces represent her mind, heart and soul. Norris is here based on the request from her son-in-law, Ronald Birch Smith. She described herself as camera shy and prefers her work to speak for her. Norris also makes jewelry; another talent that she said is only done if it is about "extraordinary things".
Norris said that from the time that she was born she knew she was going to be an artist, even though she did not know what that meant."Everything that I could or could not do this is the one thing that I wanted to do."
"Everything that I could or could not do this is the one thing that I wanted to do," Norris said.
Norris studied at the Jamaican School of Art where she learned extensively about the industry. However, the road was with not without its challenges as she was refused admission to a famous Canadian college, which dampened her spirits a little but never kept her down.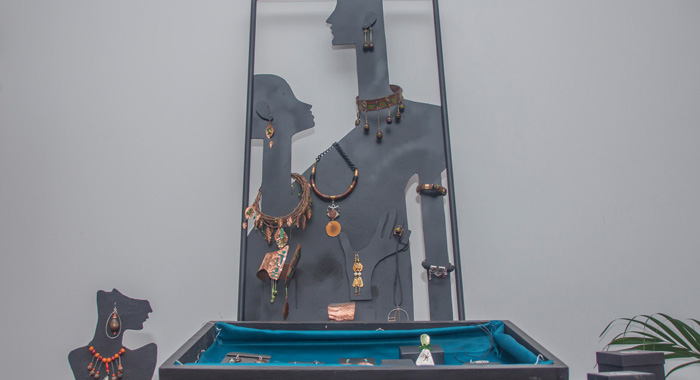 Norris highlights that she appreciates "true feelings when it comes to her paintings". She explained that if someone does not like her paintings, she does not have a problem with that since she wants to "evoke honest emotions". The artist has a high interest in watercolours, especially of old buildings in St. Vincent and the Grenadines.
For every artist, there is always a favourite piece in his or her collection. Norris points DPI/GINA to the piece that "touches her every time". She explained that it started out with just an egg and then matchsticks were added to her "masterpiece". She then painted another piece that shows the bird evolving and now fully-grown and ready to take on the world. Her inspiration "comes from anything that surrounds and the mood that she is in."
Apart from her focus on painting and jewellery, she also experiments with ceramics and graphics in her spare time. She is also an enthusiastic photographer, doing weddings occasionally.
Additionally, Norris explained that whilst sitting on the veranda of her home she would see different persons on bicycles riding and engaging in stunts so she became fascinated by bicycles in Guyana, and has created a book that entails a number of things persons do on bicycles.
Norris has visited Guyana on many occasions. She noted that this time around, "The city is beautiful and clean. I can see the trees and smell the air, walk around freely."
Norris made the point that "once there are clean surroundings in a country, the citizens will behave better".