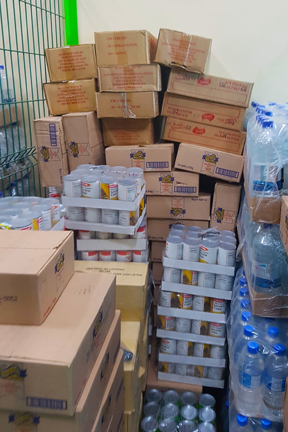 The Government of St. Vincent and the Grenadines has sent hurricane relief supplies to the island of St. Maarten, which was battered by Hurricane Irma on last Wednesday, Sept. 6.
Irma hit the French/Dutch Island as a category 5 hurricane, devastating most of the territory and also causing extensive damage to the famous Princess Juliana Airport.
Two major supermarkets, Massy and C.K Greaves assisted the government with the supplies that include bottled water and canned foods.
On Sunday, four WINAIR aircraft left the Argyle International airport with the supplies.
Chief Pilot Michael Awai said he appreciated the gesture from the government of St. Vincent and the Grenadines led by Prime Minister Ralph Gonsalves.
He said his island was hit hard and appreciated any assistance given no matter how small.
"We have our contribution from St. Vincent, we look forward to other islands next week, I think St. Kitts is going to supply, St. Lucia is also supplying, means in the next couple days we will be coming back down to the islands," he said.
Hurricane Irma passed through the northern Leeward Islands, the Virgin Islands, Puerto Rico and the Bahamas leaving more than 30 dead, thousands homeless and millions in loss and damage.
(API)