By Kenton X. Chance
ROAD TOWN, British Virgin Islands — Two Vincentians here have spoken about their frightful experiences during last Thursday's passage of Hurricane Irma, which left five persons dead and widespread destruction across the country.
On Monday, Wendon Parris, a cook, who is originally from La Croix, spoke to iWitness News outside a ferry terminal in Road Town, the main city, where he was trying to make his way from Tortola, where he and his family weathered the storm, to Anegada, where he works.
Parris would experience Irma's fury after he missed, on Wednesday, the flight that should have taken him, his wife, and their 4-year-old twin boys to St. Vincent on a planned vacation.
He told iWitness News that he passed the storm at Diamond Estate in Tortola, where he was "pretty safe".
"… but it was a pretty violent storm," Parris told iWitness News.
"We had to close up everything and hunker down but nothing broke. We had storm shutters and it held up well," he said.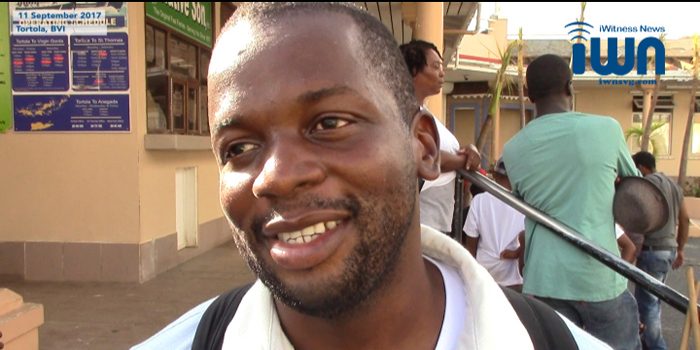 Parris said he was "shocked" when he came outside and saw the extent of the damage.
"I have never seen anything like it. There is not a leaf left on a single tree. It's like a tornado hit. I hear people saying there were tornadoes in the storm but I don't know. It's like a hundred vehicles flipped over. That's no ordinary storm."
In Tortola, Hurricane Irma relieved trees of their leaves and uprooted many of them, slamming them into vehicles and buildings as it churned its way through the Leeward Islands with 180 mph winds.
Reports say that as many as 80 per cent of the vehicles on the island were damaged during the storm, as evidenced by the number of them with broken windshields and dents seen on the roads on Monday.
Parris, who works in Anegada, another of the British Virgin Islands, was returning to the island to see whether his home had survived the storm.
Telecommunications, electricity and water supplies are down across the territory and Parris told iWitness News he was yet to hear anything about how his house had fared.
"Anegada, as a whole, is not nearly as bad as Tortola. I think we (Tortola) got the full force of the eye wall here but Anegada, I think, was locked out a bit, so, hopefully, it is not too bad," he said.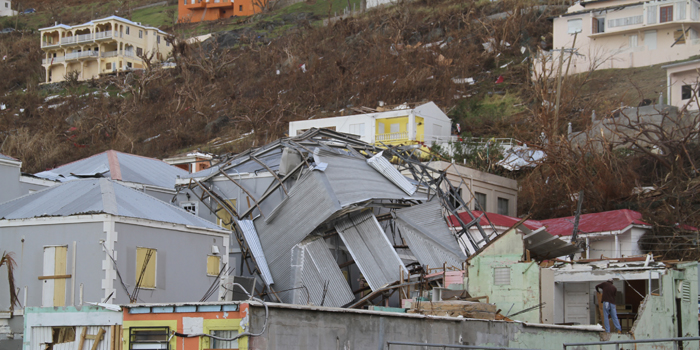 Having been based in the BVI for the past nine years, Parris also experienced the fury of Hurricane Earl in 2009.
But, for him, Irma was "totally different".
"We just sat back and watched it. It did a lot of damage to businesses and the docks," he said of the cycle seven years ago.
"You didn't see debris flying around. This is no ordinary storm. I hope I don't see anything like that again," Parris told iWitness News of Irma.
He said that he had no electricity, or water where he stayed since Thursday but had bought some food before the hurricane and more after that.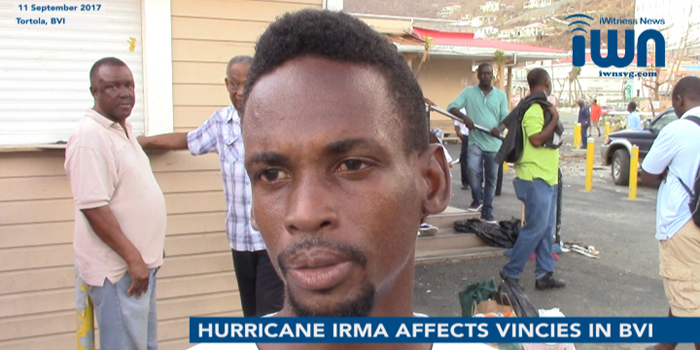 Also waiting at the dock in Tortola was another Vincentian, Fidel Constantine of Park Hill, who came to Tortola four months ago.
"It was bad. Just as I came out the room, the whole room, the window them start to break out and the house flooded. The bedroom window break," Constantine told iWitness News.
He said that after the windows broke he had to go into the living room and stay there until the storm passed.
Constantine, who works in maintenance in Anegada and had never experienced a hurricane before Irma, said the storm was "was terrible".
"Where I was staying, I saw a passenger van lift from the back of the house and pitch straight round in the front. It was really terrible," he told iWitness News.