By Kenton X. Chance
BATACA, Dominica (CMC) — The tent in the yard paints a different picture. It could easily have been part of a summer camp.
But the environment in which the teenagers are playing cards under a tree in the Kalinago Territory on the northeast section of the island provides an accurate description of the devastation caused by Hurricane Maria when it slammed into Dominica on Sept. 18.
Trees have been stripped of their leaves and branches, while others have been uprooted, coconut palms have snapped in halves, and piles of rubble — mangled zinc sheets amidst pieces of lumber and damaged household appliances — are the only clues that some of the debris were actually homes just two weeks ago.
The tent is pitched in the yard of 63-year-old farmer Kent Auguiste, whose compound is once again home to his two adult children and his grandchildren.
They moved in since the devastation of Hurricane Maria, the Category 5 storm with maximum sustained winds of 200 miles per hour (mph) that left at least 26 people dead and 32 missing, according to official figures. Unofficially, the figure is put as high as 60 dead.
"All of them were independent — at their homes. But during the storm, they had to come home, they had to come over and meet me," Auguiste says of the 12 people who now live on the compound, which is stretched to its limit. The tent in the yard is the sleeping quarters for three of them: an adult woman and her children.
The extended family has electricity for about an hour a day because they have "an old generator" — now considered a luxury — which they use to charge their mobile phones.
"The storm has taken away all forms of electricity," Auguiste tells CMC.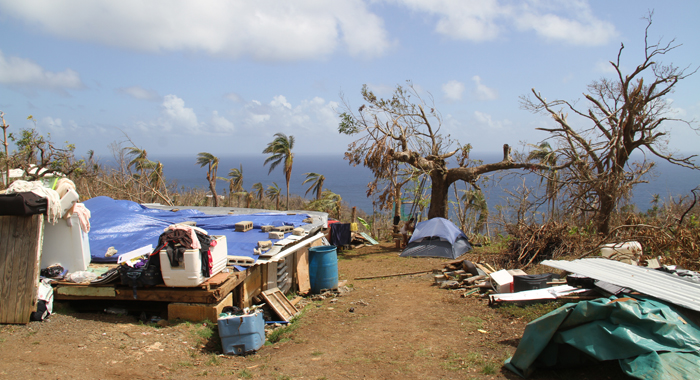 But in the circumstances, electricity, even in the main city, Roseau, 28 miles away, is a luxury for many. Food here, as in many other areas of the country, is also in short supply.
In the Kalinago Territory, home of Dominica's indigenous population, farming is the mainstay of the economy.
"Our food has gone away as well. We don't have food. Our garden is destroyed, and so on. So we are experiencing some food shortages. We also experience water shortage because the water system is damaged and so we depend solely on rainwater. Sometimes we have to go to a little spring to get some water to drink," Auguiste said.
Food was delivered to the storm-ravaged community on Monday for the first time since the storm as roads across the country became passable again.
"I don't know if the other areas have gotten food, but in that little area in Bataca, that is the first food we have gotten so far," said Auguiste, who has training in forestry and makes a living primarily from farming.
"It is totally destroyed. What was not destroyed is not to be seen, so to speak," he tells CMC of his farm, where he grew passion fruit and peppers in the Concorde Valley, about three miles away from his home.
"That is totally gone," he reiterates, adding "I think, honestly, it is going to have a long term impact, a major impact, because the majority of people here, they are farmers, they depend on their farms to survive,
"The little bit of civil servants we have is not so significant but the impact it is going to have on farm families, I believe, is going to be on their education, health," Auguiste said, noting that schools have not yet re-opened since the storm.
"The children, they are around, they are home, they are now disoriented after the major storm, especially young people now. I survived Hurricane David, so I know what it is like. Without boasting, I am probably stronger to survive than them."
Auguiste daughter, Emaline, is among the handful of residents in the community, who do not work in agriculture. She is a nursing assistant.
She points to the tent in the yard, saying "that's where I am staying right now. I sleep here and I eat in the kitchen".
There are two mattresses and some clothing inside the tent and Emaline says it serves as home for her 2-year old daughter and 14-year-old son. Their former home was destroyed by the hurricane.
"It is on pillars. I live on the ridge, Horseback Ridge, so it was destroyed," says Emaline, who has been reporting to work, notwithstanding her own circumstances.
"It has been a hustle from the beginning because the road wasn't motorable," she said, adding that while her children have been doing well, she would like for things to settle down quickly.
"It is just that I need somewhere stable, because she is a bit confused as to where is home right now, because we have been switching from different areas until we end up here," Emaline says, referring to her daughter.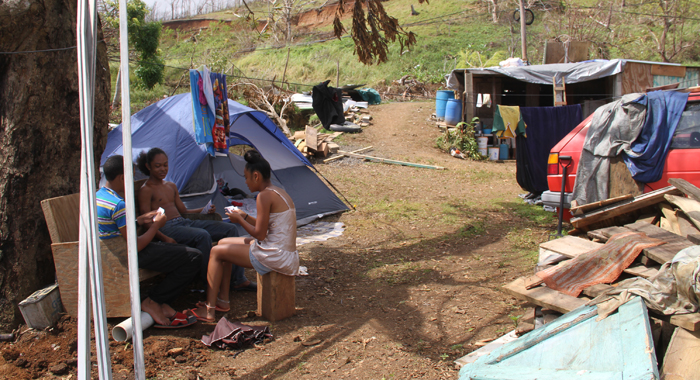 But the storm has also had a significant impact on older children, such as Aniska Auguiste and her brother, two of Kent's grandchildren.
"I was terrified of it when we were upstairs and the roof started going and the backdoor flew out," says Aniska, adding that her brother's suffered a scratch to his neck when he was caught in a wire as they fled their damaged home at the height of the storm.
"A barrel fell on my brother's back and it came back and hit me on my head. I went downstairs to check on my little brother because he had gone there to sleep with my grandmother and my little cousin. He was crying, asking my mother if we were going to die, so my mom told him no."
Aniska said her brother's school "is gone so there is no school or him". She has not seen her school since the storm.
The Auguistes live in a community where an assessment by the Barbados-based Caribbean Disaster Emergency Management Agency (CDEMA) has found that about 80 per cent of the houses suffered level 3 or 4 damage, that is, "they were destroyed or suffered significant damage".
Retired Brigadier General Earl Arthurs, leader of the CDEMA team deployed to Dominica, said a donor agency is interested in contributing funds to the rehabilitation of the housing stock in Dominica.
"At this time, they didn't have any information on the housing stock and so we had some CARICOM Disaster Relief Unit (CDRU) guys who went out there to do an initial assessment of the housing stock.
"In the next two or three days, we will be able to tell you definitively (the extent of the damage) but what we have been told is that there are a lot of level 3 and 4 damage. Level four is totally destroyed and level 3 is extensively damaged," he said, noting that the donor was not committing to addressing housing in any particular area of the country.
On Tuesday, some residents of Bataca were trying to patch up their damaged homes to make them habitable until more substantial repairs — or reconstruction — can be done.
Emaline is confident that things would return to a new normal, telling CMC, "it would take a little while, things don't happen in a flash. Things will take a little while."
She said she has been explaining this to her children daily, even as her 2-year-old daughter continues to be confused as to why they are not at home.
"We used to live on the ridge by my other cousin and then we went to another one and now I am here. I need somewhere stable for at least two to three months until I am able to put back a structure."
The 63-year-old patriarch is also confident that his family and community will come out of Maria stronger and
"Because of the resilience of the people, they will rebuild once they get the assistance – they get the material, they get basic things like galvanise for covering, nails, etc.," he tells CMC.