Climate change, vulnerability to economic shocks, crime, and unemployment are among the key challenges St. Vincent and the Grenadines faces, Governor of the Eastern Caribbean Central Bank, Timothy Antoine said on Thursday.
Speaking on the eve of the nation's 38th anniversary of Independence, Antoine listed high debt and limited fiscal space, low competitiveness, and an inadequate regional retail payment system for small traders as completing the list of the top seven challenges.
SVG has recorded 35 homicides this year, a figure that is just less than the recording-breaking 40 of 2016.
In addition to the killings, a number of innocent bystanders have been shot and injured, many of them in public places, as elements of the criminal underworld train their guns on each other.
On the subject of climate change, Antoine said he doesn't think that anybody can wonder whether climate change is real.
"It is happening," Antoine told the media during a briefing in Kingstown.
The briefing was held after the governor's consultation with government, opposition as well as civil society officials in SVG this week.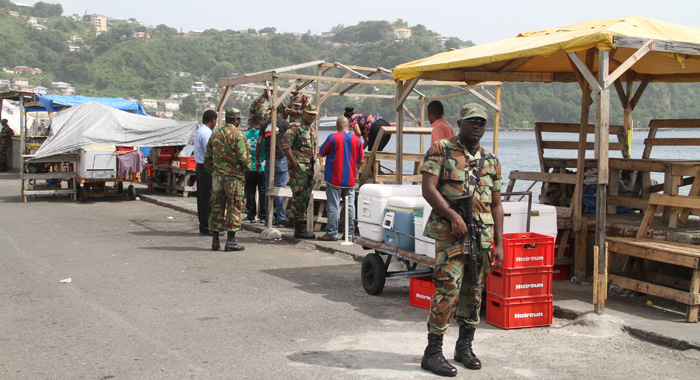 He said that when he speaks of climate change, he is not only referring to tropical cyclones, but to extreme weather events such as the trough system of December 2013.
Antoine also mentioned unseasonable weather events, including floods and heavy rains that result in the temporary closure of businesses and damage to public infrastructure.
"It (climate change) really hurts the country's infrastructure, it challenges government in terms of fiscal performance because it has to find money, it has to respond to these disasters, these extreme weather events, and therefore climate change is definitely a major challenge."
In terms of growth performance, in 2016, the Vincentian economy grew by 0.8 per cent but during the first half of 2017, the economy contracted by 0.7 per cent.
"But I am advised, based on information that I got in the recent days, that we expect an improvement in the second half [of the year], with the increase in cruise arrivals, cruise visitors as well as some other projects which are coming on stream."
Antoine was speaking on a day that the first cruise ship for the 2017 season arrived in Kingstown for what Prime Minister Ralph Gonsalves said will be bumper cruise season.
SVG is expected to see some 27,000 cruise visitors this year, twice last year's figure, and three times that of 2015.
The increase is partly due to the impact of storms in this Atlantic Hurricane Season on other Caribbean destinations, and is expected to be a stress test on local service providers, especially those in the land transportation sector.
The ECCB governor said that the region, as a whole, must improve its growth performance if it is going to reach the target of 5 per cent growth this year.
Antoine said that in SVG there have been other factors at play, including the collapse of CLICO and British American Insurance Co. Ltd., which he said has taken a lot of wealth out of the country.
"St. Vincent and the Grenadines and Grenada are two of the most exposed countries in terms of that particular challenge."
He further noted that as an archipelago, SVG has to duplicate a number of services, such as airports, resulting in higher cost of government.
The region, as a whole, is not doing very well in terms of the ease of doing business ranking.
The Eastern Caribbean Currency Union is ranked an average of 116 out of 190, way below its target of being in the top 50.
SVG ranks 125, while Grenada and St. Kitts and Nevis are ranked 138 and 134.
Of ECCU member countries, St. Lucia enjoys the best ranking, at 86, followed by Dominica, at 101.
Antoine said that the constraints to doing business are significant and binding.
He noted that in terms of getting credit, SVG is ranked 157 out of 190, and 165 for registering property.
For resolving insolvency, the nation ranks 169 out of 190.
"But mind you, the picture is not all bad because if you look at the top on enforcing contracts, you are 53 out of 190 and 55 out of 190 in terms of dealing with construction permits, which Antoine said is probably the highest in the Organization of Eastern Caribbean States.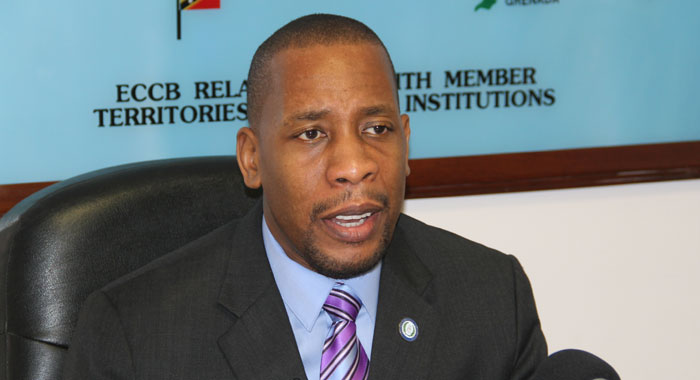 SVG also enjoyed better rankings for starting a business, getting electricity, protecting minority investors, trading across borders and paying taxes, which were 83, 85, 87, 88, and 98.
"The picture is mixed, but the point really is that if we want to get into the top 50 in the ease of doing business index, we have to tackle getting credit, registering property, resolving insolvency."
Antoine also added to that list "getting electricity that is cheaper". He said the cost of electricity is really too high.
He said that when the central bank looks at these issues, it doesn't just identify problems but also attempts to propose and play a role in crafting solutions.
On the issue of access to credit, the ECCB is working with government on a partial credit guarantee scheme.
He said that SVG and four other ECCU member states have passed this into law, which means the ECCB is getting ready to move forward with implementation.
Antoine also spoke of the credit bureau as an avenue through which the currency union can improve its ease of doing business ranking.
He said two countries have already passed this into law and others are expected to do so in the next few months.
"And then we would be able to work towards the long-discussed goal of having a credit bureau that would help with access to credit, credit underwriting."
Antoine said a modern land registry is also a part of the overall goal of addressing the ease of doing business ranking. He noted that SVG has already passed legislation in this regard.