Leader of the Opposition Godwin Friday says Wednesday's assault and robbery of a group of tourist in Kingstown is a very serious matter that cuts across political lines and could have serious repercussions for the nation.
"It's a very serious matter for our tourism industry, it's very a very serious matter for law enforcement and for the country, because it's very easy for news about these things to fly around the place and we get a bad reputation," said Friday, who is also the opposition's spokesperson on tourism.
A male passenger from the cruise ship, Britannia, was choked and robbed of a chain when three men attacked a group of seven tourists in Bentick Square, near Milton Cato Memorial Hospital around 1 p.m. Wednesday.
And off-duty police officer gave chase, but the assailant escaped as he and the officer traded blows, near Massy Supermarket on Road to Leeward, while his accomplices fled in the opposite direction
"What I have been urging this morning on other radio stations and to other persons I have spoken with is for the authorities to respond to show those persons who were directly affected and the cruise operators that we take this matter very seriously in St. Vincent and the Grenadines, that we would do whatever is necessary to bring the culprits to justice and beef up security in Kingstown to ensure that these things don't occur again," Friday said.
"This is what I believe the tour operators and the persons on the ship would respond to," he said on New Times, his New Democratic Party's daily radio programme on NICE Radio.
The opposition leader was speaking hours after Star FM, the radio station owned by the ruling Unity Labour Party, used its morning show to criticise iWitness News for reporting on the crime.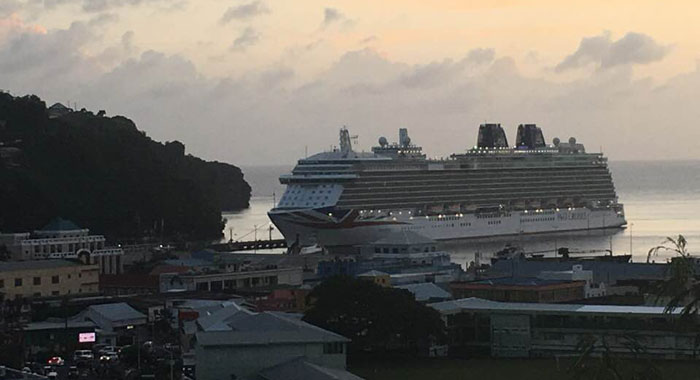 Friday, however, said that the nation cannot pretend that the crime has not damaged its reputation.
Don't ignore damage
"There will be fallout from it, but we need to mitigate it and to do so, you have to respond immediately and comprehensively and to be persuasive to those persons who are affected that we are doing everything humanly possible to [ensure the perpetrators] are prosecuted, that there is more security in place on the ground by more police being visible, particularly when the cruise ships are here."
Friday said that perpetrators of crimes against tourists should be given no space in which to operate and escape justice.
"The harm that is created is really disproportionate to whatever they think they are getting out of it.
"To rob somebody of a gold chain and to jeopardise the calls from this ship and other vessels coming to this country and affecting our tourism industry, and affecting our livelihood is really very selfish and callous and shouldn't be tolerated and excused by anyone," the opposition leader said.
Gov't must bear some blame
He said that is not to say that the authorities must not bear some responsibility for what has happened.
"Because they have to do a lot more to ensure security around Kingstown. You have a large ship like Britannia with over 4,000 passengers and 1,700 crew. When it comes here, we have to make sure there is a difference in how we approach security in Kingstown to give them the assurance that we welcome them, that we are pleased that they are here, we know they could have gone somewhere else, so we want to show our appreciation for that by ensuring that they have an enjoyable and safe visit in St. Vincent."
Friday said he hoped that the incident would not discourage any of the cruise ships that are already scheduled to visit the country, including Britannia, which is scheduled to make about 10 calls to SVG this season.
"So many livelihoods, so many people, their wellbeing is dependent on the tourism sector [so] that anything gets damaged we must all get together to try to prevent that from happening."
Friday said the matter is a "national interest" rather than a political one.
"This is something that affects everybody's living. It affects the reputation, it affects the image of St. Vincent and the Grenadines and this could be so easily damaged by these actions by people [who] don't seem to see beyond the immediate gratification of whatever small trinket they are able to get from their criminal activity.
"We have to send a message that everybody here in St. Vincent, we are united in saying that we want to ensure that tourists come, we want to make sure that they are secure and that we all play our part, every citizen."
Assist police
Friday said that persons who know who the criminals are should assist the police in ensuring that the perpetrators are brought to justice.
"Because that is going to send a positive message to the people who are directly affected, to the tour operators that, yes, in St. Vincent, when bad things happen, we respond positively, we do all that we can to make sure that justice is done, that redress is had, and that we prevent these things from happening, as best we can in the future."
He said that a person who commits such a crime in the middle of the day must feel that they can get away with it.
"And that comes from a perspective of how vigilant our police are, how effective they are in prosecuting crime and what kind of cooperation they get from the community," he said.