Minister of Social Development, Frederick Stephenson, on Thursday denounced as a "terrible act" the robbery in Kingstown of a group of cruise passengers one day earlier.
Three men choked and robbed a man who was among a group of passengers from the M.V. Britannia walking near Bentick Square, apparently as the visitors made their way to the botanical gardens.
Stephenson said that while many of the cruise passengers experienced the beauty, kindness and generosity of the people of St. Vincent and the Grenadines, a few of them "were not so happy as they were heading to visit the botanic gardens; some unruly young men robbed the tourists.
"And I want to say here today that it is not the responsibility alone of the government ministers, it is the responsibility of all Vincentians to come out and speak out against these issues," said Stephenson, who is also minister of National Mobilisation and Youth.
"We need to put a handle on some of our unruly young men. There's lots of work in St. Vincent and the Grenadines where they can do and find work but some of them are just bent on being lazy and worthless, and when we speak like that, you get the backlash, people would curse you, people would say all manner of evil against you."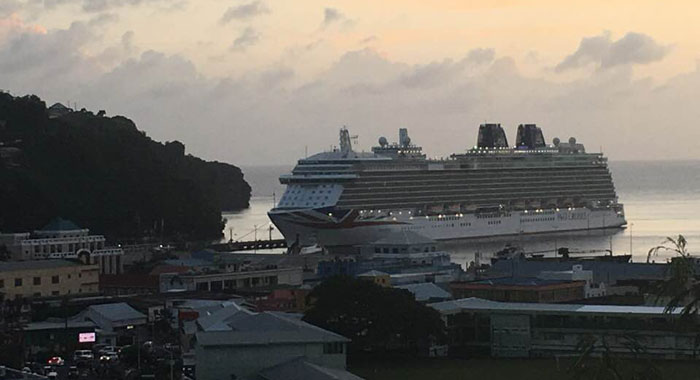 Stephenson said the nation is expecting over 300,000 cruise visitors between Nov. 1 and April next year.
"As a people, we cannot let three young men disrupt the arrivals of the cruise ships coming to St. Vincent and the Grenadines. We have to ensure that we speak out against this issue."
Stephenson said he met some of the visitors at a bar and they were enjoying themselves having Hairoun Beer, which he said they described as "a wonderful beer".
He further said they discussed the nation's rums and were disappointed that they could not take back Sunset Very Strong Rum with them, because of the alcohol content.
"The visitors come to the shores to enjoy themselves but yet you have three young men, without the thought that with one phone call all of this could disappear from us.
"I want to say publicly I denounce that terrible act and I hope that the police would act swiftly so that we can bring these culprits to justice to save St. Vincent and the Grenadines and to save the good work that successive governments have done over the years in building a beautiful St. Vincent and the Grenadines," Stephenson said.