The woman on trial for threatening a journalist says he did not curse her when she accused him of writing a "false article" about her fiancé, but cursed her without reason later that same day.
Shanet Williams made the claim on Tuesday as her trial continued at the Kingstown Magistrate's Court.
She is charged that on Oct. 20, 2017, in Kingstown, she told journalist Lyf Compton, "Wait 'til Coco come out. Yo' go see. Ah go mek he kill yo."
Williams was placed on her defence Tuesday, on day two of the trial.
Senior Magistrate Rickie Burnett allowed the trial to continue one day after the defence asked that the case be struck out because of poor investigation by the police.
Defence counsel Roderick Jones had also noted that the police had never gotten his client's side during their investigation.
But Burnett said on Tuesday that even if given an opportunity to do so, Williams could have refused to give a statement.
By the end of the trial, Prosecutor Police Constable Corlene Samuel said that the defendant wanted to frighten Compton into not taking photos or writing about her fiancé, Colin "Coco" David — who has beaten several murder charges and is now serving time for gun and ammunition possession.
In her closing submissions, Samuel asked the magistrate to convict the defendant.
She noted that although Williams had gone to the Criminal Investigation Department on the day of the incident between she and Compton, she had not reported to them, as police at the Central Police Station had advised, Compton's comment that he has a licensed firearm and would shoot her.
However, in wrapping up his submission, defence counsel Roderick Jones said that the evidence before the court was not corroborated.
He said that even if Compton's "ridiculous story" was to be believed, the charge is that the defendant had told the journalist that she would make someone else do something to him.
He said there were two issues with the "so-called threat": the person who could have "potentially executed the threat" was incarcerated and even if he was not, there is no way to guarantee that Williams could force him to carry it out.
Jones told the court that Compton had admitted that he told Williams that he has a licensed firearm and would shoot her — in response to her alleged threat that if she had a knife she would have stabbed him.
"That in itself constitutes a not-so-subtle threat," Jones told the court of Compton's admission.
Confrontation claim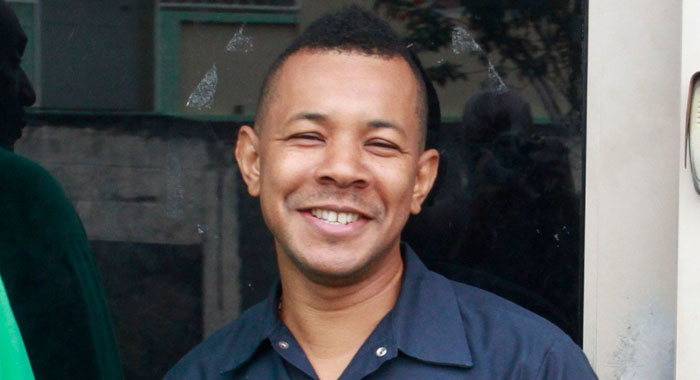 Compton's case is that Williams issued the threatening words to him on White Chapel Road, Kingstown, one day after David, who was arraigned on an attempted murder charge, had threatened to spit on the journalist outside the Serious Offences Court in Lower Kingstown Park.
But Williams told the court that both incidents occurred on the same day.
She said that Compton used to inquire about David and would send his regards to her fiancé.
Williams told the court that on the day in question, which she said was Oct. 20, she was outside the courtroom, where her fiancé would be arraigned, when Compton came by and said "Good morning" to the persons there.
She said she returned the pleasantry then turned to him and said, "Oh, you is the one that writing the false article about Colin David shot at Calliaqua station."
The woman said that the journalist said that it was not he.
She said she then told Compton, "Next time alyo write any false article about Colin we will sue the whole company, Searchlight."
Williams said that Compton turned to her and said, "no, no; is not me, is a young lady."
She said she told the journalist – a senior reporter at Searchlight — that she had called the newspaper and was told that it was "a guy, a journalist" who had written the article.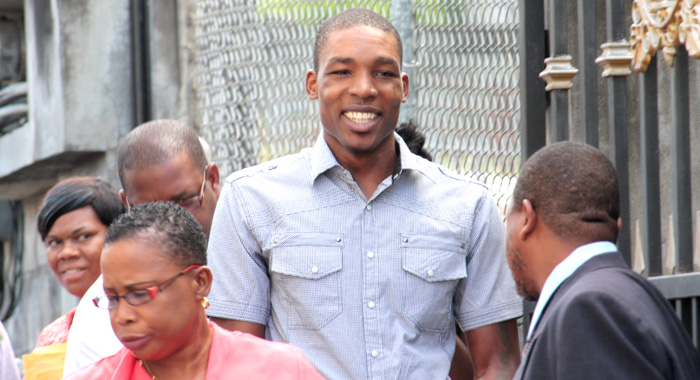 The defendant said that after that conversation, there was no further interaction between she and the journalist outside the court.
She said that after the court proceedings, her fiancé left in the custody of police officers as he was being taken back to the police station "to answer a charge".
Williams said that she was on her way to lawyer Grant Connell's chambers on White Chapel Road, Kingstown, when she stopped to have a conversation with two women, one of which was a prison officer.
She said that during the conversation, she saw Compton exiting the High Court compound and shouted "You demon".
Williams said she did not answer and Compton came to her and repeated the word.
She said she looked at the prison officer and at Compton, who then said, "Is you Shanet I talking to. You f***ing Shanet. You is a demon."
Williams said she asked the journalist, "What have I ever done to you to call me a demon?"
She said there was an exchange of words and Compton told her, "You feel Coco alone could shoot" and she responded, "If you know Coco shoot, dah mean you and he went. Shanet ain't know nothing about whatever Coco did."
Williams said that at this point the other lady who was there pulled Compton and told him, "Lyf, finish with this argument."
She said that the prison officer then told her to go to Connell's office.
Williams said that when she was going upstairs to Connell's office, Compton told her, "Girl, f*** you. Girl, remember I ha'a licensed gun, eh."
The defendant said she then left and went to Connell's chambers.
Journalist spoke the truth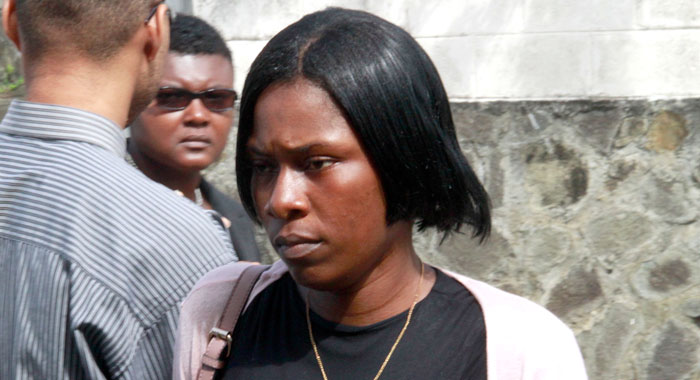 She denied telling Compton that if she had a knife she would have stabbed him, as the journalist had told the court the previous day.
But during cross-examination, Williams said that Compton did not curse her after she confronted him about the article.
She told the court that Compton had spoken the truth when he said that her fiancé had told Compton not to take his photo and that he (David) would have spat on any journalist who photographed him at the court.
Williams said he was not upset about the article about which she had confronted the journalist.
She further said she was not upset about David telling the journalist not to take his picture.
The defendant said that is the duty of the journalists.
She further told the court that she had told David not to spit on the journalists, because he would not like anyone to do that to him.
But when the prosecutor asked Williams why was David was before the court, her counsel objected to the question and asked about its relevance.
Samuel told the court that the trial was about threats and the prosecution was attempting to show that fear was instilled in the journalist and the reason for the fear.
When the magistrate instructed Williams to answer the question, she said that she believes that on the day in question, David was in court on a gun charge.
Asked what other charges he had been brought to court on, Williams said murder.
Pressed during cross-examination, Williams said that she and Compton are not friends, adding that she would have to be "crazy" to just interfere with him.
But the prosecutor recounted the conversation that Williams alleged occurred between she and Compton and said that if that's how the conversation went, Compton would have to be "a crazy man".
The magistrate will give his verdict next Tuesday.