Two U.S.-based Vincentians were robbed at gunpoint in Villa Sunday night as they returned to their hotel from a nearby restaurant, hours after attending the funeral of a relative who was shot and killed.
The crime was committed by an adult male and two boys, whom one of the victims said looked to be no older than 13 years old.
The crime was committed against Christa Gumbs, 54, who is originally from Vermont, St. Vincent, but now lives in Boston, United States, and her U.S.-born daughter, 26-year-old Olivia Kirby, who was making her second trip back to her ancestral home.
Gumbs told iWitness News on Tuesday that she and her daughter left Paradise Beach Hotel around 7:45 p.m. to dine at Mangoz Restaurant and Bar, located nearby, along the beachfront tourism strip in Villa.
She said that she had just returned from the funeral in Vermont of her nephew, Lorenzo Gould, who was gunned down by unknown assailants as he walked home around 11 p.m. on July 18.
Gumbs said that to go to Mangoz, they walked out of the back gate of the hotel that leads onto the beach then onto the boardwalk.
They stayed at the restaurant until about 9:30 p.m. then walked back to the hotel.
"People were at the Young Island dock. People were standing there and others were in the water," Gumbs told iWitness News.
"And we came across where Aquatic Club used to be and then we got on the boardwalk. And when we got on the boardwalk, I heard somebody behind us, so I looked back and there was a tall man with two little kids. They looked like to be 13 and 10.
They were no more than 4 feet tall.
"So, I saw them coming behind us, so I figured they were guests as well, going the same way we were going," said Gumbs who first left St. Vincent in 1976 and was making her first trip back since 1991.
"And as the tall guy walked, the little ones, one of them was in front of us, he walked back to me and then he stood in front of me, my daughter was in front of me and he said, 'Give me your bag!'
"So, he turned back and he looked at me and he said, 'Give me your bag!' And I looked at him and I stepped up to him because he was so tall and skinny I figured I could just take him down.
"And as I stepped to him, he pointed a gun to my forehead. He said, 'Give me the bag!' So then, I gave him the bag, I backed back. Then he went to my daughter. My daughter kept running around and saying, 'No! No! Please! Please!' And he took the gun and put it to her temple and I said, 'Olivia, please give him the bag.' And she gave him the bag.
"In this time, the other two boys were there and I thought how come nobody is helping us, but when I looked, they were safeguarding the left and the right, to make sure nobody was coming from the left of the beach or the right of the beach. And then he took our bags and he said, 'Walk. Go! Go! And be quiet!'
"So, we walked off the boardwalk, stepped in the water, we walked and when I got to where there was light, I screamed for bloody murder."
Gumbs said that the robbers took their pocket books, which contained about US$100 in cash, the keys to their hotel rooms, and an iPhone that Kirby had received as a gift for completing her master's degree.
She said that when she returned to the hotel, the gate was locked.
"… to enter from the beach where we came out was locked. I don't understand how that can happen and then nobody informed us. We were staying here since Thursday and this was Sunday and we were on the patio and saw people go through the gate."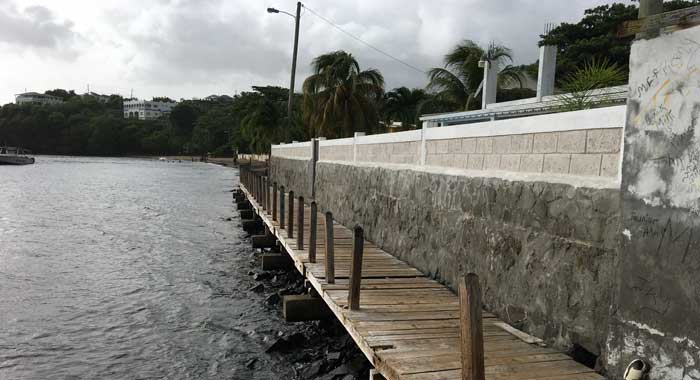 She said the staff at the hotel came to the gate and was trying to open it but had no keys and had to run back to the hotel to get the key.
"It seemed like five minutes before they could get the gate open."
The police were summoned and they went around the area and found the pocket books.
"But my problem here is not the things that I lost. It's that I am from St. Vincent. I lived in Brooklyn, New York for many years. I have never got a gun pulled on me. I brought my daughter home. I said, 'This is home. So, she felt safe, I felt safe. And to see we just buried a family member through gun violence the same day, two hours before."
Gumbs said that since being robbed she has heard that crimes have been committed against visitors in the same area.
"We could have been dead," she said of herself and her only child.
She also told iWitness News that while she was giving the report to the police, the hotel presented her with her bill, because she had indicated that she was checking out.
"I am not saying I shouldn't pay the bill, but, at least, wait until we are finished," she told iWitness News.
"I checked out the same night. I could not stay there again… I felt sick to my stomach, scared, nauseous, frightened, vulnerable; I felt homeless, helpless. You name every emotion, I felt it and still feeling it now."
Gumbs said that some portions of the boardwalk are lit.
"But the majority of it, after you pass Aquatic Club 'til you get to Paradise Hotel is dark. The boardwalk has some lights but once you step off the boardwalk, maybe a good 50 foot of it is dark."
She was also not pleased with the police procedure regarding filing a report.
"The police came, we gave them a statement for two hours. Then, Monday morning, we had to go back to the police station and give another statement, written — about 11 pages written.
"Why don't they have computers to put this thing on. And then they wanted us to read that to make sure it's fine. This is backwards. They should have a computer to take that or give somebody a job to dictate that."
Gumbs expressed fear that the worst might happen along the boardwalk.
"Somebody is going to get killed over there… Had I had a gun, they would have been dead, all three of them. And the Minister of Tourism, I need to get in touch with him, because I am not done with him… They want people to come here and visit and this is the condition, they're keeping it quiet and I almost lost my life with my kid?"
Meanwhile, manager of Paradise Beach Hotel, Kim Halbich told iWitness News on Wednesday that one of two gates at the hotel that open onto the beach is locked at nights for security reasons.
She, however, said that the bartenders are nearby.
"The bartenders are right above the gate looking because we can't have every and any body — it is a security measure. It was locked but she literally didn't wait one minute. And that's one of two gates. One other gate was not locked at all," Halbich said.
She further said that the bill was given to Gumbs after she indicated that she was checking out and when she specifically asked for it.
"We were arranging a new room and the staff member asked her if she had decided what she was going to do. And this was over a course of three hours.
"A gentleman came and asked, 'She has to pay this tonight?' and I didn't even answer the gentleman. And, in the end, she told me to take the payment."
The hotelier expressed concern about security around the Young Island Dock, saying that there are fewer police patrols there than had been the case and that the area is not well-lit.
She said that had hotel staff seen the guests walking out the gate at that hour, they would have advised them to take the main road instead.