By Kenton X. Chance
KINGSTON, Jamaica (CMC) — Prime Minister Andrew Holness has underscored the importance of the proposed Global Centre for Tourism Resilience and Crisis Management, saying it will help the tourism industry across the region respond to the impact of natural hazards and economic oscillations.
The center is due to open here next year.
"Tourism is vulnerable not only to natural disasters but also to man-made disasters as well as a series of other external shocks. Some of the main threats to the tourism sector include climate change, epidemics and pandemics, cybercrimes, political instability and terrorism," Holness said at the opening of the first Tourism Resilience Summit of the Americas held here on Thursday.
Holness said that despite favourable statistics, the tourism industry remains one of the most vulnerable and that the theme of the summit, "Tourism Resilience through Global Synergies", represented precisely the very nature of tourism.
"Tourism has long been one of the most resilient industries, not just for Jamaica but also the wider Caribbean and the world. Each year, millions of visitors are welcomed to our shores where they enjoy all that the island has to offer while experiencing first-hand the internationally acclaimed warm hospitality. For many countries, the tourism industry is a national treasure and a central feature of many economies."
Holness noted that the Caribbean and the Americas remains the most tourism-dependent region in the world.
Tourism is the single largest generator of foreign exchange in 16 of the 28 countries in the Caribbean and the region has a higher proportion of total employment and percentage of GDP derived from tourism than any other region in the world, the prime minister pointed out.
He said his own country continues to experience unprecedented growth in the sector, with 2,955,007 visitor arrivals between January and August 2018.
Estimated gross foreign exchange earnings for January to July 2018 were US$1.93 billion, up 6.3 per cent over the same period last year.
The summit is being held on the first anniversary of Hurricanes Irma and Maria, which devastated a number of Caribbean countries, some of which are still struggling to recover, even as this year's tropical cyclone season is fully underway.
"Hurricane Irma which is calculated to be the fifth costliest tropical cyclone on record, wrought damage in the amount of approximately US$64.76 billion and inflicted tremendous damages to several tourism-dependent countries of the region," Holness said.
"Hurricane Maria, which developed only a few days after Irma dissipated, is on record as the third costliest tropical cyclone and resulted in damage in the amount of US$91.61 billion and affected some of our much cherished tourist destinations."
He said Jamaica has had its own share of damage from tropical cyclones, including Matthew, Sandy, Dean, Ivan, and Gilbert.
But Holness noted that tropical cyclones are not the only threat to the tourism industry.
"The threat of epidemics and pandemics has been an ever-present reality for tourism due to the nature of the sector which involves international travel and close contact among millions of people."
Holness also noted that treat of terrorist attacks in tourist destinations such as in Spain, France, Tunisia, Egypt, the Philippines, Turkey, the United States, Indonesia and Algeria. He said these attacks have shown that no destination is immune to terror attacks.
"A serious terror attack can cause significant damage to a destination's attractiveness and overall appeal. It can divert itineraries from the affected destinations, undermine future travel and destabilise the affected country's economy.
"Safety is a crucial factor in the choice of holiday destinations. It has been found that close to half of tourists now have 'serious safety and security concerns' and that two-thirds said they would only travel to international destinations they perceive as safe," Holness said.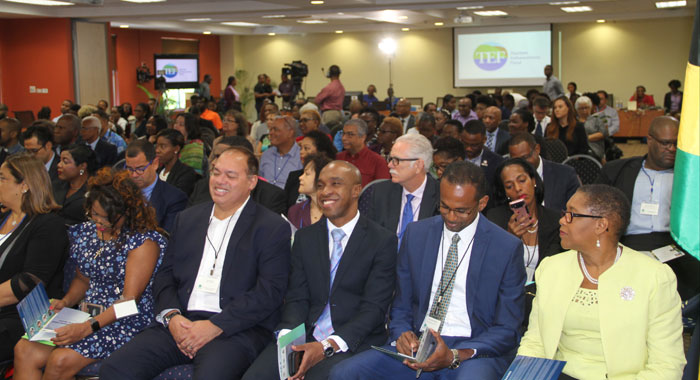 Another threat he identified was in the area of technology.
Holness said the digital space has become a marketplace for the tourism industry, adding that this means destination research, bookings, reservations, room service, vacation shopping are conducted online via credit card payments.
"Security no longer means protecting tourists against physical threats but it also means protecting people against cyber threats, internet frauds and identity thefts among others.
"Therefore, while the tourism sector in the region has traditionally been very resilient and remains one of the most valuable contributors to job creation, poverty alleviation, investments, export revenues, GDP and to the economic livelihoods of millions of citizens, the balance can be easily disturbed by a wide range of risks and threats."
The prime minister said that in light of the various treats and ever- present risks, he is pleased to endorse the establishment of a Global Resilience and Crisis Management Centre to be housed at the University of the West Indies, Mona Campus.
"The ultimate goal of this Global Resilience and Crisis Management Centre will be to assist destination preparedness, management and recovery from disruptions and/or crises that threaten economies and livelihoods globally with real time data and effective communication.
"It is being designed to help vulnerable states to recover quickly from natural disasters and is currently endorsed by World Bank, Inter-American Development Bank, Caribbean Hotel and Tourism Association, and the Caribbean Tourism Organisation along with several overseas Universities," Holness said.
He said the building of capacity such as the Global Resilience and Crisis Management Centre is paramount to ensuring agile, coordinated and robust decision-making, leading to focused and strategic implementation.
"I again reiterate the need for building our adaptive capacity as we recognise that tourists have the greatest adaptive capacity based on their money, perceptions, knowledge and time and will, therefore, choose to shift their timing and destinations as a result of the information they possess," Holness said.