By Kenton X. Chance
ROAD TOWN, British Virgin Islands (CMC) — One year after it was devastated by Hurricanes Irma and Maria, the British Virgin Islands (BVI) continues to work steadily in the rebuilding process.
"We would all like to see everything happen overnight but we know that is not possible so we have been working steadily, the community at large has been working steadily on getting the building reconstructed, their buildings started and I think they are making a good job of it," Premier D. Orlando Smith, told the Caribbean Media Corporation (CMC).
He said this government is also working steadily on restoring the government structures that were damaged by the hurricanes.
"It is taking a little while, because, a I said before, we have to make sure the financing and funding is there to support what we have to do, but we are continuing pressing on and I think we will be able to within."
But the head of government in this British Overseas Territory, could not give a timeline for achieving these goals.
"I cannot say within a year or two years because the extent of the damage would take a little while but we are pressing on and I am satisfied with the progress given where we are and given the resources, I am satisfied where we are.
"And given where we are, we just have to increase the pace and access the resources that we need," he told CMC.
When Hurricane Irma tore through the BVI last September, it left extensive infrastructure damage especially in the vital tourism industry. It also left the telecommunication and power distribution network in shambles.
Hurricane Maria, which followed soon after, damaged or destroyed the multi-island nation's seismic monitoring equipment.
"That put us in a level of danger, so to speak, but, within a hundred days we were able to provide the necessary funds to order this equipment, so those equipment are now back in place and we are back to the stage where we would be able to monitor what's going on and be able to alert people whenever a warning is necessary for an impending tsunami."
Smith said the devastation to the various islands of territory was significant, both in terms of the physical infrastructure and in terms of the economy.
He said that much of the physical structure that was damaged related to the nation's tourism industry.
"Most of our major hotels were badly damaged and they have not returned as yet. We were fortunate that the other aspects, other segments, of our tourism industry were able to come on-board a little more quickly.
For example, our charter boat operators, they were the first to begin operating even though they had lost significantly. They demonstrated a commitment to the BVI and got themselves back in business very shortly afterward," Smith added.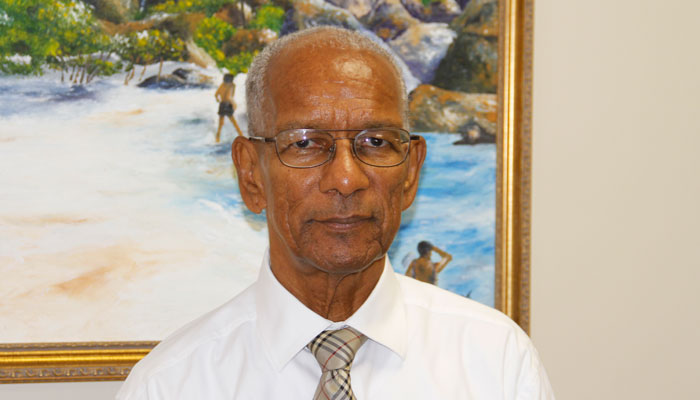 Earlier this month, the BVI welcomed back Disney Cruise Line for the first time since the cyclones and the company has resumed its scheduled of visits and Smith said that the BVI was expecting Norwegian Cruise Line to resume soon.
"One of the things that held up the restoration was the whole matter of insurance and the claims thereof because the extent was so great that it was kind of, I would say, overwhelming and the insurance companies had to get increased resources into the country for them to be able to assess all their claims and do what had to be done. This took some time but what you would notice as you go along today in BVI that there is a lot of construction going on."
He said construction has begun in earnest because insurance claims are now being honoured and also as a result of the government's decision to waive, up until the end of September, customs duties on many material for rebuilding.
"Those are two important decisions that have helped the continuation of the rebuild programme," Smith said.
"Of course, it is not going to happen overnight and while we had a good spirit during the early part after the hurricane to do the clean-up and then there was a bit of a hiatus while we were waiting to get things organised, get material in, and then now the rebuilding has started around us, there will, of course, be more buildings, particularly government buildings, which will have to be redone as well.
"But, again giving what has happened to the economy of the BVI, we also must look at the cost of getting these things done and we, of course, are in conversation with the CDB (Caribbean Development Bank) and the British government about a guarantee to be able to provide the resources to be able to continue the work we have done on restoration."
Smith said that the BVI is using the experience of last year's storms to correct errors made in the past.
Reconstruction is taking place under the rubric of building back better and stronger.
"I like to say if you were to look at the older buildings in the BVI, they were constructed in such a way that their roofs had a certain slant, like maybe a 50 degrees and there was very little or no overhang on those buildings. I believe those were the results of the experience of many years ago.
"We, today, have been building slightly different. We have nice verandas and some overhangs around our houses but we have to relook now what we are doing and the new building code speak to the kind of overhang that is being recommended, the kind of rafter size that is being recommended for use in building and many things which we have observed because of the damage to various buildings, which we are looking into new recommendations in building code," Smith told CMC.