High Court judge Justice Brian Cottle says he was content to sentence a Layou murderer to death had the case been prosecuted in that regard.
He made the comments last Friday during the sentencing of Andy Quashie, who was sentenced to 35 years in jail for the 2012 murder of a fellow resident of the Central Leeward town.
Quashie shot and killed Joseph Evans "Tuffy" Lynch, 35, in the street at high noon after Lynch called him a "pussy".
The murderer was also sentenced to 14 years in jail for possession of a firearm, to be served concurrent with the prison sentence for murder.
The time spent on remand since his arrest in September 2012 will be deducted from the sentences.
Quashie will, therefore, spend a further 28 years, six months in prison.
In handing down the sentence, Justice Cottle said that the criminal law in that area is always developing and the court is in the process of developing and implementing written sentencing guidelines.
He, however, said that until then, the court continues to be guided by the decisions of the Court of Appeal.
"It is still the law in St. Vincent and the Grenadines that a person convicted of murder, can, in some circumstances, be sentenced to death," Justice Cottle said.
He, however, added that that punishment remains "reserved for the worst cases".
Justice Cottle said the worst cases are those that are of exceptional depravity and heinous in character, as then Justice of Appeal Saunders, described it, that it constitutes, on account of their design, or the manner of its execution, a source of grave danger to society at large.
"… maybe this was such a case," Justice Cottle said.
"This was a callous, brutal murder carried out in full public view in broad daylight. The prisoner would have known that he was being observed by the many of his neighbours. That thought did not deter him.
"However, the case was not prosecuted on that footing, and this court then, in sentencing, is constrained to view it as a case in which the maximum allowable penalty is life imprisonment."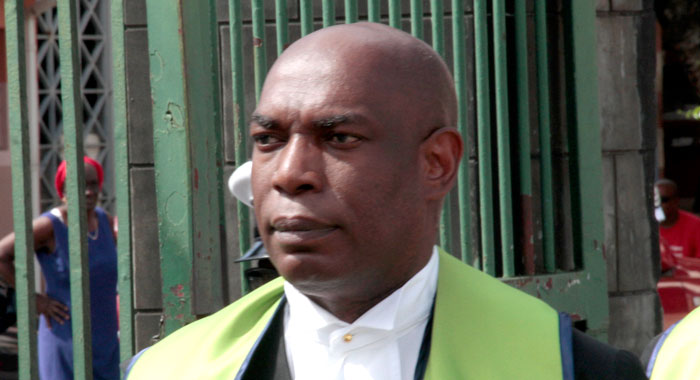 The judge said that in St. Vincent and the Grenadines, a life sentence is accepted to be 30 years and he used that as the starting point, noting that the murder was a brutal one in which Quashie used a firearm to kill a wounded man who was lying in the street in full glare of public view.
"He was not alone in his enterprise. There were two armed men. There was premeditation because they went home to retrieve their guns then went looking for the deceased."
Justice Cottle noted that the weapons were never retrieved and remain a danger to the public.
The facts of the case are that on Sept. 1, 2012, Quashie along with Billy Adams and Adolphus Foyle, was at Layou where they saw fellow resident, Joseph Evans "Tuffy" Lynch, 35, walk by.
Lynch referred to Quashie as a "pussy" and this remark upset Quashie and his friends.
Quashie and Adams left to go home to get their firearms and when they returned, they saw Lynch walking along the public road.
Quashie walked through a short cut with a shotgun, which he fired at Lynch, wounding him, resulting in Lynch falling to the ground.
Quashie walked up to Lynch as he was lying on the ground and shot him again, killing him.
All of this occurred at high noon in the public road in the full view of many, a point that the judge emphasised.
Quashie then left the scene and surrendered the next day in the company of his legal counsel.
The judge said he saw nothing mitigating in the case and there was no discount for an early guilty plea.
He said he was content to begin with a starting point of 35 years in light of the aggravating features of the case.
In mitigation, Quashie's lawyer, Grant Connell, had said that the death sentence should only be imposed in exceptional circumstances when there is no reasonable prospect of reform and the object of punishment would not be achieved by any other means.