Executive members of the Grenada Birding Club were invited, on Aug. 4, to the first-ever seabird-specific excursion in the Grenadines, through the Environmental Protection in the Caribbean (EPIC) seabird-training programme.
Accompanied by EPIC Project coordinator and seabird biologist Juliana Coffey and sailing captain and lobster fisherman Vaughn Thomas, the group sailed from St. Patrick's, Grenada towards Diamond Rock.
It was an exciting time for the Grenada Birding Club because it was their first chance to conduct offshore birding, as their activities have thus far been restricted to mainland Grenada.
"Offshore birding with EPIC was an amazing and exciting adventure! The display of seabirds on the rocks were so awesome," Alecia Clarke said.
"Watching them dive for a meal and fly over our heads was so breath-taking, I can't wait to do that again".
Michael Richards said: "We came here for one experience, and we got two instead!".
The team was able to visit Lee Rocks, Upper Rock and Diamond Rock, an area typically only accessible by fisherfolk and passing yachts, to view thousands of seabirds nesting and roosting on the islands.
Vaughn Francis, founder of the Grenada Birding Club, was shocked to see the number of seabirds.
"You told me there were a lot of birds out here, but I had no idea it was this many." When Thomas, who has been involved with the seabird project since February, was asked how he enjoyed his first seabird group outing, he said, "It was the best; couldn't have been better. I hope it is the best trip the Grenada Birding Club has done so far".
Members were also engaged with a before and after seabird quiz to test their seabird knowledge and participated in discussions of the project "Conservation of Key Offshore Island Reserves", funded by USAID and the U.S. Fish and Wildlife Service.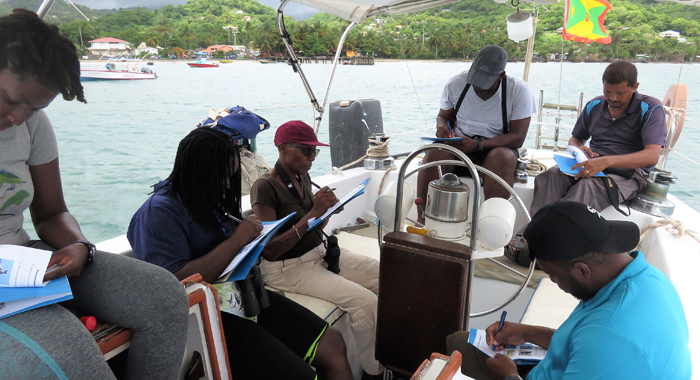 This project aims to build awareness of seabirds in the Grenadines, through outreach, education and training throughout the entire Grenadine archipelago.
Tens of thousands of seabirds call the Grenadines home, yet there is little known about their trends in the region, and monitoring and enforcement is complicated due to resources and accessibility to these islands.
While EPIC encourages visitors to view the seabirds, the organisation does not promote accessing these colonies by land as it can disrupt nesting.
EPIC will also be hosting a series of community presentations with fisherfolk, schools, NGOs and government officials from Grenada all the way up to Sat. Vincent, with activities planned for each Grenadine island.
(For more information on this project, contact Juliana Coffey, project coordinator at [email protected], or WhatsApp 17097706877.