A lawyer representing the Christian Coalition SVG says the legal challenge to the buggery and gross indecency laws is the first step in the "LGBTQ agenda", which also includes same-sex marriage, the promotion of transgenderism, and an assault on Christian beliefs about sexual relations.
Mandella Peters made the point at a rally in Kingstown, on Thursday, held by the Christian Coalition SVG, a group of 10 churches that wants the court to allow them to join the government in resisting a challenge to the country's buggery and gross indecency laws.
Two gay Vincentians, Sean MacLeish, 53, and Javin Johnson, 22, who live in the United States and the United Kingdom respectively have launched legal challenges to the relevant laws, asserting that these laws strip them of their dignity and autonomy.
But Peters, speaking to hundreds or persons at a rally at Heritage Square, said that the legal challenge is not only about the buggery law.
"Don't let them fool you. It is a hidden agenda. The LGBTQ lobby is a minority political agenda and with homosexuality, they are also promoting transgenderism so that you are a boy but if you feel that you are a girl, you are a girl or if you are a girl, if you feel like a man, you are a man," she said.
"Changing the norms of society; bringing confusion to our children. So that is why we have to take a stand now. The same arguments that are used to promote buggery — consensual acts and privacy — those same arguments can be used, legally, to bring other things on-board, including incest and paedophilia. So we have to take a righteous stand," Peters told persons who responded to the Christian Coalition to march and rally in Kingstown.
She said that the LGBTQ agenda pushes comprehensive sexual education "robbing our children of their innocence, teaching primary school children about anal penetration, teaching that that is just another form of sexual intercourse, teaching them that they can be a boy trapped in a girl's body or a girl trapped in a boy's body."
Peters said that once the buggery laws are removed, "What is to hold them back from teaching that anal penetration is good?
"This is not fear mongering, we are telling you this is what has happened in other jurisdictions. As soon as the buggery law is removed, believe you me, you will hear about anti-discriminatory legislation and hate crime legislation and those legislations are geared toward Christians to shut us up, to silence us so that we don't call wrong, wrong…"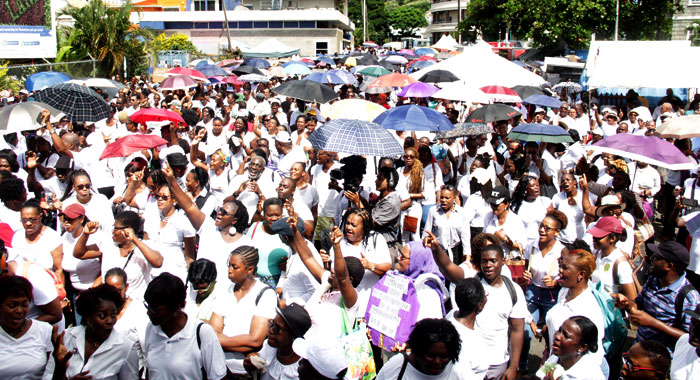 She said that wherever the "LGBTQ agenda" has gained ground, there has been an assault against religious freedoms.
"And we are seeing where so-called LGBTQ rights trump our religious beliefs and our beliefs on conscience. This is not about human rights because they don't tolerate us; they don't want to hear what we are saying because they label it as hate speech."
Peters said that removing the buggery laws would make way for same-sex marriages.
"They make it seems as if, oh, we just want to do what we want to do in private… They have a well-set agenda to attack our legal system to bring on laws that will attack the morality of this nation. So we have to make a righteous stand, we have to be involved; we have to let morality be known, let health be known"
She encouraged the nation to "pray like never before".
"Because this is not against flesh and blood, this is not even against the people who are in this lifestyle because they are deceived, they don't know truth, so we have to pray that they come to know the truth, that they come to Jesus and that will redeem them and transform them and turn their lives around. We are to pray for our nation, the moral fabric of our nation is at stake, it is being threatened, we have to pray for our nation like never before. We have to stand up for truth and speak the truth without fear or favour and we have to preach the gospel of Jesus Christ."
She said the gospel of Jesus Christ is the only way that SVG can be declared a righteous nation.
In 2009, Vincentians rejected in a referendum proposed changes to the Constitution, including a provision that would have made same-sex marriages unconstitutional.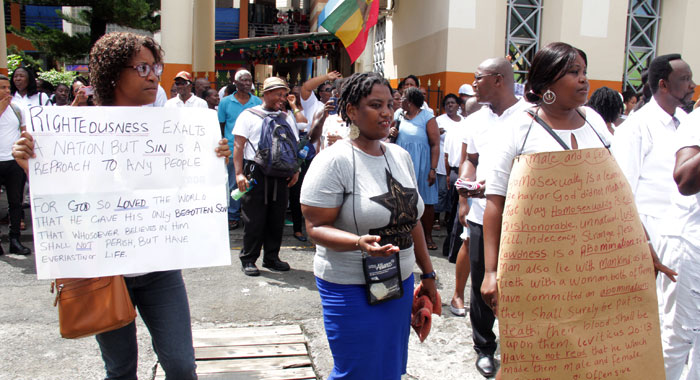 Thursday's march and rally took place one day after the Christian Coalition asked the court to allow it to join the lawsuit as a party.
The High Court will hand down its ruling on that application on Nov. 20.
The 10 churches that are members of the coalition are: Seventh-day Adventist Church; Evangelical Church of the West Indies; New Testament Church of God; Spiritual Baptist Church; Church of God St. Vincent; New Life Ministries; Light of Truth Church of God; Kingstown Baptist Church; Living Water Ministries International, and Hope Evangelism Outreach Ministries.
The march and rally was also called to highlight the issues of crime, the family — rape/domestic abuse, unemployment and mental health.
Under the Criminal Code, any person who commits buggery with any other person, commits buggery with an animal, or permits any person to commit buggery with him or her is guilty of an offence and liable to imprisonment for 10 years.
The Criminal Code also says that any person who, whether in public or private, commits any act of gross indecency with another person of the same sex, or procures or attempts to procure another person of the same sex to commit an act of gross indecency with him or her, is guilty of an offence and liable to imprisonment for five years.
On Wednesday, Jomo Thomas, whose legal firm is representing the claimants, expressed confidence that their arguments will prevail, once the case is decided on the law.