A Cane Garden man has been charged with grievous bodily harm in connection with his alleged assault on a former lover, which left her with broken arms.
Kimmarley Douglas pleaded not guilty to the charge at his arraignment at the Kingstown Magistrate's Court on Monday.
He was charged that on Dec. 8, 2019, at Cane Garden, he caused grievous bodily harm to Monique Hutchins of the same address.
Prosecutor Police Constable Corlene Samuel objected to Douglas's bail.
She said that Hutchins was treated at the hospital and released after the Dec. 8 incident.
Samuel said that while it is an allegation, Hutchins is back in hospital with more serious injuries — some of which might be life-threatening — which were allegedly inflicted by Douglas.
Samuel was referring to an alleged attack on Hutchins, 45, last Thursday, during which she was reportedly beaten in the face with a hammer in the head and chopped about the body.
The prosecutor said that since Hutchins made a report on Dec. 8 about the alleged attack, police were unsuccessful, until last Thursday, in their attempts to locate Douglas
She said that the Crown was fearful that if Douglas is released, he would hinder the investigation.
The prosecutor asked that Douglas be remanded in custody for two weeks, after which his bail could be reviewed.
In response, Douglas, who did not have a lawyer, said:
"If yo make a trouble and police come two times and can't find yo, that mean yo not around."
He added that when the police came to look for him, he would run if he could, but he was not hiding from them.
Immediately after the charge was read to him, Douglas asked to say something. He told the court that police beat him since he was taken into custody on Thursday.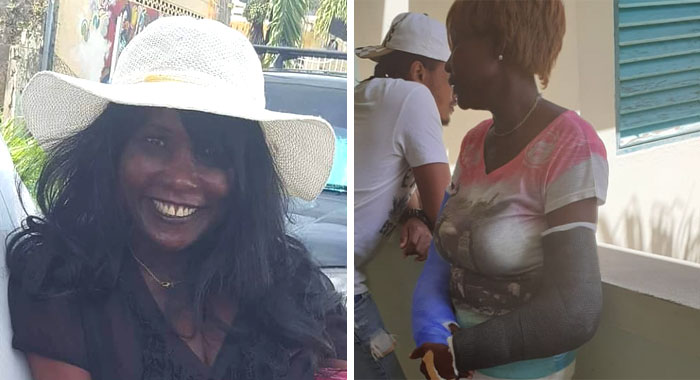 He said that as a result, he cannot "hear outta me ears".
The man further said that he had asked to be taken to hospital but that had not been done.
Douglas said he had complained all the time that he was at the Criminal Investigation Department, adding that he had asked for a lawyer.
He said he was using his appearance before the court to "explain my problem".
"Police ain't supposed to beat up people," he said.
Samuel said that efforts would be made to take Douglas to the hospital for medical attention.
Senior Magistrate Rickie Burnett denied Douglas bail pending a review next Monday, Jan. 13.
He also ordered that Douglas be issued medical injury report forms and taken to the hospital.