Photos by Cloud Island Media
Headliner Kevan Sahai and the Crashers' rock and roll band of Barbados, together with Rodney Small and the RS Band of SVG rocked the Bequia Plantation Hotel Friday night for the annual Bequia Mount Gay Music Festival.
Dubbed the "best event of the festival" by many who attended all six of the events over the past week, "Friday Nite Live" epitomised the essence of what the Bequia Musicfest is all about: great vibes, great atmosphere, variety of music genres and live entertainment at its best.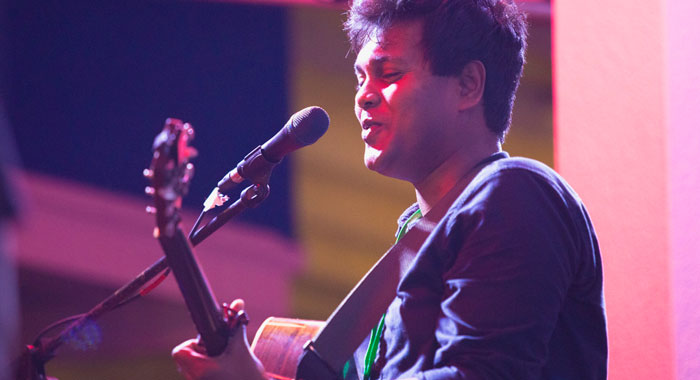 Always well received, the "pan boss" Rodney Small, now a staple at the festival, did not disappoint. His RS Band was dynamic and exceptional.
The Shuffle Demons, who were financially supported by the Canada Council for the Arts, travelled from Toronto, Canada, and also performed Friday and Saturday afternoon, with a fun and crowd-pleasing performance with their eccentric outfits and unique style.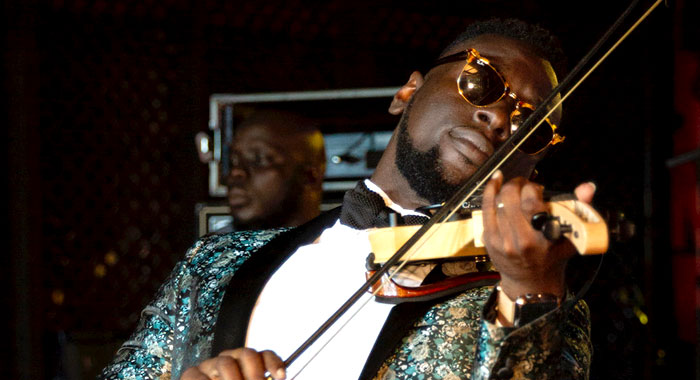 Opening night last Wednesday saw Headliner, the veteran on the regional jazz circuit, Boo Hinkson out of St. Lucia, who had a fantastic performance to a sold out crowd at De Reef in Lower Bay for the elegant evening dubbed "Jazz Vibes and Candlelight".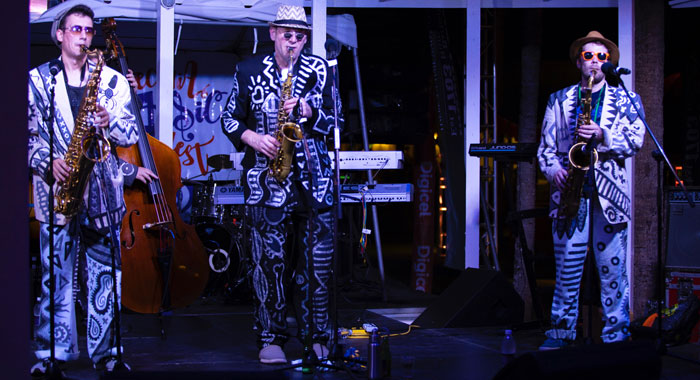 SVG's violinist Darron Andrews and DaBAnd, along with Bajan Jazz vocalist Kellie Cadogan gave memorable renditions.
The highlight of that evening was an impromptu collaboration at the end with Darron Andrews and Boo Hinkson jamming that was truly unforgettable.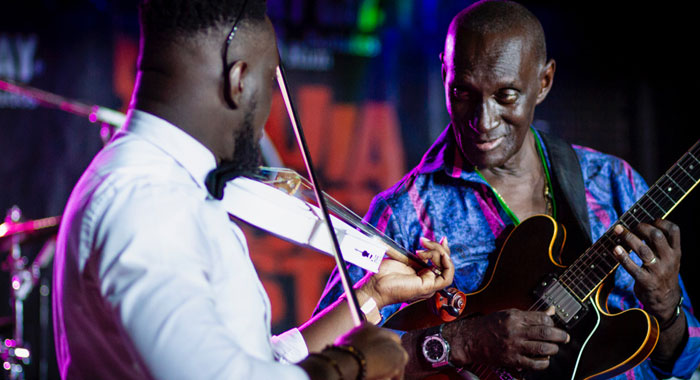 The Jazz concert was paired with a three-course elegant dinner created by the young and talented Vincentian Chef Orrell Jack, to rave reviews.
In what is supposed to be the biggest night of the festival, Olatunji, world beat Soca star of Trinidad and Tobago headlined on Saturday night, along with veteran soca vocalist and composer Jamesy P, Chewalee, and Hypa Sounds of Barbados.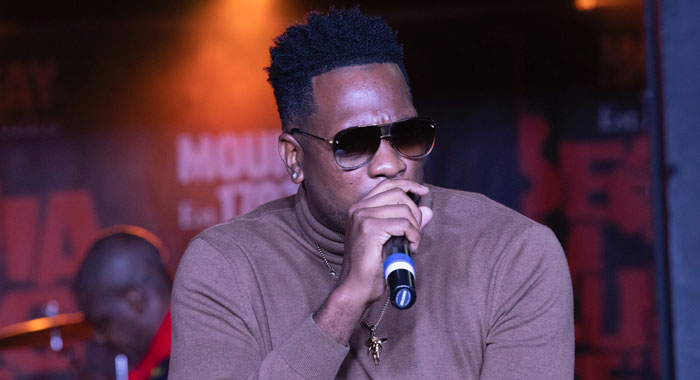 While many felt Olatunji performance was lacklustre, Jamey P amped it up and gave the crowd what they wanted with his famous "Nookie" and his 2019 hit "Soca Land". He even gave the patrons a taste of his new music now launching.
Chewalee delivered a solid performance as well.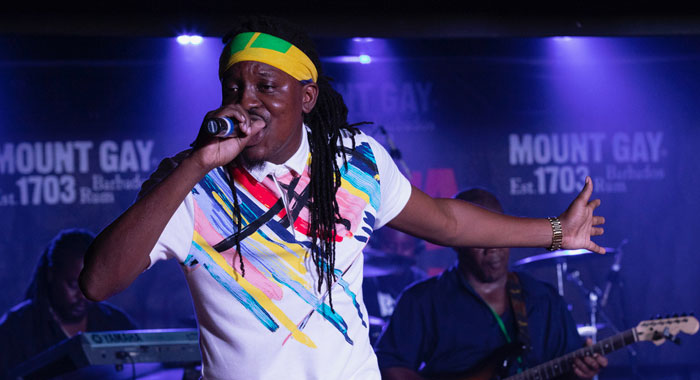 The climax of the festival "Soca Sunday" saw a host of Vincentian musicians perform, as this event was specifically dedicated to local talent, which partner and gold sponsor the Ministry of Tourism wanted to see happen.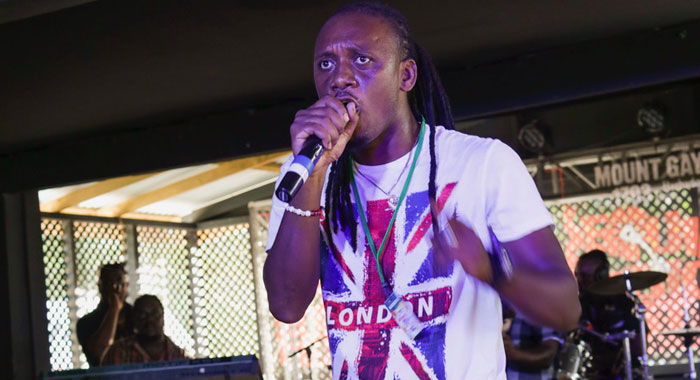 Vincy artistes featured this year were Sita, who delivered a crowd-rousing effort, as well as Soca Monarch Magikal, Caspa G, Dymez & DaPixel, Fonando, Lpank and Rodney Small in a solo performance, expertly backed by Arbie and the Band Knetik with Jace and Keith Currency out front.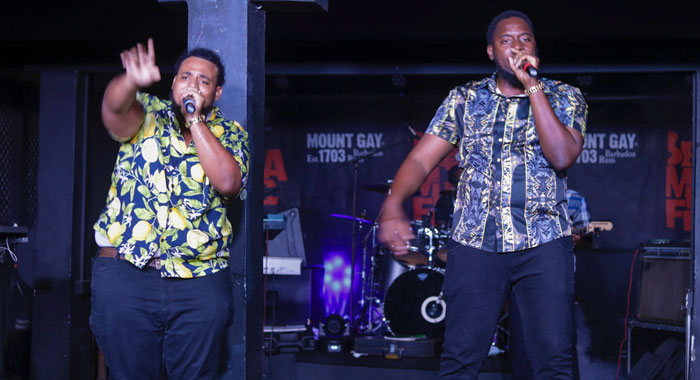 The highlight of Sunday, however, was the rousing performance of Bequia's young pan side the Bequia Kids on Pan group who looked and sounded great.
With youngsters ranging from age 7 to 20, and managed by Levi Walker, and pan teacher Shane, they made Bequia truly proud.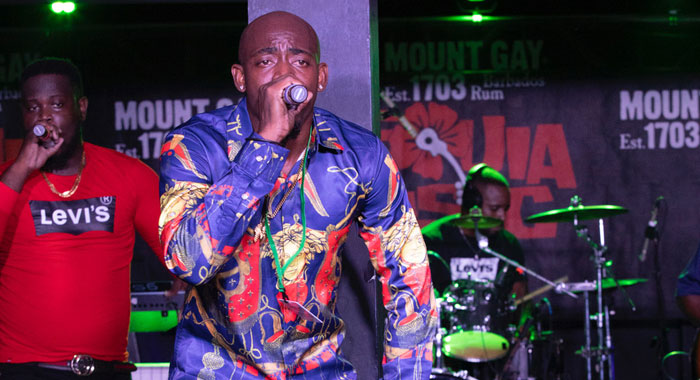 Other events included Thursday Night, at the Frangipani Hotel, which was well attended, with Kesslon Wilson and his pan side, the 14-piece Elite Steel Orchestra, who gave an energised performance, followed by a dynamic performance from DJ Addicted" of Bequia who made his Festival debut and impressed his fans.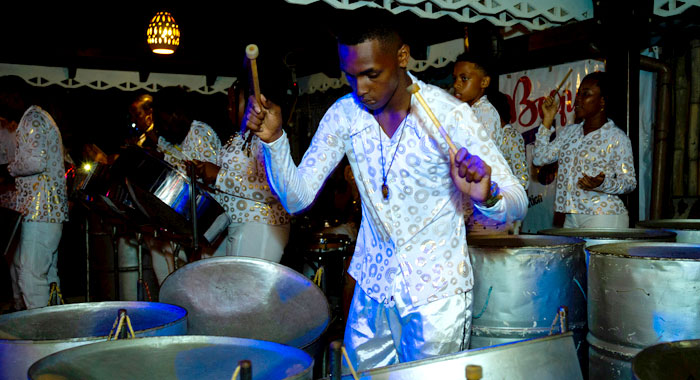 Also of note was the well-attended "Music Under the Palms" open-air jam, with patrons filling the beautiful lawns of the Bequia Plantation Hotel.
UK vocalist Zeeteah Massiah wowed the crowd with her sexy raspy "Tina Turner-style" voice, performing with the Bequia Blues Band and guitarist and vocalist Joshu from Antigua, who also had an exceptional solo performance.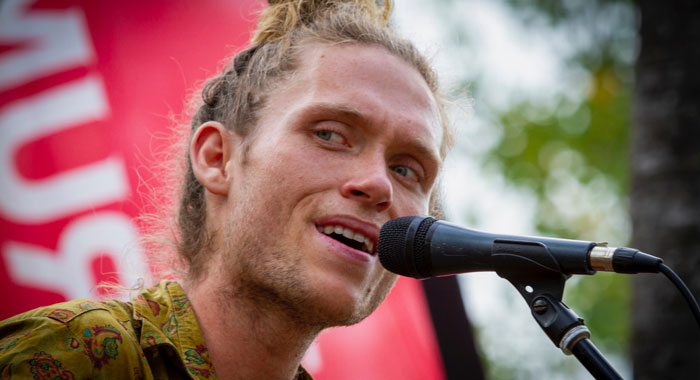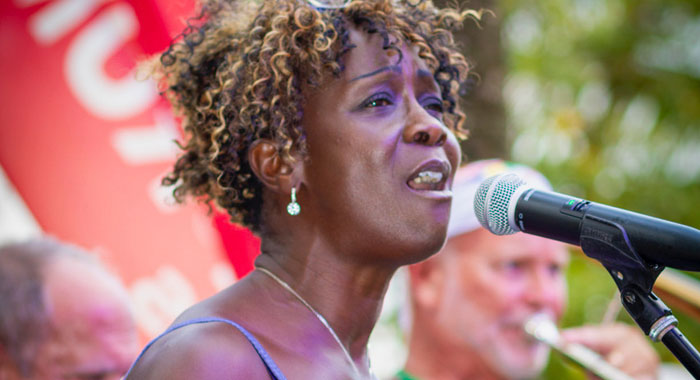 Saturday afternoon's event started with SVG's Sarah Mark, and ended with Martinique Jazz Creole GBK, and Saxophonist Magalie Perrot who was truly inspiring, despite the rain that came down unexpectedly.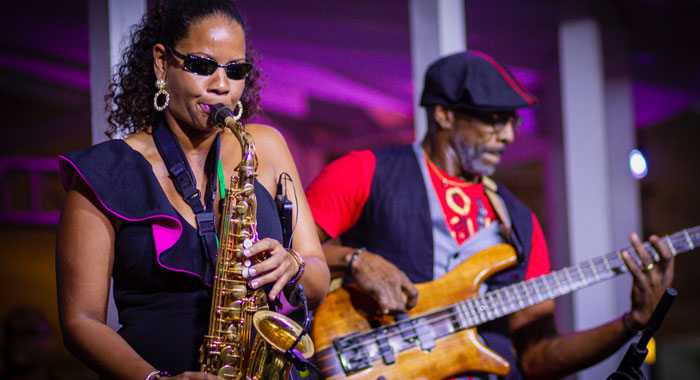 With over 100 musicians performing in the five-day festival, Bequia Musicfest 2020 continued the tradition of drawing visitors to our shores for one of the most important revenue-earning events in the island's tourism calendar.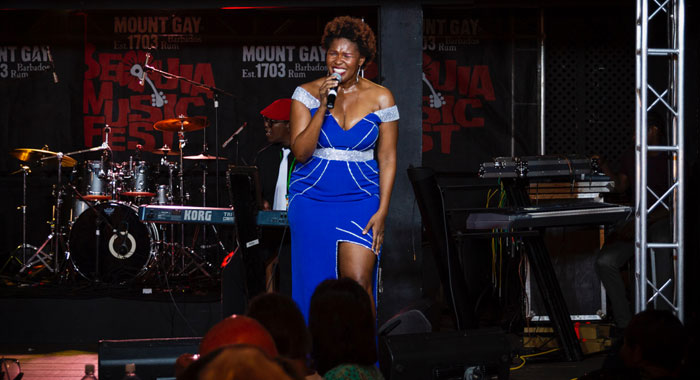 Owned by the Bequia Tourism Association, the Bequia Mount Gay Music Festival is run by the Musicfest Committee, headed by director Sabrina Mitchell, and her team of volunteers.
The festival attracts visitors from across the globe, filling Admiralty Bay with yachts; every hotel room and guesthouse on the island, and every restaurant and bar to capacity.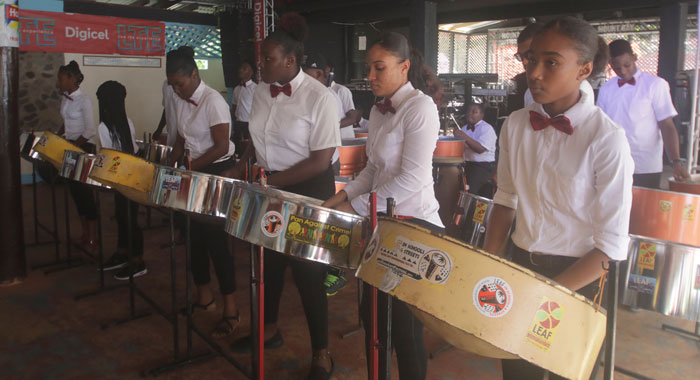 This year was no exception with mainlanders struggling to find rooms at the last minute as Bequia geared up for this important weekend.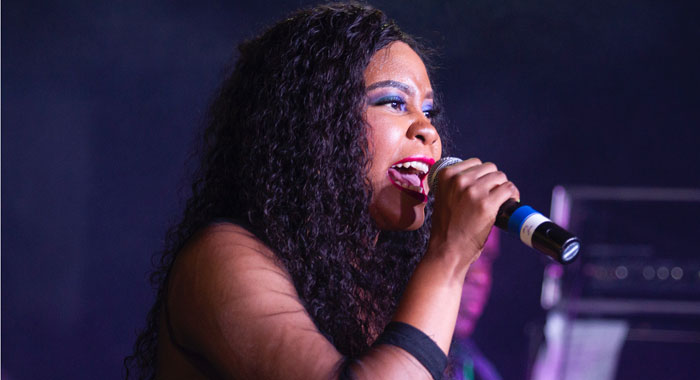 Minister of Tourism, Sport and Culture Cecil McKie spoke to patrons on both Friday and Saturday night, giving his government's commitment to the festival and indicating that he would like to see it become one of the biggest festivals in the Caribbean.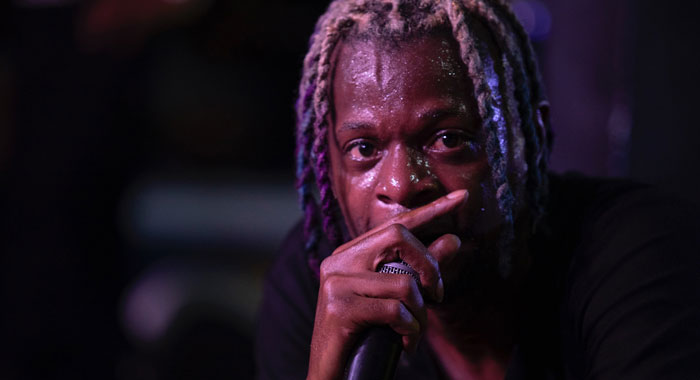 Director Sabrina Mitchell indicated that 2020 was considered a transition year, with the committee trying to cut costs to ensure the long-term sustainability of the event, which Bequia needs and depends on.
She expressed her gratitude to the partner restaurants, taxis and members of the Bequia Tourism Association.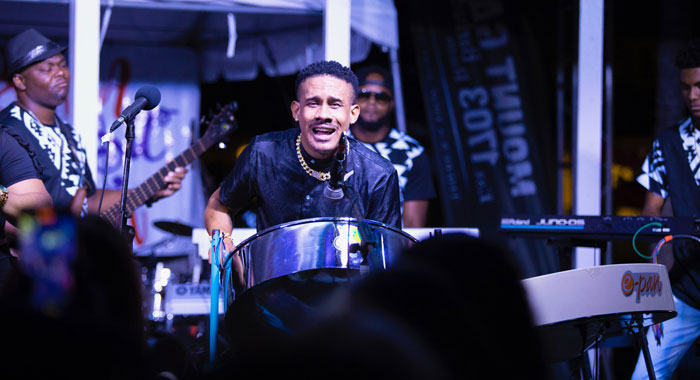 She also spoke of plans for 2021, where the committee plans to change the Saturday and Sunday lineup, including adding a Reggae Night and "giving the people what they want".
"While there are serious financial challenges to producing a high quality event with a small budget, combined with the festival mantra of bringing music to suit all tastes, I remain committed to ensuring that MusicFest 2021 will deliver," Mitchell said.
Next year's festival is set for Jan. 27 to 31.