The National Lotteries Authority (NLA), on Tuesday, presented the winning cheques to its latest jackpot winners, including Joseph Ballantyne, of Sion Hill, Sandy Bay, who won EC$1,685,000 — the NLA's largest jackpot ever.
Also receiving her cheque during the event at Victoria Park was another North Windward resident, Relitha Nanton, 52, of Fancy, who won EC$60,000.
Nanton told the presentation that she is a mother of five who came up with the numbers "two of my children and one of my grand children".
Ballantyne, a construction worker, based in Mustique, told a presentation ceremony that his 28-year-old daughter, Jolene Baptiste gave him the numbers on May 23 after a dream about her deceased paternal grandmother.
The daughter, Baptiste a registered nursing assistant who works at a call centre.
However, she aspires to be a doctor, and told the media while she sees the Lotto prize as totally her father, any help he gives her in realising that dream would be appreciated.
Ballantyne played the numbers on May 26 and again on May 29, when he bagged the winning prize, ending a 16-month period during which there was no Lotto winner in St. Vincent and the Grenadines.
The EC$2 which Ballantyne spent on the winning ticket was part of EC$30 he spend on NLA games that day.
His common law wife, Noreen Baptiste, had described his 30-year pursuit of the Lotto jackpot as a money-wasting exercise, Ballantyne said.
"Well, I am not 17 like what everybody is saying; I am 28," Baptiste said at the presentation ceremony.
She was apparently referring to rumours after the winning draw that the ticket had been bought by a 17-year-old.
She said that after the dream on May 23, she had called her father telling him to play the numbers.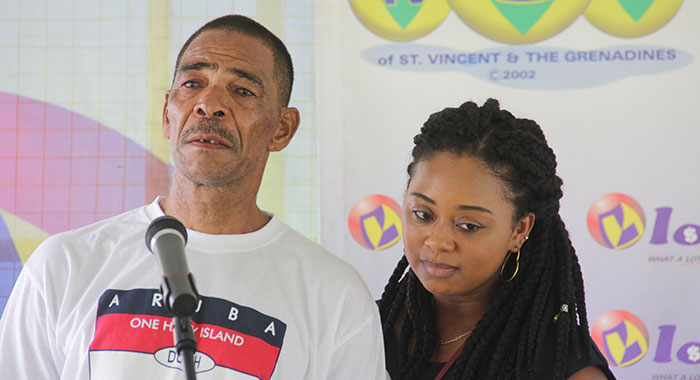 When he asked her why she had not played the numbers, Baptiste said she told her father that she was fed up of not winning.
She said that she followed the May 29 draw live on Facebook and when the numbered "drop", she called her mom, asking her if her dad had bought the ticket.
Her dad said no.
Baptiste said she felt hurt and was crying when her mother called about five minutes later, saying that her father had, in fact, bought the winning numbers.
Ballantyne said it was too early to make plans for the money but said his first daughter was diagnosed with first-stage breast cancer last year.
"She already today in the hospital so if that money can help her to get better, I need to spend that money," he said.
Ballanytne visited the NLA's headquarters last Thrusday, seven days after winning, to claim the prize.
Meanwhile, McGregor Sealey, general manager of the NLA, said it was a historic day, adding that he had been with the lottery since its inception and it was the first time that there is a winner exceeding EC$1 million.
He said that when the NLA presented the winner of the Jan. 15, 2019 jackpot — the previous last winner — with his EC$45,000 cheque, he (Sealey) had said he wanted the next jackpot to reach EC$1 million
Sealey noted that the jackpot surpassed that, reaching EC$1.685 million.
He said it was the first time in the Windward Islands that a jackpot had exceeded EC$1.5 million, adding that it was the first time that there were consecutive winners coming forward to claim their Lotto prizes at the same time.
"And here is our first millionaire. I want to congratulate Ballantyne and Ms Nanton who has won $60,000 and hope that you are going to spend this money wisely," Sealey said, as he held Ballantyne's left hand aloft.
He said he has seen people win in excess of EC$800,000 "and today they have nothing", adding that he hopes the Lotto winners would use their winnings wisely.
Sealey said that EC$1.685 million "is a hell of a lot of money.
"And please, use this money wisely."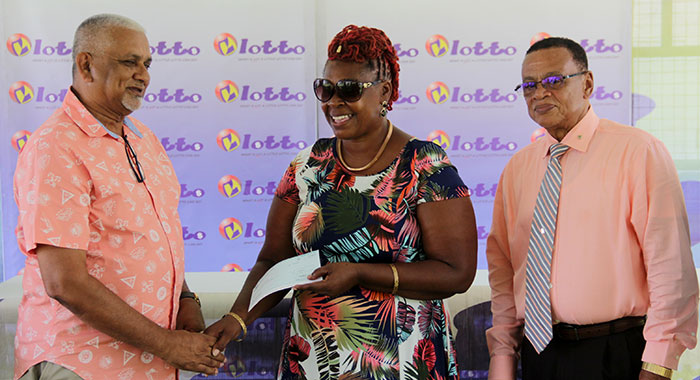 He thanked players of the game, saying that in some games the NLA sold more tickets that the population of St. Vincent and the Grenadines — about 110,000.
Meanwhile, NLA marketing officer, Antony Dennie, also noted the historic nature of the presentation.
"It took 16 months and two weeks before there was another jackpot winner," Dennie said.
"And you hear the conspiracy theorists making their proclamation's but I am happy that we have Mr. John of the auditing firm BDO here with us," Dennie said.
He said that the NLA prides itself in being as transparent as possible in all of its games.
Dennie said the process of draws "is not a five minutes thing" but takes about two hours "with certain rules and policies taking place every step" and the auditors ensure that whatever transpires at the draws are quite transparent.
He thanked those who came forward to witness draws and said that anyone is welcome to come and witness the draw.
Chair of the NLA board of directors, Murray Bullock said it gives him goose bumps when he thinks of how far the NLA has come.
He said the NLA is grateful for the tremendous support from the playing public over the last few years.
"At the National Lotteries, we change lives, we make dreams a reality and we support sports and culture," he said, adding that this is evidenced by the projects that the company has executed over the past 18 years.
"Throughout the length and breath of St. Vincent and the Grenadines, there is physical evidence, substantial evidence of the work of the National Lotteries," he said.
Bullock said these include playing fields and other sports facilities, contribution to nationals who travel to represent SVG overseas, the sponsorship of tournaments, and carnival to which it contributed over EC$2 million in cash last year.
Bullock said that the Lottery also provide meals and transportation support to several hundred students.
He said that the government does not tax NLA winning and the prizes are not paid in instalments.
"We give you a cheque that is as good as a bar of gold," Bullock said, adding that he does not see that changing during his tenure.
"Mr. Joseph Ballantyne will be issued with a cheque that is as good as any bankers cheque in St. Vincent and the Grenadines," he said.
Bullock further said that for the first time in the history of the NLA in SVG, the agent is being recognised.
"So this is a payday for that agent also," he said, adding that he wanted to assure other agents that if they sell the winning ticket they will be presented with the 1.5% of the prize.
"And I want to assure the public of St. Vincent and the Grenadines that the winner is not an underage female," Bullock said, adding that Ballantyne is "all the way a man".
Bullock said that if he were Ballantyne he would negotiate with a bank for an interest rate of about 4.5% which would give interest of EC$6,000 a month.
He said that if Ballantyne does that he would still have EC$185,000 "to play the fool with".
Bullock further told Nanton that EC$60,000 "is nothing to sneeze about".
Agent 104, Click Auto, was presented with a commission check of selling the winning ticket in the EC$60,0000 prize drawn on June 2.
Bally's Grocery and Bar, agent 117, received a cheque for EC$25,275 for selling the winning ticket in the EC$1.685 million draw.