Vice-President of the main opposition New Democratic Party, St. Clair Leacock, says that the party's West St. George candidate, Kay Bacchus-Baptiste is not only a more experienced lawyer than Prime Minister Ralph Gonsalves, but can "wrap" him up in court.
"Kay can land on her feet tomorrow as an attorney general in St. Vincent and the Grenadines and the country will be better for it. Trained a long, long time before your current leader, can wrap him up, as Zion-I would say, and sell him in the face of law," Leacock told an NDP virtual campaign meeting on Tuesday.
The ULP has chosen public servants rather than politicians as the two attorney generals in since it came to office in 2001.
Leacock spoke about Bacchus-Baptiste as he contrasted her with retired educator Curtis King, who is said to be in the forefront as the replacement for Cecil "Ces" McKie, a two-term MP to represent the ULP in West St. George.
"Kay endorses the notion of a constituency development fund, a fund which empowers her, that when she goes through and she see the back walls and the drains and the footpaths and people with health problems, educational problems, social issues that there has been a budget for her to, as a lead in all right, make on-the-spot decisions through the proper protocols of the governmental system and get it done," Leacock said in the speech in which he posed a number of questions that he said King should consider before becoming a ULP candidate.
"Your leader doesn't support that. None of your colleagues supports it. In fact, none of you have the balls to stand up and disagree with him on anything at all. You join that? You join that? The word Labour not even — boy Look, you bastardise the word labour man. That's not what labour was meant to be," Leacock further said in reference to King.
He said that in sharp contrast, the NDP, in its candidate, presents to West St. George "someone, who without beating her chest, has stood on her record of service.
"A champion for human rights enshrined in our Constitution. That's why it pains her, when in a private capacity or as a parliamentarian, she sits in a house (Parliament) that your side of the house says, cannot bring a vote of no confidence that makes us uniquely unique as the only country in the Commonwealth where you can't recall a government or express dissatisfaction for government."
Leacock asked if King remembers that the current prime minister of St. Kitts and Nevis, Timothy Harris, when he was opposition leader, came to St. Vincent and the Grenadines "for rescue when your very leader would not open his mouth, as he is doing now in other people's business, to see that democracy reigns in St. Kitts?
"Have you come to grips with yourself that in the same loudness and firmness that you speak about black lives matter in the United States of America that lives also matter in Venezuela, where millions of people have had to be disrupted? Where were the voices? You stand behind that? Kay has been a champion for constitutionalism, a champion for democracy, a champion for culture…"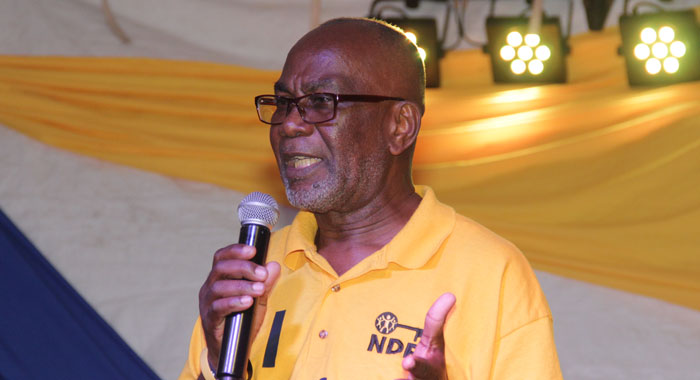 Leacock further said that Bacchus-Baptiste had represented SVG nationally.
"Look at the way the decency, the dignity, the pride, the competence she brings to the parliament when she stands and challenges."
He, however, said that Bacchus-Baptiste, like the other NDP candidates, is not "a standalone candidate".
"We, first of all have the embrace and broad shoulders of our current leader. But even more importantly, we are proud of the historical and institutional capacity of the New Democratic Party — 40-plus years of Mitchell, Eustace, and now Friday.
"Compare that to where you are and what you are supporting; your current party say you are 25 years old. You couldn't even wait for the death of some of your important contributors before you disassociate yourself from Labour. What do you stand for? Kay will speak for herself and we will speak with her, we will stand by her."
Leacock said that the NDP is saying that in this election, it is the transformational party.
"We're not coming with two dry coconuts and a slice of pumpkin for a vote. … We understand fully that this New Democratic Party is the modern day David of politics. We understand that we are coming up to the hundreds of millions that we have voted for you to cut our own throat," he said in an apparent reference to the COVID-19 stimulus package.
"But we did it because we love St. Vincent and Grenadines and we placed their interest before us. We understand that this is the time to be on the right side of history. We understand that this is a time that real change and sustainable change can come to St. Vincent and the Grenadines. As Dr. Friday says, the best days for the New Democratic Party are ahead of us," Leacock said.