Prime Minister Ralph Gonsalves is threatening to sue The News newspaper over its reportage of comments allegedly made by physician Wayne Murray in connection with the government's compulsorily acquisition of lands owned by Murray's family in Richmond Hill.
The prime minister said on NBC Radio, on Wednesday, that his lawyer has written to the newspaper "and I have given instructions to sue for defamation unless certain demands were not satisfied".
He, however, said that "because of my extremely high regard for" Simone Murray, the physician's wife, "and all the circumstances" he would not sue Murray, who he alleged defamed him.
The Murrays have been using the media to try to get the government to address the fallout from its compulsory acquisition of part of several acres of lands that they own at Richmond Hill.
The land had been in Mrs. Murray's family for 100 years and over the decades, they have rented parts of its for housing.
However, the Murrays as well as their relatives who are owners of various portions of the land, have said that because of criminal activity and other plans for the land, they were moving this year to enforce years-old court orders for the tenants to vacate the land.
Amidst this development, the government acquired some three acres of the land, reportedly in the absence of a survey plan identifying the portion acquired.
The Murrays have said that since then, persons have intensified their trespassing and theft of his agricultural produce.
When reprimanded, the formers tenants have reportedly told the Murrays that the lands no longer belong to them.
Mrs. Murray has told iWitness News that she is a cancer survivor and does not want the stress of the situation to trigger a recurrence of the illness.
Land acquisition for housing not new
On Wednesday, Gonsalves said that the acquisition of lands has been going on for decades and in East Kingstown, where the lands are located, the New Democratic Party administration acquired lands there for public housing in 1987.
"… the founding father of Independence Robert Milton Cato also acquired lands for public housing. Indeed, so too did the colonial government. So this is not anything which is new," he said, adding that the law has been on the books since 1922.
The prime minister said that upon advisement, the Murrays' lands were acquired for public housing and his government has dealt with those circumstances over and over.
He said he and Dr. Murray had a conversation three weeks ago in which the physician related to him that there were some persons who were behaving in a manner that was "unruly, criminal and the like".
The prime minster said he told Murray he would address the matter because he does not support that kind of behaviour.
Gonsalves said he called the Commissioner of Police Colin John and requested that a senior officer visit and speak to these persons.
The following day, Saturday, the commissioner went with Assistant Commissioner of Police Benjamin and spoke to the persons, the prime minister said.
He said that the chief surveyor has indicated to him and he had received a complaint.
"They went and spoke to the persons concerned and as far as I know, everything has been calm since; I didn't receive any reports.
"But yesterday (Tuesday), I understand that a post was made, purportedly by Dr. Murray online, with certain intimation of treats against certain persons unnamed. And the police, naturally in these circumstances, the commissioner acted."
He was referring to the development, on Tuesday, when police turned up at Murray's clinic on Murray's Road, telling him that the police chief wanted to see him at headquarters.
Murray was taken to police headquarters where he was detained for several hours then released without charge.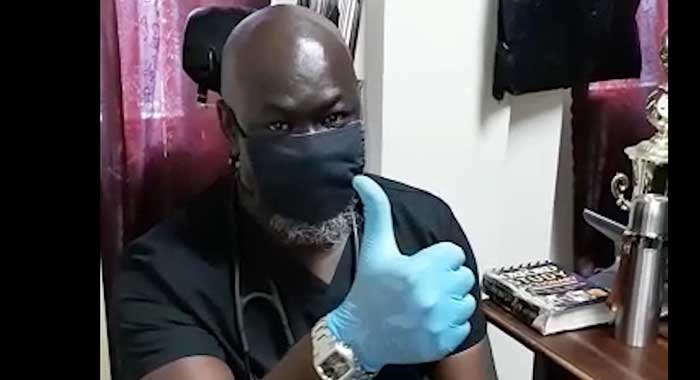 The prime minister said he does not know the process that was followed subsequent to the post online.
"I received a report and I know that Dr. Murray went to the police and they had, as far as I was informed, a conversation. And that is that.
"I want to just tell everyone what I know and what is the interaction which I have had in this matter."
The prime minister said that it is a normal thing in the history of the country that lands are purchased and or acquired for public housing.
"The persons who live there or the persons who may go there have absolutely no right to disturb Simone, Dr. Murray or anybody in the family in their quiet enjoyment of that part of the land, which is clearly pointed out is not acquired.
"Similarly, I expect that all persons who are involved would refrain from threat and violence of any kind."
'clearly defamatory'
He said that he read in last week's edition of The News a report on a telephone call that Dr. Murray is said to have made to a radio station.
"… and I was called certain names which are clearly defamatory and that defamation was published twice in The News newspaper and they have received a letter from my lawyer and I have given instructions to sue for defamation unless certain demands were not satisfied," Gonsalves said.
He continued:
"I don't intent to sue Dr. Murray for what he has published in relation to me, which publication, I am absolutely sure has defamed me. And I wouldn't do so because of my extremely high regard for Simone Murray and all the circumstances. I've had a conversation on more than once with Simone and my relations remain very civil towards here and as I repeat, I hold her in very high regard.
"I just want inasmuch as this issue, I have been advised, is being broadcast about so that I can put the situation very straight and explain the perspective that I have in this particular matter."