Prime Minister Ralph Gonsalves has defended his son, Finance Minister Camillo Gonsalves, amidst a comment by former prime minister Sir James Mitchell that a vote for the older Gonsalves is a vote for the son.
"This political exercise, when you get it down to nuts and bolts, it is vote Ralph and get Camillo," Sir James said on Boom FM on Oct. 13.
"When you see the pictures of their advertisement, you see Ralph and Camillo and [Minister of Agriculture] Saboto [Caesar], but look at the smirk on Camillo's face," Sir James said, referring to a campaign billboard for Gonsalves' Unity Labour Party, which is seeking a historic fifth consecutive five-year term in office in elections on Thursday.
"That smile on his face tells the whole story. Visual images are there, you know," Sir James said.
Both Caesar, who is seeking a third consecutive term as MP for South Central Windward, and the younger Gonsalves, who is seeking a second term in East St. George, are being presented as potential successors for the older Gonsalves, who is 74.
"I know that as a former prime minister, you really think Ralph planning to last five terms? He wants to install Camillo. That's it in a nutshell and that mood is there inside the country you know, and that's what has people fed up," said Sir James, 89, who was prime minister from 1984 to October 2000.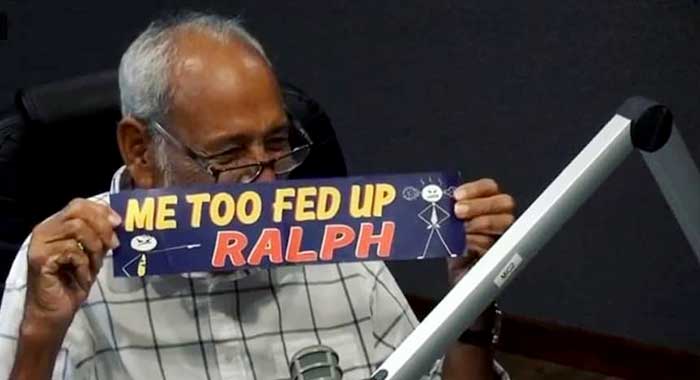 But, speaking at a ULP rally in Arnos Vale on Sunday, the prime minister responded to Sir James, saying:
"Ah hear James Mitchell have an ad. He says yo' vote Ralph, you get Camillo. But the point is this. Camillo is me son, I got him all the time. Yo' vote me, yo' always get Camillo because Camillo by my side.
"And every job I ever give him he has performed with distinction. James Mitchell, is not my fault that none ah yo' pickney them decide they going come into politics. So wha' you wah tek it out pon Camillo fah? If yo' wah beat up somebody, beat up the comrade. Beat up the comrade. Doh pick pon Camillo."
Some of Gonsalves' critics have said that every job that Camillo, a lawyer, has had in SVG was given to him by his father.
The younger Gonsalves was senior crown counsel before becoming the nation's ambassador to the United Nations.
He was later appointed a senator and Minister of Foreign Affairs in 2013 before running in East St. George, a traditional labour seat, in 2015 and was elected.
In 2017, the younger Gonsalves succeeded his father as Minister of Finance, a portfolio, which in SVG, is traditionally held by the prime minister.