Prime Minister Ralph Gonsalves, on Sunday, expressed disappointment that church leaders have not been urging their members to take COVID-19 vaccines.
His comments came two weeks after his government allowed churches to increase their occupancy to one-third of their capacity, even as all other indoor gatherings remain limited to 20 persons and in-establishment dining has been banned.
"I am disappointed that except for a sprinkling of church leaders that they have not come out unequivocally to tell people [to] take the vaccine," Gonsalves said at the Obelisk in Dorsetshire Hill, during the National Heroes' Day wreath laying ceremony.
"I see [Methodist minister] Reverend [Adolf] Davis has done it; I see one or two others. And I don't mean to single outr Reverend Davis, but there are too many," the prime minister said, referring to the head of the Christian Council.
The prime minister said he had read in the Jamaica Gleaner newspaper, on Sunday morning, that the head of the Anglican Church in that country had "come out very strongly to tell people to take the vaccine, because he took it.
"Our religious leaders, I am asking all of them to step forward and be counted at this moment," Gonsalves said.
"… we believe sincerely in the mantra, as was believed by [national hero Joseph] Chatoyer, no one is truly safe until every one of us is safe," he said.
"Taking the vaccine is an important part in the current period of defending your country, defending your patrimony, defending your civilisation, promoting well- being and strengthening the road now and ahead for our lives, our livelihoods and for production.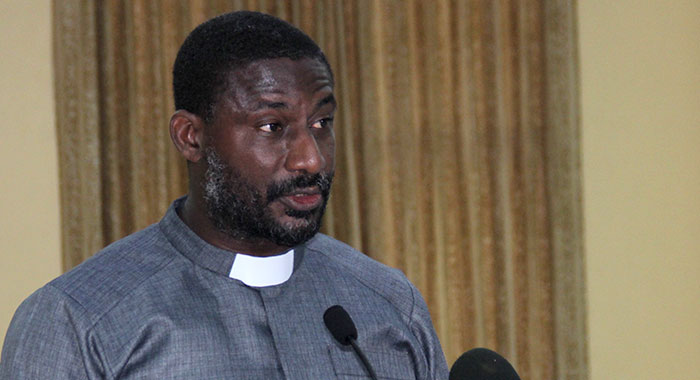 Gonsalves returned to the topic on WE FM later on Sunday.
He said that the council of churches in Jamaican had issued a strong statement against a pastor who told his congregation, which had gathered without masks, that COVID-19 could not enter the building because "the spirit of God will deal with this thing".
"Clearly, was religious demagoguery because it is difficult for me to see that a person, completely in all his senses and a person who is appraised both of faith and reason — and part of reason is science –could make a statement like that," Gonsalves said.
"But the Christian cCouncil came out and made a statement about that, making it absolutely clear that that is not the sort of theological exposition that they would expect to come from somebody who is supposed to be a responsible church person.
The prime minister again restated the point about the head of the Anglican Church in Jamaica taking the vaccine and encouraging other others to do so.
"Not only did he take it, but he say I'm not only taking this, I'm not only urging people to take the vaccine, I'm actively campaigning and say yes, this vaccine must be taken — taking a strong position," Gonsalves said.
"And I would like to see in our country the religious leaders line up and take this position in relation to the vaccine. It's for the good of their members."
He said that the Apostle Paul had long spoken about "the merging of faith and reason, faith and science".
Gonsalves took his jab in February, when the country had received, through "an intermediary", 20 doses of Sputnik-V from Russia.
The 74-year-old prime minister entered "prayerful consideration" before taking the jab, saying that he did not want to be accused of jumping the cue.
He further said that some journalists had told him they would only take the jab if he took it first.
Since then, the country has received about 45,000 doses of vaccine, including 40,000 doses of the Covishield (Indian) AstraZeneca from India.