Acting Prime Minister Montgomery Daniel is urging residents of St. Vincent and the Grenadines to prepare for the hurricane season among the "cascading hazards" this year.
"We have faced a year of cascading hazards from COVID19 pandemic to the current response and impacts from the recent volcanic eruptions, which makes preparation for this hurricane season extremely critical," Daniel said in a statement on Tuesday, the official start of the Atlantic Hurricane Season.
He said that the volcanic eruptions have made communities, families and the economy more vulnerable with the heavy ash fall, pyroclastic flows and lahars that have devastated homes and livelihoods.
"Nevertheless, we must continue in earnest our preparations for this hurricane season," the acting prime minister said.
Regional forecasters, like their colleagues further afield, are predicting an above average hurricane season, with up to 18 named storms and at least three major hurricanes this year.
The acting prime minister urged residents to access their homes, adding that many roofs may be still covered with volcanic ash.
He urged the removal of this ash, noting that when it mixes with water, the weight increases significantly and can cause roofs to collapse.
"Secondly, persons living even closer to the volcano must remain vigilant as the heavy ash fall on the hillsides may be mobilised during heavy rainfall and may become lahars."
Daniel noted that flooding is one of the more prevalent hazards during heavy rainfall and urged the necessary precaution.
He called for the establishment of a household plan for possible disruption of water supply to homes, adding that households may need to store water to last for up to a week.
Residents may want to look at cleaning drains around their homes and communities so as to prevent flooding and damage to homes and public infrastructure, the acting prime minister said.
"Importantly, when you clean the ash from around your surroundings, do not throw it into the drains, as this may result in blockage of those drains, which can lead to further flooding…
"We are entering into this hurricane season with a complexity of hazards before us. We, however, cannot afford to let our guards down and preparedness must now, more than ever, become our watchword as we plan for all seasons and not just the hurricane seasons in keeping with our comprehensive disaster management strategy, which includes all hazards, all people, and all phases of the disaster management cycle."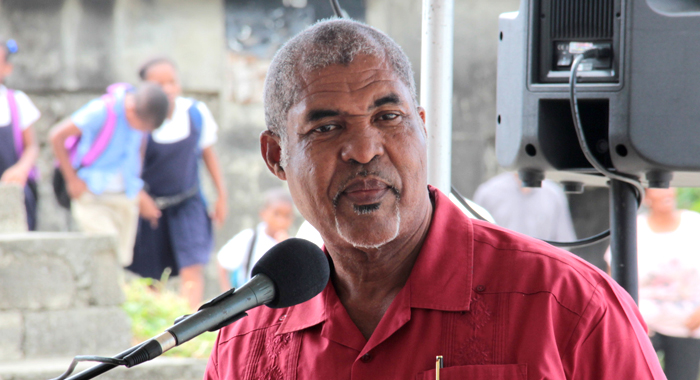 He said this means that the nation must plan for COVID-19, volcanic eruption, hurricanes, and other hazards "and all of the society must be involved in such planning".
The acting prime minister advised that residents listen to all alerts from the SVG Met Services and follow the instructions given by the National Emergency Management Organisation.
"As we heighten our preparedness for an active hurricane season, let us all be ready, make the necessary household preparations of water, food, checking of our homes, the roofs, the building in itself and making your family emergency plan.
"Remember, planning for all hazards, including hurricanes and storms, begins with all of us and our plans can determine how best we ride through the storm and how quickly we bound forward and recover."
The minister saluted civil servants, volunteers, the private sector and individuals who have supported NEMO and the state agencies during the last six weeks of responding to the volcanic emergency.
"I know it has been a difficult few weeks, especially for civil servants who have worked tirelessly to support the operations at the various warehouses and the National Emergency Operation Centre, the NEOC," he said.
"I know you have been stretched to the limits but it is extremely important that government operations continue following a disaster," Daniel said.
He continued:
"I especially want to encourage all government departments, private sector and other entities to ensure you are ready for this [hurricane] season. Update your existing plans, or develop a plan if you do not yet have one. We all must be ready to support a national effort if we are impacted during the 2021 hurricane season."