For the second month in a row, a scientist monitoring La Soufriere is urging the Government of St. Vincent and the Grenadines to pay closer attention to the regulation of construction in the volcano Red Zone.
The latest warning comes from Lloyd Lynch, the lead scientist within the monitoring team about one month after Professor Richard Robertson, when he was the lead, made a similar call.
"PM, there is one thing that has been bothering me. I am sort of a risk advocate and I like to look at risk from various angles. And I haven't heard much discussion surrounding what I am going to say," Lynch said on NBC Radio's "Eyeing La Soufriere" programme on Friday.
Gonsalves had joined Lynch virtually from Cuba, where he has been over the past few weeks accompanying his wife, who is receiving medical attention there.
Lynch continued:
"I see this eruption as a wake-up call from the standpoint that a lot of settlement has gone into the flanks, particularly the eastern flanks, of the volcano in the last 20, 30 years."
Lynch said that when he first visited St. Vincent around 1984, they had to use four-wheel drive vehicles to get to Owia, a community on the north-eastern tip of St. Vincent.
He added that the drive was longer, because of the condition of the road, but now those communities have all the modern amenities and the roads are in much better condition.
"Nothing is wrong with that. But the population has to be mindful that they are living on a volcano and I think that we may not have done sufficient with regard to incorporating those considerations into the development process because we have seen a lot of houses that were built too close to the river valleys."
Lynch said that in 2013, when there was the Christmas floods, a lot of houses near riverbeds were washed out.
"And a lot now are under threat. So I see this eruption as a wake-up call to start paying much greater attention to the way in which we develop and the way in which we put down new settlements," Lynch said.
"So we have to see how we can strengthen the building regulations, the planning regulations system through either stronger policing but also the process can't be all about penalisation.
"One can give incentives also. We have seen a lot of roofs got damaged [as a result of the eruption]. So there can be stronger regulations to ensure that people build stronger roofs but also incentives providing the material and the technical assistance and training to make sure that people build back better. So I hope while we are here, we can have some discussions on this subject."
The prime minister said that the scientist is one hundred per cent correct in his comments, adding that much has been done in this regard, but it is insufficient.
"And there are certain challenges, as always, in life, living production, construction, but they can be dealt with in sensible practical ways consistent with the overall matter of strengthening resilience, or to put it another way, to build anti-fragile systems. So that I am with you one hundred per cent on what you say," Gonsalves said.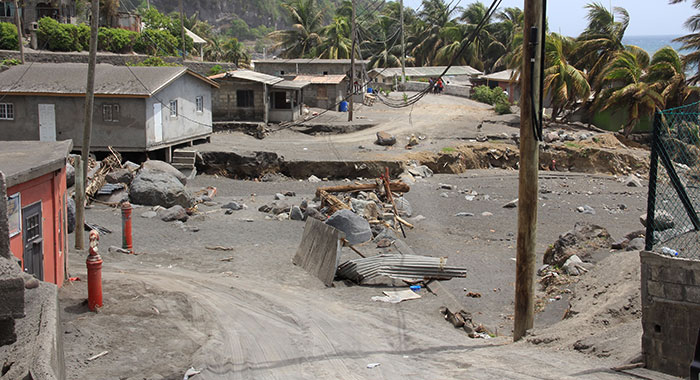 The prime minister said that his government has strengthened the planning laws and the enforcement, but not sufficiently.
"Because part of the enforcement depends on cooperation with contractors. Now, as you will know, in Jamaica, other places in the Caribbean, persons who do not have a particularly high level of income tend to build fairly cheaply and they are very resistant to you seeking to tell them where they must build, even when you are acting in their interest," Gonsalves said.
He said that the good thing about the eruption, to the extent that Lloyd described it as a wake-up call, is "that they will just have to understand that there are certain places you just cannot build, like, for instance, near to a riverbed and you have to build the roof differently and better, even in terms of accommodating the ash, the angle at which you build the roof, how high you build from the ground, where you put your windows, all sorts of technical things.
"… and those observations have been made and there has to be, quite rightly, a stronger regulatory framework, in addition to the stronger enforcement of the rules."
Lloyd said that it is also necessary as the government is sending teams to restore electricity and help to clean up, that these teams document their observations "so we can learn from the mistake and make the necessary corrections".
The prime minister said that this is why the teams that will be inspecting will have to include the Electrical Inspectorate, the power company, and people from Physical Planning "so that there will be a proper record".
He noted that people can use their cellphone to take photos and videos as part of the data gathering.
"So it's a huge exercise and I am very glad that very early on your watch you have highlighted it. We are on the same page," Gonsalves told the scientist.