The opposition New Democratic Party (NDP) on Monday night used a virtual public meeting in its attempt to whip up persons to join a protest in Kingstown today (Tuesday), as Parliament meets.
"I am going to be in the parliament doing your business but I am also going to be amongst you in the streets because I know that democracy depends on what we do in that hallowed chamber but it also depends on what we do outside on the street," Opposition Leader Godwin Friday said.
"Both are equally important; equally uplifting, equally desirable as things that we should do as citizens in our dear St. Vincent and the Grenadines. So let us take that responsibility," he told media audiences.
The NDP has said it will use "Protest Tuesday", which coincides with what should have been Carnival Tuesday, to highlight issues of national concern.
Vincy Mas has been cancelled for a second consecutive year because of the COVID-19 pandemic and carnival holidays would now be granted in September.
However, the NDP has called on Vincentians to mask-up and come out on the streets to highlight issues of national concern.
Among these is the response of the authorities to the April 13 shooting of Diamond Resident Cornelius John at his home.
Charges in the case were laid on June 24, amidst protest and widespread commentary.
Senator Ashelle Morgan has been charged with assaulting John with intent to wound him, while Assistant Director of Public Prosecution Karim Nelson has been charged with wounding John and discharging a firearm at him.
Meanwhile, John is charged with using threatening words to Morgan, and two counts of the same offences, allegedly committed against his wife, Nicole John.
'It is time that I, too, put myself on the line'
Friday said that the efforts of the NDP have brought people to a point where they are saying, "'It is time that I, too, put myself on the line.'
"By that I mean that you don't just say how outraged you are. That is important. Don't just say how disappointed you are in the present government and the state of affairs in the country. That is important. Don't just say how much I believe in St. Vincent and the Grenadines, how much I want to see what is good for the people of St. Vincent and the Grenadines. That, too, is important.
"But don't just say it. There comes a point when we have to all, each one of us, take the responsibility for creating the change that we so much desire to see in our country."
The opposition leader said that words and feelings must also be matched with action.
"That is a democratic responsibility. It is not to be left to any single person, any political leader or to be treated as though somehow it is demeaning or it is beneath the decency of some of our citizens. It is the highest calling that we have: that of upholding our democracy, that of defending it, not every five years, with a tick in a box but by or action in between."
Friday said he is going to parliament tomorrow because his constituents in the Northern Grenadines voted him there to represent them.
He, however, said that as leader of the opposition, he has bigger responsibility for the entire nation.
"And I proudly say, as the majority leader in this country, that I take this responsibility very seriously and soberly"
Friday told the nation that he wants them to know that when he calls them to the picket they will have his support even as he also discharges his responsibility inside the national assembly.
"I want them to know that I sent them there and I will be outside as well as the wind in their sails. And we will be there with you as well."
He said there are many reasons for people to stand and say, "My hand, too, goes up. My placard will carry a message that will be seen in the cameras, in the newspaper, on social media because I am standing up."
He said that religious leaders and organizations, civil society groups, the trade unions, must take a stand.
The opposition leader also called on influencers such as writers and shapers of public opinion to take a stand.
He said that the country is on the wrong course because people were unwilling, out of fear, to stand up for certain things.
"… then one day, we get up and we see where we have slid down the slippery slope into greater poverty, crime, where you have 22 homicides already and only half the year is gone in St. Vincent and the Grenadines; where we see the administration of justice is moving in a way that tells you that there are some people who are favoured and most of us are not. When we see this is happening, we must all stand up, wherever it happens and to whomever it happens. So my dear people I am going to be there tomorrow," the opposition leader said.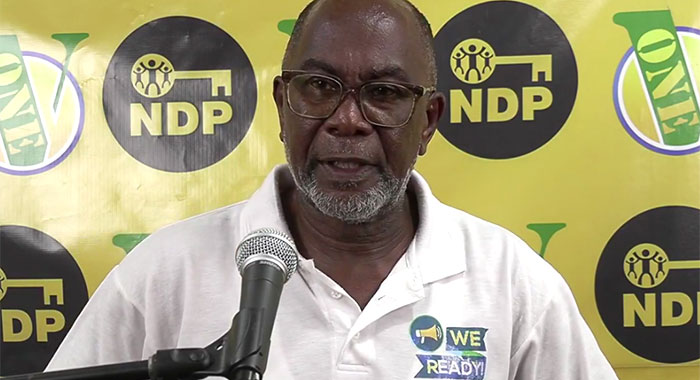 Two different levels of justice in St. Vincent?
Meanwhile, Central Kingstown MP and NDP vice–president, St. Clair Leacock told the virtual meeting:
"Tonight, as an elder statesman, not just in the New Democratic Party, but this St. Vincent and the Grenadines, this Caribbean region, I make an appeal to you to join us in the New Democratic Party who will be taking the lead tomorrow in what I believe will be a broad coalition of disturbed voices and faces and individuals…"
Leacock who has promised to lead the protest and crawl around Kingstown if need be, said he believes there would be representation from the trade union movement, the women's movement, students, farmers and fishers, rural communities, "all in one crescendo, one strong voice saying enough… no more".
The opposition lawmaker said that it bothered him that it took almost three months to complete the investigation into the shooting of John; something that he said would usually be resolved in 12 hours in SVG.
"Why all this confusion?" he said.
He said that what happened at John's property "by itself is a sufficiency of reasons for us to be on the streets because it speaks to the absence of the rule of law.
"It questions whether we have two different levels of justice in St. Vincent, one for one set of people, and another set of justice for another set of people. And we can't have that. This is not the South Africa of old where we had apartheid. This is St. Vincent and the Grenadines, a country that must be for all of us," Leacock said.
There was rapid erosion of democracy, a rapid disregard for constitutional rule," Leacock said.
"Collectively, tomorrow, we in the New Democratic Party will unashamedly, boldly, and proudly lead our people on the streets of Kingstown, step by step to a new promised land…
"The New Democratic Party, led by Dr. Friday, is asking for your boot, your body and your voices on the streets of Kingstown tomorrow. Let us come in large numbers, bring friends, bring supporters but let us collectively take that first and important step in building a new St. Vincent, in defending our democracy, in defending constitutionalism, in defending rule of law. No justice. No peace," he said.