Doctors specially selected by the government can now order workers to take a COVID-19 vaccine or other treatment, even if the worker's personal physician suggests otherwise.
And the worker would not be exempted from the treatment even if they hold some deep-rooted objection to it, informed by, for example, religion — a constitutional right covered under freedom of conscience, in St. Vincent and the Grenadines.
That is the effect of the changes to the Public Health Act, approved by Parliament without opposition support around 3 a.m. on Friday, after hours of protest, on Thursday, against the changes to the law.
"Where are we? In North Korea? This can't be right," Opposition Leader Godwin Friday, said in his contribution to the debate around 1 a.m. Friday.
"I understand the seriousness of the problem (COVID-19). But that is why fundamental rights are protected. It is so that they are not easily dispensed with when there are difficult decisions to be made. And the problem … is a serious one, but I don't believe this is the solution," he said before the government used its majority to pass the bill.
Friday noted that in January, government senator Julian Francis mocked him in Parliament for suggesting that face masks be made mandatory in public.
"Now, today, you want to force people to take vaccination. That's why we are where we are. This contempt you show for people and for people's opinions.
"If you respect people and provide information and invite them and be participatory in making decisions, we would be much further advanced than we are today…
"The fundamental thing is that they will pass the bill because they have a majority and they don't listen to reason. They have never listened to me on this issue before, although I have been right more than wrong. And that is being modest…" Friday said, having contrasted with the government's actions his rejected suggestion about managing the pandemic.
"This bill, the amendment to the Public Health Act, is presented with all the lofty intentions. But it is quite an invasive piece of legislation"
Friday noted that the bill replaced a provision introduced in the Public Health Act that allowed exemption, on medical and religious grounds, to treatment or testing in relation to a communicable disease.
"This is an act we passed just last year when COVID was already here," he said, referring to the amendment, which was made in April 2020.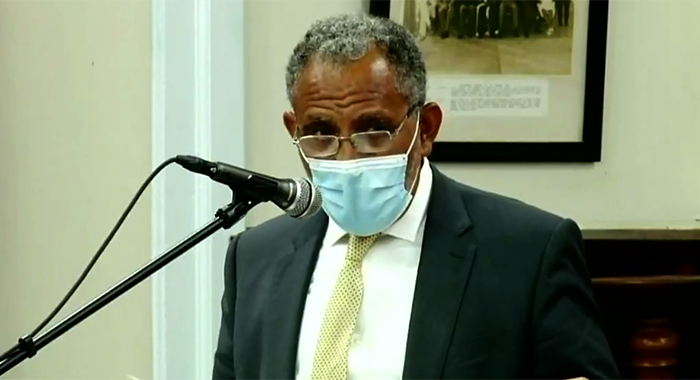 He said that the exemption also extended to a child or ward of the person who received the exemption.
The opposition leader noted that under the new law, a statement by the person seeking the exemption would not suffice.
"… it has to be a statement by a medical practitioner or a certificate prepared by a medical practitioner who is acceptable to the medical officer of health."
Friday, however, noted that there is another caveat, in that the medical practitioner who issues the certificate has to be acceptable to the medical officer of health – although the medical practitioner is licensed to practise in SVG.
"The question is, who is acceptable to the medical officer of health. If you get an exemption by your doctor, your long-term doctor that on the basis of [their] professional judgement [that] you should not be subjected to the treatment that is being prescribed, or the cure, your medical practitioner has to be acceptable to the medical officer."
Friday said he would like to know whether there are any licensed medical practitioners in SVG that would not be acceptable to the medical officer of health.
"Do they have some people who they licensed but they don't trust to perform their medical duties professionally?"
He noted that the medical practitioner who is approved by the medical officer of health has to state in the certificate the reason for the exemption.
"But that is not all. Having gotten a certificate by a medical practitioner that is essentially approved by the medical health officer and you say, 'Well, I am exempt from taking this treatment or cure', the chief medical officer can still veto it…
"Because it said that notwithstanding you got that certificate from an approved medical officer, the chief medical officer may require a person claiming an exemption under this section to submit to an examination by one or more medical practitioners. Not just one, one or more medical practitioners specified by the chief medical officer to inquire into whether or not the person should be granted an exemption on the medical grounds stipulated in the certificate.
"So you have now your own doctor who is not good enough even though approved by the medical officer of health. The chief medical officer would say you have to go to this doctor here or these two or three doctors for them to decide if you should get the exemption."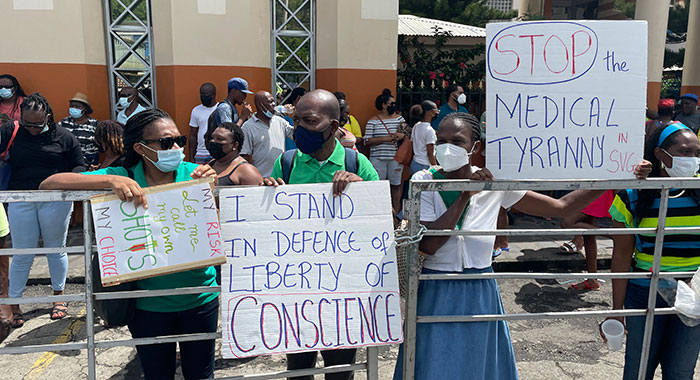 Friday said that this raises issues of trust.
"Now, who do you trust? One of the most personal and serious relationships that a person has is with his doctor or her doctor. And if you go to your doctor, you get approval from the medical officer of health to say, 'Yeah, your doctor is OK, they can issue you the certificate' and then you say you are exempt and you give it to the chief medical officer and she says, 'No, you gotta go to see these two doctors that I send you to.'
"And suppose they give a different opinion, … how does that person understand that? Does that person trust, feel that trust between himself or herself and the person whom the chief medical officer says you must go to for this examination when you have already got it from your regular doctor?
"And when they conflict, whose opinion rules? And how does the person whose life it would affect feel that they have to comply with something that their doctor says they shouldn't do? You think that person is going to want to comply? You think it is right that person should have to comply? … it is one of the most invasive things to essentially have the state order you to be examined by a doctor of their choice."
Friday said that the change in the law violates a person's "fundamental rights to choose for their own security and safety and it breaches and breaks one of the strongest bonds in professional relationship between you and your doctor and a doctor that is appointed or at least mandated, stipulated by the state…
"If I could have supported this bill, I would have, but I cannot because it is too invasive. It goes way beyond what is necessary and it opens the door for mandatory vaccination programmes, which will violate people's fundamental rights," Friday told Parliament.