Scores of armed police officers, some wearing hard helmets and carrying truncheons, were dispatched to outside the Kingstown Magistrate's Court, where Annamay Lewis, a 56-year-old vendor, of Layou, charged with wounding Prime Minister Ralph Gonsalves, was arraigned on Monday.
The police officers outnumbered the onlookers outside the court as Lewis arrived in an unmarked police vehicle and was escorted into the building by a plain-clothes female detective, shortly before 9 a.m.
Superintendent of Police Hesran Ballantyne, who heads the Narcotics Unit, told iWitness News that the contingent of officers were dispatched to the court to ensure law and order during Monday's proceedings.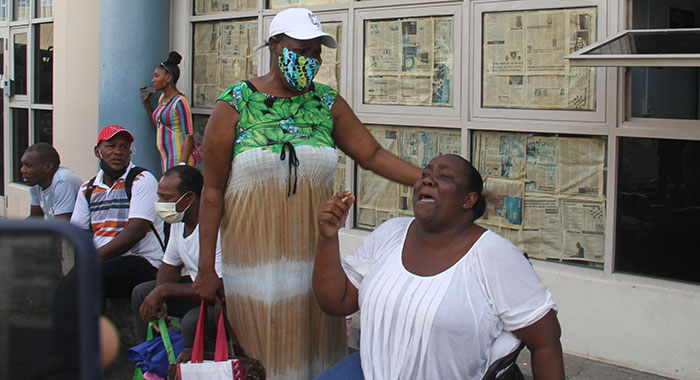 As the accused woman, who wore a red blouse, blue jeans, black socks, white slippers, and a gold head tie, arrived, her daughter, Stacia Simmons-Lewis, who was sitting outside the court building, could be heard shouting "My mother is innocent! My mother is innocent!
"I am here with a damaged spine and I have to up and down with my mother," the woman cried
Simmons-Lewis said that she has a spinal problem but had come to the court in support of her mother.
"My mother is innocent!" Simmons-Lewis repeatedly screamed. "My mother will not be made a scapegoat! My mother will not be made a scapegoat!" she said.
At this point, Superintendent of Police Clauston Francis, who is head of the Criminal Investigations Department, told the woman that she was in the precinct of the court and her behavior would not be tolerated.
He told her that if she persists, she would be arrested for breaching the Public Order Act.
Lewis' younger sister, Janneemay Lewis, sobbed as she attempted to console her niece.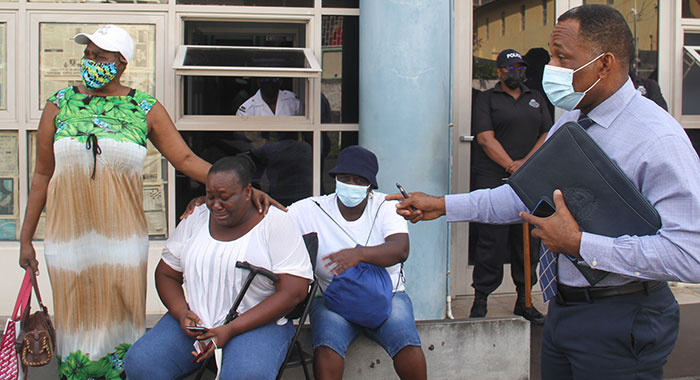 Meanwhile, a tense atmosphere hung inside the courtroom as police officers, journalists and other persons sat in the packed gallery and the Director of Public Prosecution, Sejilla Mc Dowall, and a crown counsel sat at the Bar table, waiting for the proceedings to begin.
The tension was broken when Senior Magistrate Rickie Burnett gently rapped, at 9:15 a.m., on his chamber door, which opens to the courtroom, and the court rose and the session began.
The magistrate went through Mondays' scheduled matters before coming to the new arrests.
At 9:19 a.m., the senior magistrate said, "It's difficult to recognise people when they are wearing masks. Is it Madame DPP?" he continued, referring to the DPP, who was sitting at the Bar table.
"Yes, your honour," the DPP responded.
"I did not recognise you. Welcome to my court," the chief magistrate said.
Lewis was one of two prisoners seated in that section of the courtroom, but her matter was not called until about 20 minutes after the sitting began.
She pleaded not guilty to a charge that on Aug. 5, at Kingstown, she unlawfully and maliciously wounded Ralph Gonsalves, of Old Montrose.
Lewis is alleged to have wounded Gonsalves by tossing an object at him during a protest outside Parliament on Thursday.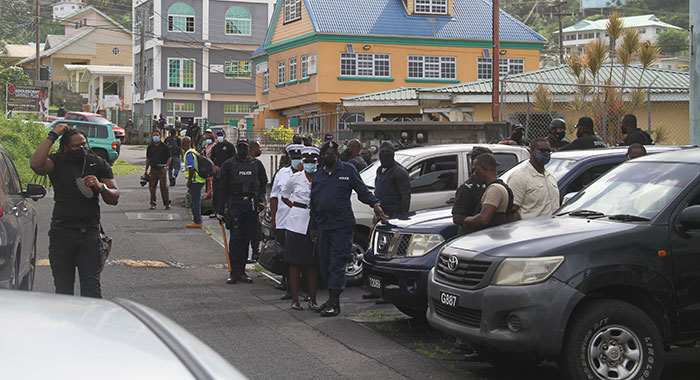 Counsel Kay Bacchus-Baptiste and Israel Bruce represented Lewis.
Bacchus-Baptiste requested bail for her client, telling the court that there was a surety and the prosecution had no objections to the person.
McDowall, who appeared for the Crown in the matter, when asked if she had any objections to bail, told the court, "none at all".
The magistrate set bail at EC$3,000 with one surely and adjourned the matter to Sept. 15.
Bacchus-Baptiste then requested full disclosure in the matter, and the DPP said that disclosure "is requisite".
"We will comply as standard," McDowall further said.
The senior magistrate then asked the defence if they wanted him to set a date by which disclosure should take place.
Bacchus-Baptiste responded in the affirmative, adding that she would like it to take place as soon as possible.
"My client has suffered," the lawyer said, adding that she would like the trial to take place as soon as possible.
The magistrate ordered disclosure by Aug. 31 and kept the September trial date.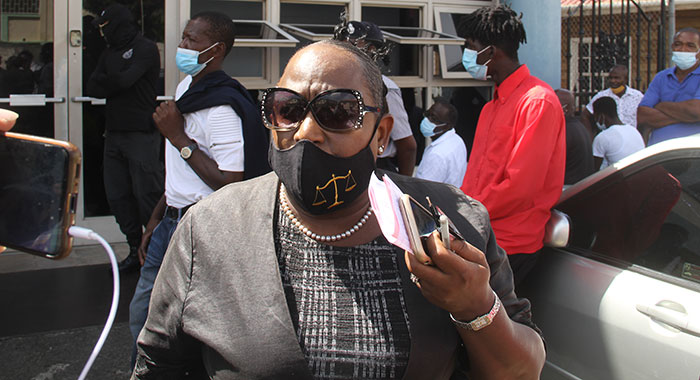 Outside the court, Bacchus-Baptiste told reporters that Lewis' legal team was ready with its defence even though it had not seen all of the disclosure as yet.
"We are gonna be ready," she said.
"I don't want her to languish. I don't want her to suffer. This lady is innocent. This lady was forced to give a statement that is not true. I don't want this matter to linger. We are going to try and get a trial as soon as we get disclosure. I even see it as an abuse against women because the police know that they have the wrong person but yet they forced her to confess and then to bring this stupid charge against her. We will defend her."
The lawyer said that statements are only admissible in evidence if they are given voluntarily. She said that her client gave a statement without a lawyer being present.
"She was forced to do it. It is not even true. So I don't even know where they are going with that. It is not even true. She never had a stone, she never threw a stone."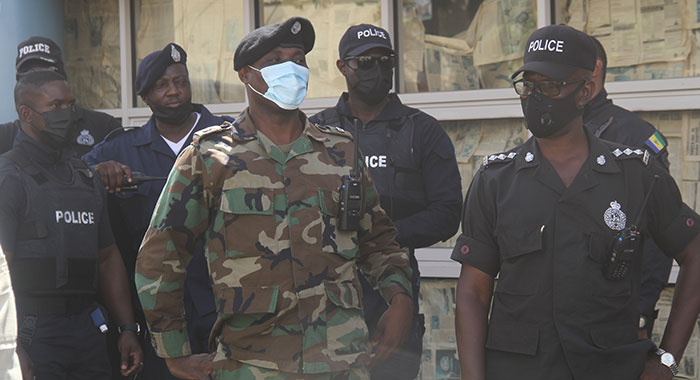 Bacchus-Baptiste said she had been practising criminal law for 25 years or more "and many times the strongest evidence the police has is a confession and when you are going to bring a confession which is clearly a lie and not true, how can we trust the police. This is serious for the administration of justice in St. Vincent and the Grenadines.
"Generally, when you see you have a confession, that's it. You don't need any other evidence. And this shows to us, we have to ask the question, how many more persons were convicted because they had a confession which was wrongfully obtained."
It was noted to the defence lawyer that government senator, Julian Francis told Parliament night that there was video evidence of the person who threw the object at the prime minister.
"I am waiting for it. That's why I am anxiously waiting for the disclosure. I want to see the video evidence. Senator Francis also said that she was going to ask for pardon, for forgiveness. You are going to ask for forgiveness for something that you didn't do?"
At this point, Lewis exited the courtroom and embraced her daughter and sister.
"I am innocent, I am innocent! I am innocent!" he woman said, her hands held above her shoulders as she held what appeared to be the charge sheet.
"I was forced to give statement. I am innocent of this. I am sure innocent. I did not fire no stone after the prime minister. May God have his mercy on my life."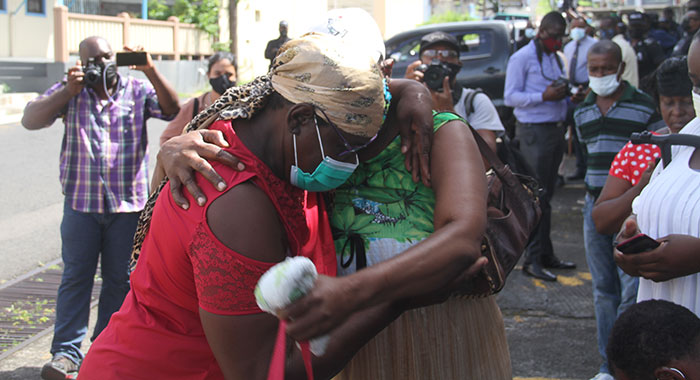 iWitness News told Lewis that the question people would ask is why would she give a statement if she is innocent.
"I was forced. I just said I was forced. Soon as the police take me from my home, they have me park up at hospital and from there—" Lewis was saying when her lawyer told her not to say anything else.
"Wait until you talk to me. You were forced," Bacchus-Baptiste said.
As she sat outside the court after he lawyer had left, Lewis, relating to herself, said, "You don't do people so."
She said that she was sleeping when the police came to her home.
"They ain't even wait to see if me have a lawyer. From my home straight to come up. Soon as we come up, 'You will have to go and give apologise, you will have to make apologise to the prime minister.'"
Lewis's sister, rubbing her back, said, "God nah sleep. Dem know yo innocent."