The hotel worker who, last week, stole money from a member of the Indian delegation during their official visit to St. Vincent escaped immediate prison time, on Friday, after her lawyer made a last-minute plea for her not to be jailed.
"Get yourself up and start all over again. It will be very hard because people judge you by your past. The sentence of this court is four months imprisonment," Magistrate Bertie Pompey told Maruth Francois, 23, at the Mesopotamia Magistrate's Court.
However, her lawyer, Grant Connell, who quoted Mahatma Gandhi in his effort to shield Francois from prison, told the court he knows of a pastor who could be called upon to help to rehabilitate Francois and possibly find her a job so she could reintegrate into society and start over.
"We are all humans and humans err," Connell said as he asked the court to suspend the sentence.
However, the prosecutor, Corporal of Police Delando Charles said he agreed with his colleague, prosecutor Station Sergeant of Police Renrick Cato, who told the Serious Offences Court, on Monday, that Francois should get a "short, sharp shock" of a prison sentence.
"We cannot allow the defendant to go back into society. We have to protect the society," Charles argued. "This has rippled St. Vincent and the Grenadines. We have the law to uphold; the law is the law."
ButConnell echoed "the law is law", adding that there are a number of similar cases in which people of similar backgrounds stole similar amounts and were not jailed.
"… we also have those of greater quantity and a higher social background from EC$2,000 to EC$200,000 that did not attract a custodial sentence," Connell told the court.
He said the people of St. Vincent have to come together, adding, "The fabric of society is tarnished and the court is not a seamstress," Connell said.
He said with a suspended sentence, even if Francois commits the simplest of offence, she opens the door to the jail.
"Only she has the keys but she can get back on the right track.
"There are bigger thieves out there," Connel told the court, adding that the country would have to spend about EC$4,000 to maintain Francois during four months' incarceration.
But Pompey said he was mindful of Oscar Wilde's quote: "Every saint has a past. Every sinner has a future".
"I really can't divorce it from my mind that it is a very embarrassing position and I am really, really mindful, I really don't like to send people to prison." Pompey said and suspended the sentence for one year.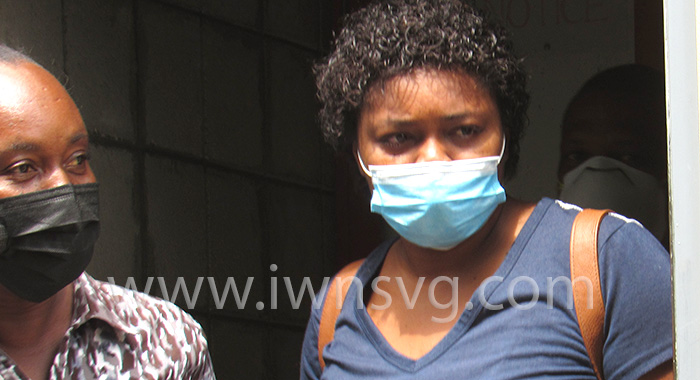 On Friday, for the second time this week, Francois, a Diamond resident, originally of Sandy Bay, pleaded guilty to a theft charge in connection with money stolen from a room at Beachcombers Hotel.
On Monday, Francois pleaded guilty, at the Serious Offences Court, to a charge that between May 14 and 19, 2022, at Villa, she stole US$1,140, the property of Anju Sharma, of Suriname.
Chief Magistrate Rechanne Browne remanded her in custody and set the sentencing for the following day.
However, on Tuesday, Francois appeared in court with Connell as her lawyer, and changed her plea to not guilty. The prosecution also amended the charge so that the defendant's name read "Francois", rather than Francis.
The matter was adjourned to Friday and transferred to the Mesopotamia Magistrate's Court.
On Friday, Charles made an application for the amount stolen to be amended from US$1,140 to US$1,240.
Pompey read the amended charge to Francois and she pleaded guilty.
In mitigation Connell told the court that a fine would not be appropriate and asked for a bond or non-custodial prison sentence.
"Give her the opportunity," Connell said, adding that he was not trying to suggest poverty as a justification for his client's action.
He, however, said that given her circumstances, Francois was "under financial pressure".
"Every day is a hustle with its daily cost, being the breadwinner and single parent to a three year-old preschooler with a daily wage of EC$29 to maintain herself and her daughter," the lawyer told the court.
He told the court that he was sure, given the opportunity and being a woman, and once the monies were recovered, Sharma would have understood and forgiven Francois.
The lawyer quoted a judge as saying that justice must be tempered with mercy but cannot be substituted by mercy.
The lawyer also quoted Mahatma Gandhi, saying, "The weak can never forgive. Forgiveness is the attribute of the strong.
Connell said he was not asking that the court feels sorry for Francois, but that it acts within the ambit of the law.
The lawyer said Francois is now jobless and scared as people have used various platforms "stripping" her.
"She has to rebuild from this error. She has expressed remorse and told me personally that she would have issued a personal apology to Sharma if she were here."
Sharma left St. Vincent on Wednesday.
In arriving at the sentence, Pompey noted that the offence carries a maximum sentence of two years imprisonment.
He began with a starting sentence of seven months in prison, and said that aggravating was the "serious breach of trust", and Francois' embarrassment of the country.
Pompey added one month for the aggravating features, taking the sentence to eight months.
Mitigating on Francois' behalf was the fact that she has a dependent child, has no previous convictions, and the money was recovered.
The magistrate subtracted one month from the sentence, in light of the mitigating factors.
He gave her one-third discount for her early guilty plea, leaving a sentence of four months.
The facts of the case are that Sharma, who works at the Embassy of India in Suriname, travelled to St. Vincent as part of the advance party that arranged the presidential visit.
Sharma stayed at Beachcombers Hotel and made reservations there for the presidential delegation.
Francois worked at the laundromat and as a room attendant at the hotel. She was assigned to clean Sharma's room during her stay.
On the afternoon of May 14, Sharma spoke with her mother, who told her to secure her money because she is in another country.
Sharma, therefore, went to her room and counted the money, which she had in her laptop bag.
It amounted to US$1,260.
Sharma wrapped the money in a piece of paper and placed it back in her bag, which she put in the clothes cupboard.
On May 19, about 9 a.m., Sharma along with the Indian First Lady, Savita Kovind, was going out, so Sharma went to check on her bag and found that it only contained US$20.
After the discovery, Sharma sat for 20 minutes, unable to believe what had happened.
She then went and checked again. She checked a third time and then reported the matter to the hotel manager.
The matter was reported to the police and detective Corporal 858 Hoyte conducted an investigation which led to Francois.
Police also conducted a search at Francois' home, during which they recovered a Bank of SVG pass book.
The detective questioned Francois about the transaction and she said that her boyfriend had sent money to her.
Francois was taken to the Calliaqua Police station, where she was cautioned and interviewed in the presence of justice of the Peace Joel Woodley.
During the interview, she admitted to stealing the money.
Police recovered US$1,240 from Francois.