The High Court has heard of the socio-economic and psychological impact that the 2019 death of a woman killed by an unlicensed driver has had on her family, including that her 22-year-old son has suffered a meltdown.
On July 1, High Court judge Justice Angelica Teelucksingh ordered the driver, Lorenzo Mc Lean, aka "Scougie", 27, to pay the family of the deceased woman, Josephine Robertson, of Diamond, EC$30,000 in compensation within six months, for causing her death while driving recklessly without a driver's permit
The judge further imposed a prison sentence of two years and one month on Mc Lean, but suspended it for three years.
Further, for driving without being the holder of a driver's permit, the judge ordered Mc Lean to pay a fine of EC$2,500 within one week, and also ordered him to pay a fine of EC$5,000 within two weeks for driving an uninsured vehicle.
If he does not pay the amounts, Mc Lean is to be taken back to court for sentencing.
Mc Lean, who was represented by Stephen Williams, pleaded guilty on Jan. 19, 2022 to charges of causing Robertson's death by reckless driving, driving without a permit and driving an unlicensed vehicle.
The judge said that as part of the sentencing exercise, she considered the April 19, 2022 victim impact statement of Shaphanique Robertson, the daughter of the deceased.
The victim's daughter described how the death of her mother has affected she and her siblings psychologically and financially.
She said she shared a close relationship with her mother who was struck by the car driven by Mc Lean "right before my eyes.
"I was in shock and I felt really bad… This was the worst day of my life. When I stood over my mother lying on her back and all she did was look at me and started vomiting white stuff out her mouth."
She described the psychological impact on herself and her siblings.
"Whenever my sister and I are walking on the road, we become frightened as we are afraid of dying the way our mom did…
"My sister, who is 13, and I never had any conflict. She has childhood kidney disease and wants everything to be done the way my mother made it…
"… One of my brothers had a mental breakdown because of what happened and has to be on medication and is still not well."
The court heard that the brother lives in a shanty as he has nowhere to live.
A son of the deceased, who was in court during the sentencing, cried audibly as the facts were being read.
A court officer offered him water and tissue.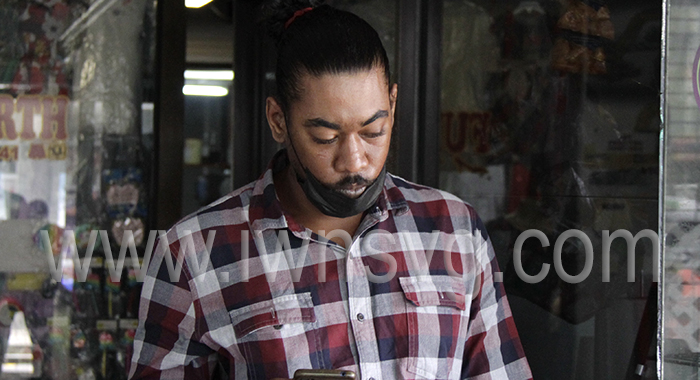 "My sister needs a lot of counselling," Shaphanique said, adding that her sister used to be a jovial person but has become withdrawn and has no interest in doing anything at all.
Shaphanique said that her mother was the sole breadwinner in their rented house, where she and her two minor children, aged 2 and 7, and her 13-year-old sister live.
She said they have endured financial hardships since their mother's untimely death.
At the time of providing the statement, Shaphanique had not been working and had been served with an eviction notice by her landlord.
In the statement, she said, "All I need is some compensation to repair the roof so that my family and I can have somewhere to live."
She said she did not know how much it would cost for the roof to be repaired but she would prefer to have compensation in the amount of EC$30,000.
Meanwhile, Shena Robertson, the mother of the deceased, spoke in an April 26 victim impact report about the mental impact of the death of her only child.
On May 20, she testified via Zoom and under affirmation read her impact statement into evidence.
The death resulted in the grandmother having to share in the financial and emotional burden of caring for her five grandchildren.
She said that her daughter's death has changed many things for the family and she is "overwhelmed" with the responsibilities she now has as the sole provider for your youngest granddaughter who has no living parent.
Shena said she has to be a support system for her oldest granddaughter from afar.
"I must respond to the challenges they have among each other, the financial and housing issues, being able to help my granddaughter with the enormous task of having to look out for her older brother who has suffered from a mental breakdown and be a mother to her youngest sister who expect that she treats and provides and act as her mother and this includes being able to provide meals and provide for the little thing the little things her mother used to do for her."
Shena lamented that the family home, particularly the roof, continues to be in a state of disrepair.
"Financially, I am no longer able to manage my own affairs and as I write this letter, I am struggling to figure out how I will balance my needs with that of grandchildren," she said.
The grandmother said she must help in many ways, including with paying rent, providing for school needs, food, and clothing and to ensure that the children of the deceased continue to have a decent standard of living.
Shena also said it was "disturbing to know that he (Mc Lean) is avoiding responsibility and showing a lack of compassion for the death of my daughter…
"I am pleading that full accountability would be accepted and not merely regarded as an accident that is over with when this case closes but sincere outreach would be made to support and help my grandchildren and I heal."
She also indicated in her oral testimony that no one apologised for the death of her daughter and no one cared for the children of the deceased.
The social inquiry report also addressed Mc Lean's socio economic, family, and education background.
Members of his community described him positively and it appears that he shared a good relationship with them and with his family, Justice Teelucksingh said.
His mother said he was "not known to get into trouble".
George Thomas, a 78-year-old crippled man, said Mc Lean lived with him for four years, and described him as a kind, humble and meek person who does not get into conflict with others.
Thomas said that Mc Lean would cook meals and provide personal care to him.
Similar sentiments came from Ms Austin, Thomas' daughter, who said Mc Lean is respectful and kind and had taken on the responsibility to put on "a subsistence fatherly, supervisory position over three children" who had been adopted and reside in the same home of Thomas.
Several residents of Diamond said he "did not get into conflicts or trouble with the law nor was he known to create any disturbance".
A retired prison officer, who knew Mc Lean as a youth, vouched that he had "an exemplary character" and was "helpful and assisted persons in the community when requested".
One of Mc Lean's work colleagues described him as a good person, and the owner of the mechanic shop where he worked described him as a cool person who does not get into trouble and shared an amicable relationship with his colleagues.
On May 20, when the mother of the deceased appeared via Zoom, Mc Lean said, under oath:
"I wish to express my sincere feelings towards her. I am very sorry for everything that was happening but at the moment I could not express my feelings because there were a lot of threats and confrontation…
"I get to understand the problems she is going through. I don't mind if I have to compensate anyone for their troubles. I am truly sorry for everything that has happened. If there is a way to make it right, I will do my best."