Journalist Kenton X. Chance, who is founder and executive editor of iWitness News, has become the first Vincentian to be awarded the Distinguished Taiwan Alumni Award from Taiwan's Ministry of Education.
Taiwan's Minister of Education, Wen-Chung Pan, bestowed upon Chance the award "in recognition of his outstanding professional achievement, and his contribution to promoting exchanges and cooperation between Taiwan and Saint Vincent and the Grenadines".
On Monday, Taiwan Ambassador to St. Vincent and the Grenadines, Peter Sha-Li Lan presented the award on behalf of his country's government during a ceremony at the Taiwan Embassy in Kingstown.
Chance is one of 10 people globally to have received the award this year and Lan noted that he is one of only two of the recipients who operate their own business.
"… I believe that Mr. Chance is the only one of the two who represents the area of the Caribbean. And, also, I have to say this is the first time a Vincentian got this award," Lan said.
He said that Taiwan's Ministry of Education created the award three years ago "to have an opportunity to reflect among ourselves how well our recipients are doing" after being trained in Taiwan.
The diplomat noted that some 220 Vincentians have graduated from Taiwan universities with undergraduate, masters or doctorate degrees, and about 200 more are currently pursuing studies.
"I just took a fast glance at our recipients this year and other countries and most of them are in politics or some of them are in academics. I believe among 10 of the recipients this year, only two of them are in business," Lan said.
"So, again that makes Mr. Chance stand out because I believe the reason why our Ministry of Education was so impressed with his work is not only that he applied what he has learned during his study in Taiwan but also, he started his own business and this is very different from all other recipients who just go back to their home country and continue their career.
"But, instead, Mr. Chance took the opportunity and started his own business. So, this is a very distinguished accomplishment and we want to congratulate him and congratulate the family," Lan said, and quipped, "After all, we haven't had so many chances to meet the Chances. Right?"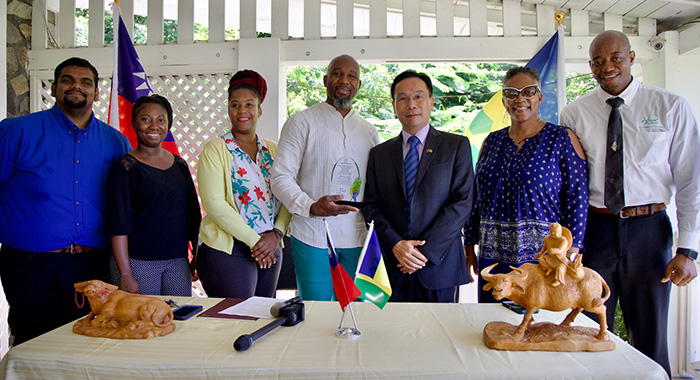 Meanwhile, Chance said he was "deeply honoured" to have been granted the award, saying that the six years he spent in Taiwan, as well as the three study tours in which he participated have been transformational.
"This award will help to motivate me to continue to be true to the training that I have received in Taiwan," Chance said.
In 2011, Chance graduated from Ming Chuan University with a Bachelor of Arts Degree in journalism and mass communication, and earned a Master of Arts in international affairs (global governance) from the same university the following year.
In 2009, he started iWitness News as a requirement for a course for his undergraduate studies and continued to operate the site as a source of news and current affairs information from or concerning St. Vincent and the Grenadines.
Today, iWitness News has grown to be one of the leading sources of news in SVG.
Chance said:
"The road that I walk professionally, in the context of a small country, where virtually everyone knows everyone else, is not an easy one. Hence, it is understandable that the things for which one is sometimes criticised at home, one is recognised elsewhere. While for some in St. Vincent and the Grenadines the debate on whether or not I am a journalist is still unsettled, the Government of Taiwan considers me a distinguished alumnus of its scholarship programme."
The journalist said that the award was "not cause to gloat. For me, it is additional motivation to remain true to my training in Taiwan and my 20 years of experience in the field of mass communication, with emphasis on journalism".
He said he often says to people that education is one of those things that once one gains it, one cannot lose it, barring injury or a degenerative disease.
"Therefore, in a sense, when one decides to educate another person, one is taking a risk, if one's intentions in giving that education are not honourable. For, as Henry Peter Brougham said, 'Education makes a people easy to lead, but difficult to drive; easy to govern, but impossible to enslave.'"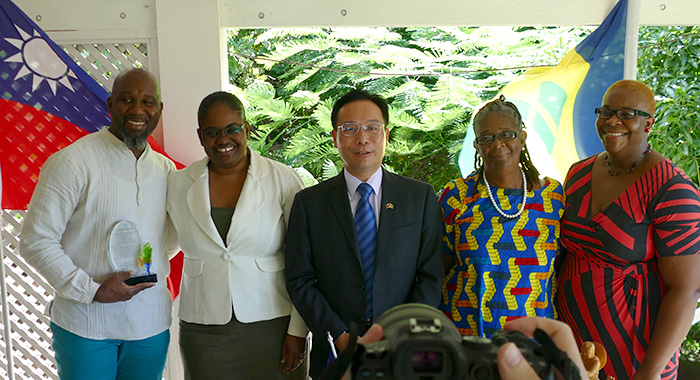 He said that the five-year scholarship he received to study in Taiwan was valued around US$54,000, every cent of which came from the government and people of Taiwan.
"However, notwithstanding the investment in my education and the potentially influential position that I hold, never once has Taiwan or any of its representatives attempted to influence, in any way, the work that I do as a journalist," Chance said.
He said that from the inception, Taiwan has always encouraged scholarship recipients to return to their respective countries upon completion of their education and contribute to the countries' development.
"To my mind, this is a demonstration that Taiwan's motive in educating people — and may I emphasise, not only citizens of its allies — is honourable," Chance said and pledged to "remain true to the training that I received in Taiwan in my respective fields of endeavour".
He said that Vincentian graduates of the Taiwan university scholarship programmes distinguish themselves in whatever field they are engaged.
"This award is also a tribute to all the other alumni and their various contributions to the development of our country and our regional and global society," Chance said.
The other recipients of the award this year are two French researchers, a professor at University of California, Los Angeles (UCLA), Belize's Deputy Minister of Climate Change and Disaster Risk Management, a Japanese advisor to an NGO, a Hong Kong resident who operates a business in education, the President of the Agriculture University in El Salvador, Saudi Arabia's former Deputy Minister of the Hydroelectricity Ministry and a Member of Parliament in Malaysia.