The High Court has ordered three police officers and the Attorney General to pay prison officer Kenson King damages for wrongfully arresting and imprisoning him in May 2020.
In a judgment handed down on Thursday, May 4, Justice Esco L. Henry ordered that detectives Sergeant Biorn Duncan and Corporals Dwight James and Alex Primus and the Attorney General pay King general, aggravated and exemplary damages with interest at the statutory rate, to be assessed on application to be filed and served on or before July 6.
Further, the judge ordered that the defendants pay King prescribed costs pursuant to law, based on the sum stipulated by the court at the assessment stage as the value of the claim.
The detectives arrested King on the instructions of Superintendent of Police and head of the Criminal Investigations Department (CID), Clauston Francis.
King, represented by Zita Barnwell of Jomo Thomas Chambers, filed the lawsuit saying that the officers wrongfully arrested and imprisoned him on May 22, 2020. Joezelle Allen appeared for the defendants.
He claimed further that he was wrongfully detained for about 32 hours and released without being charged with a criminal offence and sued the state and the three police officers for general, aggravated and exemplary damages and costs.
Duncan, James and Primus acknowledged that Duncan arrested King. They stated that he was arrested for the offence of inciting violence and threats in relation to a Facebook post he (King) had made.
The officers accepted that King was detained for several hours pending the outcome of further investigations but maintained that the arrest and detention were lawful and they denied liability.
However, the judge found them liable.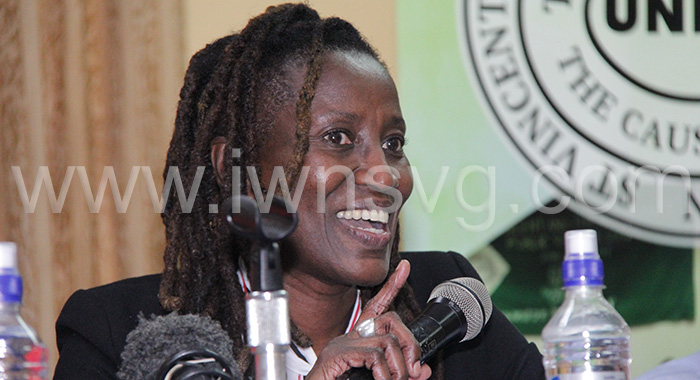 In arriving at its decision, the court considered three issues, namely, whether King was arrested unlawfully, whether he was unlawfully detained, and to what remedy, if any, he was entitled.
The court heard that King is employed as a prison officer at the prison in Kingstown, and around 8.45 a.m. on May 22, 2020 he was there, when Duncan, James and Primus met him and told him that they were there to arrest him in connection with a Facebook post he had made.
Duncan showed King a printed copy of the post and he read it.
The post said:
"See when I speak about Ralph ally does vex (sic). Now, i (sic) have an uncle named mohammed King. Some know him as Hanniffe. He has two licensed firearms. He keeps on terrorising his brothers. had to personally give him a warning in 2015. Numerous reports have been made against him by my father and now Archie his younger brother. He keeps on threatening my uncle to shoot him. They both live in the family house. Now, my uncle went to the colonaire police station to make a report against Haniffe just in the week. The police came and confiscated the guns. Now this morning haniffe can have the guns, firing shots in the air and bragging THAT HE CALLED RALPH AMD (sic) RALPH CALLED THE COLONAIRE POLICE STATION AND THREATENED THEM, ASKING THEM IF THEY GAVE LICENSE FIR (sic) GUNS TO HANNIFFE. Now you remember what happened with the nurse that Mitch killed? I know this is not gonna be a repeat of that. When i (sic) decide to take matters into my hands, i wanna see who is gonna come tell me something."
King testified that Duncan told him that he was being placed under arrest "for making a Facebook post that is liable to cause fear and alarm in the public".
He said he asked the officer which part of the post would cause fear and alarm to the public, to which he replied, the last part about Nurse Taylor.
King enquired how is that likely to cause fear and alarm to which the officer replied, "I do not know".
King was placed under arrest and taken to the Major Crimes Unit at the Central Police Station in Kingstown. About 45 minutes later, he was escorted to the CID, where he spent the night on a chair.
The next day, his lawyer Jomo Thomas visited him having already done so the previous day. King spent that second day on a chair in CID.
Around 11 a.m., Duncan asked him if he was willing to give a statement and cautioned him. King declined to give a statement and Duncan left him.
Thomas returned later that day and made certain inquiries of the police and around 8 p.m., King was released without being charged with an offence.
King also recounted to the court a May 18, 2020 incident at his home in Park Hill that he considered to be related to his arrest.
He explained that while at home, he saw a pickup containing police officers stop at his gate.
One of the officers introduced himself as Corporal Jack and told him that they had come to arrest him. He inquired what was the reason for the arrest.
Jack replied that he did not know.
When King refused to accompany Jack unless he was told why he was being arrested, Jack placed a telephone call.
King claimed that he overheard the conversation and that he was able to hear the person on the other end of the line say to Jack that he did not know the reason for the arrest.
Jack reportedly made another telephone call and then told King that he was being arrested for violating various sections of the Cybercrime Act.
King asked which sections to which Jack responded that he did not know.
King then telephoned his attorney and allowed her to speak with Jack. Barnwell notified the officer that if he was unable to state the reason for the arrest, King would not accompany him. The police officers left at that point.
King admitted that he made the Facebook post but denied that it amounted to a threat on anyone's life or that he thereby threatened to murder or kill anyone.
He expressed consternation that he was still detained for 32 hours to facilitate ongoing investigations despite his admission.
King testified that on reading the defence, he interpreted statements in it to mean that the defendants did not charge him following his May 22 arrest, because they determined after further investigations that they did not have sufficient evidence to charge him.
He stated that to be required to sit for about 32 hours, except when showering, was oppressive. He said that it is difficult to sleep in that position.
He told the court that the conditions were deplorable. He complained about the stench of urine emanating from the cell located about 3 feet from where he was required to sit and said that it was an assault on his dignity and integrity and was degrading.
He said he was embarrassed and distressed.
King testified that the police never inquired whether he had a gun and they conducted no search of his house for weapons.
He denied being told by Duncan, James or Primus that he was being arrested on suspicion of threatening to commit the offence to kill or murder anyone or other offence as asserted by them in their defence.
He stressed that his right to liberty must not be treated lightly or with scant regard.
King argued that the police did not protect his right to liberty and he stressed that the defendants must not be allowed to abuse their power and arbitrarily take away his liberty.
In his opinion, he was punished for expressions that do not amount to a criminal offence.
King maintained this stance under cross-examination. He also said that the name "Ralph" in his Facebook post refers to the Prime Minister of St. Vincent.
He denied that the words "taking matters into my own hands" are a reference to him murdering someone.