A Layou farmer has lost his farm hut and is at risk of losing four heads of cattle which were inflicted with burns last Saturday, Aug. 12.
"They just burnt it. Burned down the place and burnt the cattle," the farmer, Roger Patterson, 48, told iWitness News on Thursday at his farm in Levet, in the mountains above the Central Leeward town.
He said he received word of the destruction of the structure and injury of his animal last Sunday.
Patterson told iWitness News that he stayed at home last Saturday because he was feeling unwell.
"The morning, a CWSA worker sent a message saying that someone had burnt down the building and burnt the cattle. When I came up Sunday morning, I fainted then went home," Patterson told iWitness News in the Vincentian vernacular as he walked away, apparently in an attempt to stop himself from crying.
"I have to cry every day," he told iWitness News, adding that the incident has affected his ability to work.
He noted the weeds among his crops and said that the incident hurts his feelings.
"Burned down this and burned the cattle. This is not good," he said.
Patterson said that he has no idea why anyone would want to hurt him.
"I don't get into fights with anyone. I don't want to be in police stuff and have so many grandchildren going to secondary school and I have to sell my crops and animals to pay for people (who I might get into trouble with)," he said.
"People are just grudgeful, as the veterinarian said. 'Roger, they begrudge you. Keep your eyes on people in the mountain'," he quoted the vet as saying.
Patterson showed iWitness News the four heads of cattle, including a large bull and a heifer, that had what appeared to be chemical burns on their skins. He said that the bull is blind in the right eye as a result of the injury.
The four animals were tied over a relatively large area of the mountain, where Patterson rears more than 20 heads of cattle.
He said the shed contained feed for his pigs, sacks of manure, cocoa beans, spray cans and other farming implements.
Patterson said he has been farming for "donkey years – since my grandmother was alive.
"I ran away from school and used to be around my grandmother."
He said that because he was ill, he asked the police to come to his home but they did not.
"Up to now, I ain't seen a police officer," he said, adding that only the veterinarian came.
"Look at the state of this," he said of the bull with the injured eye. "I don't know what they sprayed them down with but they want to get rid of them," Patterson said.
He said the situation was "a big issue in the country for the government" and had the vet not visited, the injured cattle might not have been able to even stand.
"The vet told me what to buy and to throw seawater on them," he said, adding that it is not easy to tote seawater every morning.
Patterson said he has to manually carry the sea water to the mountain as he does not have a vehicle. He said his son and grandchildren help sometimes.
He said there are other farmers with cattle in the area but only his cattle were injured.
Patterson dismissed the possibility that the injury to the cattle might have been natural.
"Cattle do not have these types of skin conditions," he said. "Cattle do not even want a fly on them, much more a cut."
Patterson said the vet indicated that the cattle might recover and he must continue to pour seawater on the burns and apply a spray and to contact them if the animals become worse.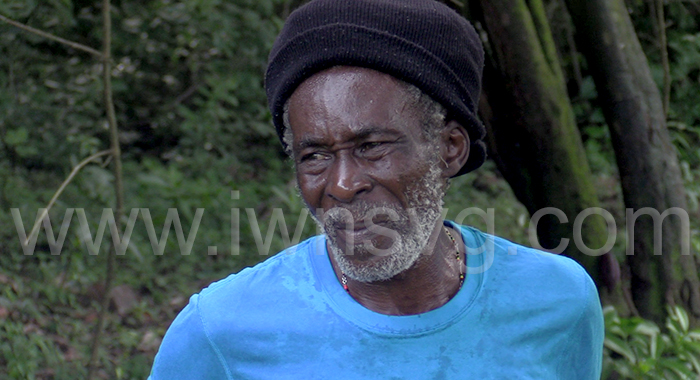 By the time Patterson showed iWitness News the last of the injured cattle, it was too much for him.
As he approached the animal, he seemed optimistic that it was improving, noting that it was eating.
However, when he chased the animal, a young bull, out of the grass where it was feeding, it appeared to walk with a limp on the front right foot.
The animal has a large injury running along its neck and right shoulder, which was oozing and smelly.
"Look at how that injury has opened up," Patterson said. "Let us go! Take me out of here,' Patterson said, as he once again seemed to be trying to contain his tear.
"Jahhhhh!" he shouted "Look at how the cattle's injuries are bursting open," he said.
"That stinks now. I have to call the doctor," he said as he walked away before turning back briefly to look at the injured animal.
As he walked back the direction from which he had come, Patterson said his mother taught him never to give up, no matter how much others fight against him.
He said his grandmother also taught him this, which he has passed on to his children.