Curacao's Minister of Tourism and Economics Ruisandro Cijntje is sending a message to the people of St. Vincent and the Grenadines (SVG) to expect a major boost to the tourism sector and by extension the economy when Sandals Resorts opens its new hotel in Buccament Bay early next year.
Sandals Royal Curacao was opened in mid-2022 and is the newest Sandals hotel outside of Jamaica, until the St. Vincent resort opens its doors.
Minister Cijntje, who was at the time attending the 2023 Caribbean Showcase of the American Society of Travel Advisors (ASTA) in the Turks and Caicos, said one immediate impact of what he calls the 'Sandals effect' will be the opening up of the lucrative North American market.
"I think they can expect a lot of Americans coming their way, we have experienced that in Curacao and I think they will experience that also in St. Vincent," Cijntje said.
"Sandals is very aggressive in promoting, marketing not only the resort, but the whole island. They want to let people know more about the people and island where they are heading. We have experienced that in Curacao, and we are so happy with Sandals in Curacao."
The minister added that there will also be a tremendous impact on training and development for the local human resource pool.
"People are getting all types of training, (they get opportunities to) go abroad, to go to Jamaica and other Sandals hotels all over the region to get more experience. They will prepare them very well and make them real professionals, which they bring back to the island."
Over the past two years. several people from SVG have already been given the opportunity to travel and train at a number of Sandals hotels throughout the region.
Shakeen Antoine, of Camden Park in St. Vincent, now works in the Food and Beverage Department at Beaches Turks and Caicos.
She looks forward to sharing all that she has learned with her countrymen and women back home.
"The experience here has been very knowledgeable; I learned a lot. I never worked in the industry before so it's actually a first time thing for me. The experience has been great for my development."
Antoine said it can be hard work but commended the resort staff for the support they have extended to her and other Vincentians now working at Beaches TCI.
"They have been pushing me to be a better person and be more out there. I have also been doing online courses which the company provides for the staff, which helps us to be more into the industry and learn more about your work. So you can be even better for yourself, and you can also teach your colleagues. From where I sit, this is now a level 10."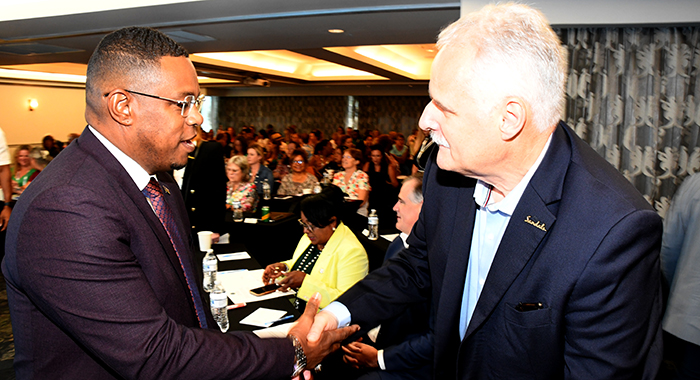 One person who has taken maximum advantage of the Sandals Corporate University online courses has been Seon Baptiste, of Maurice Village.
Baptiste works as a bartender at Beaches Turks and Caicos and says he is the best at the job. He has also benefitted tremendously from his Sandals experience.
"I've already worked all of the bars, and I see this as a great opportunity for other Vincentians. The online courses, they expand your mind a lot. I've already done supervisory skill builders, guest service goals, its's too numerous to mention, I did so much already. Being here has taught me to effectively manage my workspace."
When asked about what Vincentians can expect when Sandals opens in Buccament Bay, Baptiste said, "It's gonna be a boom! Boom, boom, boom!"
During the Aug. 28 to 31 convention in the Turks and Caicos Islands, Chief Executive Officer of ASTA Zane Kerby, expressed his confidence in the regional tourism sector, and pointed out that the Caribbean is now the second most important outbound market for the United States.
"The Caribbean is the second largest outbound market from the United States and for the last two years it's been the top outbound market for overseas travelers from the United States. Western Europe has taken its crown back, but this is still a place where there is enormous demand. In fact, I'll go on record and say 2023 has seen the highest record travel of Americans to the Caribbean in US history."
Stressing on the critical role travel advisors play in helping to direct visitors to places like SVG and the region as a whole, Kerby went on to declare that the Caribbean has no better partner than Sandals Resorts.
"Sandals is the only Fortune 500 brand to come out of the Caribbean, they are a major player, not only as a brand but a major employer in the Caribbean. The brand is extremely strong in the United States, it has very positive associations and it's no wonder why so many of our travel advisors joined us here this week."