A lawyer has commented on the latest promotion in the police force, saying that the constabulary would continue to lose good officers, unless promotions are done based on merit.
"Have you seen the list of promotions?" the lawyer, Grant Connell said at the Serious Offences Court (SOC) on Monday.
"I don't even know if to respond to him being in the SOC this morning," he said in reference to summary prosecutor Shamrock Pierre, who has over 20 years of service and has been an acting corporal for more than six years.
Pierre and acting Corporal of Police Corlene Samuel, who is the main prosecutor at the Kingstown Magistrate's Court, were not among officers who moved up the ranks.
Also notably absent was Corporal Lafleur Williams, who was Policewoman of the Year 2022, and detective Sergeant Biorn Duncan, who was Policeman of the Year 2022 and was adjudged the second best crime fighter from 25 member countries in the region for 2022.
iWitness News understands that some senior officers are displeased with Pierre for failing to obey "an order" from a senior officer to withdraw a charge of driving without due care and attention against a prominent retired executive.
Pierre is said to have told the messenger that on the issue of withdrawing charges, he takes his instructions from the Director of Public Prosecution (DPP) rather than his seniors in the police force.
And, when the matter came up in court and the defendant did not turn up, Pierre made an application for a bench warrant, which the court issued.
Pierre took the principled position although he had been previous passed over for promotion, allegedly for disobeying a similar "order" to withdraw a traffic charge against someone in Bequia a few years ago.
The accused in that matter went on to plead guilty to the charge.
Pierre has been assigned to the Office of the DPP for the last seven years and is responsible for prosecution within the third magisterial district, which is made up of Calliaqua, Barrouallie, Layou, Chateaubelair, Bequia, Union Island and Canouan.
He has, however, prosecuted matters in all the magistrate's courts in St. Vincent and the Grenadines.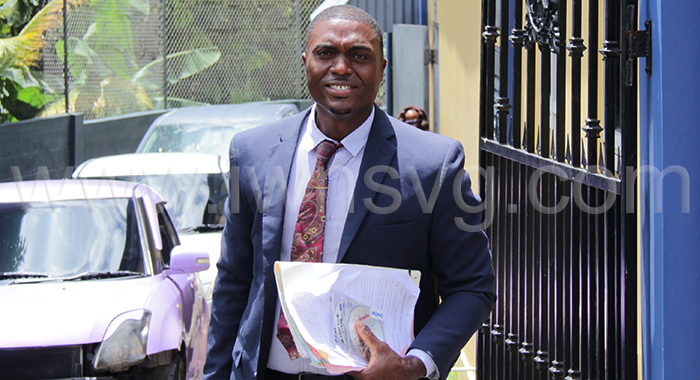 Connell pointed out to Chief Magistrate Rechanne Browne that Pierre has prosecuted at seven magistrate's courts, namely Biabou, Canouan, Layou, Chateubelair, Barrouallie, Union Island, and Kingstown and the SOC.
"Oh God and he has been acting corporal for six years and three months?" Connell said after listing out to the chief magistrates the courts in which Pierre is responsible for prosecution.
"That list has to be a joke. I have the list here. I have been looking at it all night," Connell said.
"As chief magistrate, sometimes your voice goes a long way. We have to do the right thing and do the thing right," the lawyer said.
"The magistrate cannot sit down and look at those of competence who come before them and then you see them nearly 20 years — it cannot be right. Voices have to come from everywhere. I see that list; that list is a joke," Connell further stated.
"It is a joke. I can point out some of the jokers," the lawyer said, adding that he has reasons to go to every police station in SVG.
"And every police officer can tell you that I have respect for everyone from constable right up to commissioner. I disrespect no one," the lawyer said.
"But when I see certain things and I know certain officers who do certain things. They have some in Canouan, they have some in Chateaubelair, constables, and I see some jokers here reach sergeant; did nothing but shift files. Thank God the one to his right got some recognition –Cato," Connell said, referring to Renrick Cato, the prosecutor at SOC, who was promoted from station sergeant to Inspector.
However, Cato had spent some seven years as an acting sergeant, even as he was an instructor at the police training school.
In 2020, he was promoted to the rank of station sergeant.
Connell continued:
"But somebody needs to say something. All the lawyers are quiet about it. No magistrate saying anything. All they say is, 'Prosecution, are you ready?'
"You have prosecutors who waste the court's time and those who are competent –" Connell was saying when the chief magistrate told him "Thank you."
The lawyer said he would have to ask for an adjournment in the matter that he had before the court because he was "not in the frame of mind".
The magistrate told him he would have to get himself into the frame of mind because the prosecution's witnesses were present and the court was ready to continue with the matter, a preliminary inquiry.
The chief magistrate further said:
"Suffice to say, as you were carrying on, in everything we have to keep working steadily. Sometimes things are delayed but keep working."
Connell said the problem is there are a lot of police officers who are joining the British Army.
"So, we are suffering two things. We are losing good men who are leaving the police force to go elsewhere and we are losing others mentally because they are there, they are frustrated. … O God, if you are in one position for so long and doing so much work. This man is working seven courts. He is close to 20 years
"He has other talents too. I have seen him do carpentry, masonry, tiling, etc. and when you lose good men, you force them into 20 years, take your money and run. We will use a lot of good men…" Connell said.