Prime Minister Ralph Gonsalves has accepted in Africa an honorary title akin to the one that he has opposed in St. Vincent and the Grenadines (SVG) for Garifuna, the country's exiled first people, who still consider the country as their spiritual homeland.
Gonsalves, who is of Portuguese descent, was accorded Chieftaincy title Omowale of Ota, meaning "Our son has come back home" in Nigeria on the weekend.
The title was conferred by the King of Ota in Ogun State, Nigeria, His Royal Majesty Oba Professor Adeyemi Abdulkabir after a speech in which Gonsalves spoke of the contribution of the Garifuna in keeping British colonists at bay for half a century in the 18th century.
Garifuna are a people resulting from a mix of Africans who escaped slavery and indigenous Amerindians in SVG.
Most of them now live in Central America and the United States after their exile to Honduras in the late 18th century. However, they still revere SVG — which they call Yuremein — as their ancestral home.
In 2015, then Opposition Leader Arnhim Eustace proposed that all Garifuna be declared honorary citizens of SVG.
Like Gonsalves' chieftaincy, honorary citizenship is a symbolic title and does not confer any change to citizenship or nationality.
Eustace made the announcement in New York in 2015, saying it was a first step.
"Over time, in consultation with our brothers and sisters, we can refine our programme to bring them ever closer to St. Vincent and the Grenadines," he said.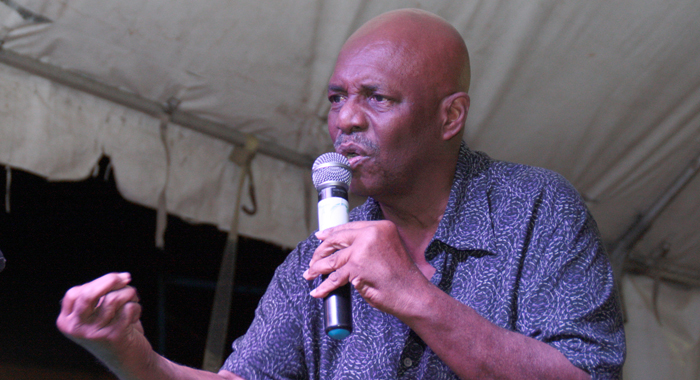 However, Gonsalves sternly opposed the proposal, saying:
"Now, it's an entirely different thing, however, if you want to tell me that wherever Garifuna is born that they must get citizenship of St. Vincent and the Grenadines.
"I do not support that and Arnhim Eustace would not support that either, so he put the adjectival 'honorary' in front of it," said Gonsalves, who has ministerial powers to grant citizenship.
"Will he also have a right to work? I want the people in East Kingstown to hear this," Gonsalves said, referring to the constituency that Eustace, who has since retired from politics, was representing in Parliament at the time.
"When you give them honorary citizenship, our Garifuna brothers and sisters, are they coming out from Belize, from Nicaragua, from Honduras, from Guatemala, they are coming out of those countries for jobs in St. Vincent?" Gonsalves said.
"They are coming for your houses? I want to know what this involves. If you are going to be an honorary citizen, the only thing I have to judge on is what you called honorary citizen before, and the only distinction there, the only thing you had to pay money," the prime minister said.
Gonsalves accepted the chieftaincy on Saturday in Nigeria, where he also spoke on Friday at Bells University of Technology of Nigeria's 15th Convocation ceremony on the topic, "Technological Emancipation of Africa and the Caribbean in Digital Space and Global Drive for Reparation".

In his speech, Gonsalves called on the students to join the fight for reparations for slavery and native genocide — including that of the Garifuna people.
Meanwhile, in his audience with the King of Ota, Gonsalves noted that West Africa, and Nigeria, in particular, has a long history with the Caribbean dating back to the early 16th century.
He said conservative estimates are that as many as 15 million people from West Africa were brought to the Caribbean as slaves, while millions more were taken to Latin America and the United States.
Gonsalves said the bulk of the original population in the Caribbean are from West Africa.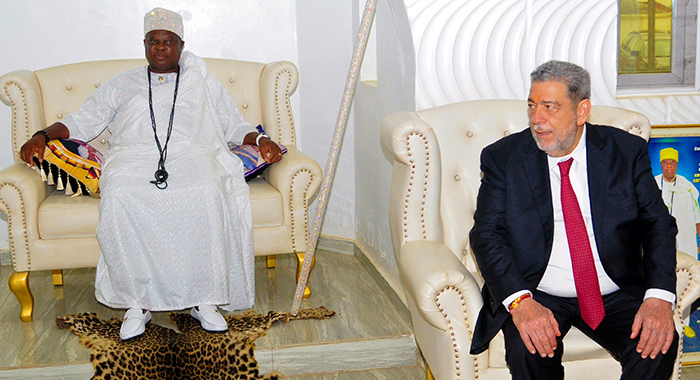 He spoke of different waves of people who came to the region, including indentured servants from Madeira — his forebears — and then from India, China and, in the 20th century, from the Middle East.
"In the modern period, we have had a lot of links with Nigeria and my government, which has been in office since March 2021 has been building these links," he said adding that that is how he got close to former Nigeria President Chief Olusegun Obasanjo, who was instrumental in his visit to Nigeria.
Gonsalves said that among the people who have come from Africa to the Caribbean in the modern period are young people who came to study at medical universities in SVG.
"We have a number of them and we are happy to have them. We are joined in a struggle together on many, many issues from the external political economy," he said.
The prime minister, however, did not mention that many of these Nigerian students are in SVG because of a change in policy in Abuja that caused them to lose government support for their education.
He noted that Nigeria, with over 220 million people, and smaller countries in the Caribbean "suffer some of the same sling and arrows of misfortune, the burdens from the external political economy while we have our own homegrown challenges.
"And I will like us very much to continue to build these links and I hope to see his majesty in the Caribbean, perhaps in St. Vincent and the Grenadines …" Gonsalves said.
PM lauds Garifuna's role in SVG's unique history
The prime minister said there are several respects in which SVG is unique in the Caribbean.
"It is the only country in the Caribbean that Africans were present before slavery…" he said, adding that slaves who escaped from Barbados, a flat country, made their home in mountainous St. Vincent.
"There was a shipwreck and a number of Africans came ashore long before Europeans established slavery in the country," the further said of the Black population in SVG before colonisation, adding that slavery in SVG was established in 1763.
"So, in my country, we experienced the shortest period of slavery," Gonsalves said, adding that while a slave society was established in SVG in 1763, Barbados had been a slave society since 163, and Jamaica since 1635.
"And our people have a strong history of resistance. In fact, our country, the indigenous people resisted British colonialism for 32 years… So, there is that tradition in us.
"The Garifuna, who are the product of the indigenous Indians who came from the Orinoco Basin in South America and the African, the Garifuna, is a special nation which has arisen out of that mixture in our country and they were very strong warriors and very resolute," Gonsalves said.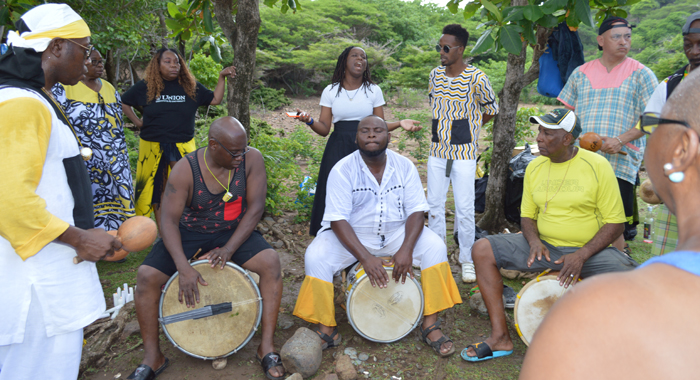 The prime minister continued:
"And when the British finally defeated the Calinago and Garifuna resistance, they carried out extensive genocide and deported large numbers to Central America," Gonsalves said, noting that there are Garifuna in Belize, Guatemala, Nicaragua and Honduras.
"And they look at our country as their spiritual home," he said, adding that the Garifuna that remained in St. Vincent were "quarantined" in a narrow part on the northeast of the island.
"So, the Garifuna also are very special."
Gonsalves also mentioned King Jaja of Opobo, an African King, who was exiled in the Caribbean, including SVG, in 1890.
"So, I give all of this in a snapshot to show you the links which exist from the past and into the present and we have to strengthen those links every more, Your Majesty. And, for me, it is a great honour for my country and of the Caribbean to be accorded this important audience. I feel blessed and I am grateful," he said.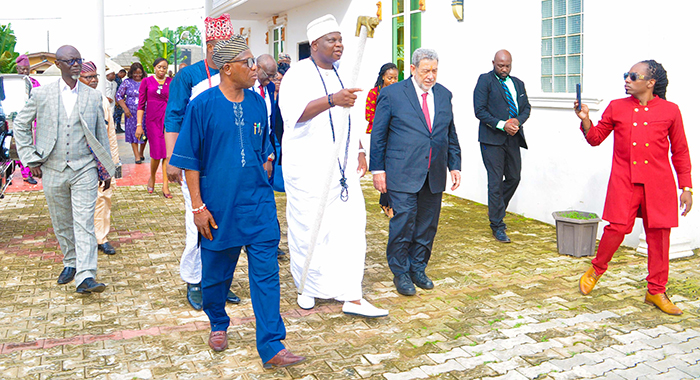 In response, the King of Ota thanked Gonsalves "for reminding us of our shared history.
"And I want to assure you that we are all students of history one way or the other."
The king said that he would visit SVG probably next year, adding that he has travelled around the world but was yet to visit Australia and the Caribbean.
Meanwhile the king also invited the prime minister to invest in his state.
"I can assure you that Ota is an investment destination," he told Gonsalves.
"So, feel free to do business with us in Nigeria and I am sure we also have good businessmen in Nigeria who are willing to trade with St. Vincent. So please take this opportunity here while you are in Nigeria to explore what we have. So once again, I welcome you to Ota."
At the end of the meetings, as they were posing for photos, the king told Gonsalves:
"Your excellency, today, I am going to give you a chieftaincy title. And the chieftaincy title Omowale — 'welcome back home'.
"You are like the great son of the land so we are welcoming you back home. So, definitely, I am sure we will put the chieftaincy paraphernalia together and maybe on my visit to St. Vincent next year I will be able to decorate you," the king said.