KINGSTOWN, St. Vincent, May 22, IWN – One of the two boys injured when they were struck by a car in Layou Wednesday morning has died and the other is in intensive care, the National Broadcasting Corporation (NBC) reported in its 12:30 p.m. newscast.
NBC reported that Jovel Glasgow, 4, had died, while Lenroy Adams, 6, is in the Intensive Care Unit of the Milton Cato Memorial Hospital.
Below is our original post on the accident:
Two boys injured in accident in Layou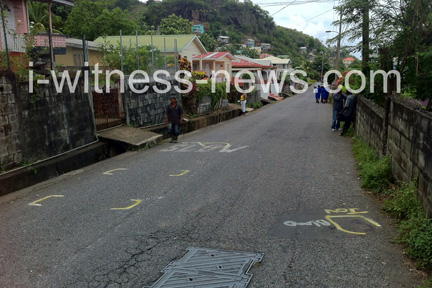 LAYOU, St. Vincent– Two boys, ages given as 4 and 6, were taken to hospital in Kingstown after being struck by a car in this Central Leeward town sometime before 8 a.m. Wednesday.
The boys, two first cousins, were crossing the Layou main road to return to their home after bathing at a river, town folks say.
One of the boys, who was lying on a "slow" sign in the road after the accident, had parts of his intestines hanging out.
They were both moving and police transported them to the Milton Cato Memorial Hospital, the nation's premier healthcare facility, I-Witness News was told.
A woman who accompanied the boys to the hospital said that one of them began crying as doctors attended to him.
Towns folks are voicing hope that the lads survive their injuries, even as they say too many road fatalities have occurred in the town.
Another boy, a brother of one the injured boys, was unhurt.
The car was driven by a female resident of the town I-Witness News understands.
Residents, while not commenting on the mishap, complained to I-Witness News about vehicles speeding through the town, notwithstanding the "slow" signs on the road.
Last year, two men from North Leeward died after being struck by a car while walking along a road in the town.