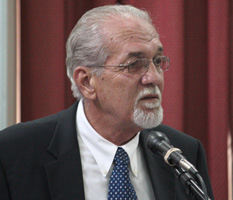 A government senator and two pilots discussed landing an airplane at the Argyle international airport construction site in August 2011 but called off the stunt after it rained for two days.
Senator Julian Francis, who is also Minister of Transportation and Works, revealed the plan in Parliament on Friday.
He was responding to a statement by West Kingstown representative, Daniel Cummings, an opposition MP, that pilots were making untoward statements about the EC$652 million airport.
But Francis noted that Jonathan Palmer, whom he described as "one of the nation's leading pilots" and Mustique Airways have donated a vehicle to be raffled to raise money to help build the international airport.
"Jonathan Palmer, Mr. Speaker, is a daredevil, and so is Jerry Cordice. I am calling their names. These are pilots you can fall asleep with any part of the world, any part of the sky. They have taken all the chances in flying…" Francis said.
"In fact, Mr. Speaker, when the IADC (International Airport Development Company) was doing the ground breaking for the terminal building, if it didn't rain for two days, an aircraft would have landed at Argyle because one of those pilots done agree," Francis told Parliament.
"We went out there, we put cones on the wire, you know, Mr. Speaker. Prime Minister ain't know that, chairman of the IADC don't know it. I decide I was going to surprise everybody. But I decided in the end to discuss it. Because if something did happen, they woulda lock me up," Francis further said.
"And we decided because of the amount of silt, mud that was on the top of the airport strip, one little slide would have created a disaster. But one of those pilots was prepared to land. I had Rudy Daize already put the cone, the marking and wires that were going over, because they were going to dive under them and land down," Francis said.