Thousands of revellers partied in Kingstown during the pre-dawn hours of Monday amidst a tropical storm watch advisory for this country as J'ouvert celebrations began to take shape.
Forecasters say Tropical Storm Chantal is expected to affect the Lesser Antilles late Monday or early Tuesday morning, when Carnival activities are slated to climax.
The storm has maximum sustained winds of 35 knots with wind gusts up to 45 knots.
Some revellers in Kingstown told I-Witness News that they were aware of the advisory while others said that they did not know about it.
Others questioned the authenticity of messages about the storm circulating via instant message on mobile devices.
The National Hurricane Center in Miami, Florida said at 3 a.m. Monday that the government of Barbados had issued a tropical storm warning for Barbados and Dominica and a tropical storm watch for St. Vincent.
The government of Saint Lucia had issued a tropical storm warning for that country, the advisory said.
A tropical storm warning means that tropical storm conditions are expected somewhere within the warning area, in this case, within 24 to 36 hours. A tropical storm watch means that tropical storm conditions are possible somewhere in the watch area, in this case, within 24 hours, the National Hurricane Center further said.
It said that the centre of the storm was located near 9.8N, 47.2Wand was moving toward the West or 275 degrees at 23 knots.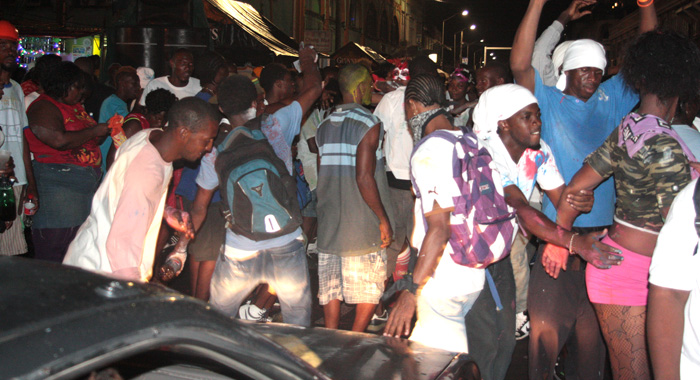 The National Emergency Management Organisation (NEMO) in Kingstown announced the storm watch on its Facebook page at midnight Sunday.
The warning came as patrons attended Dimanche Gras at Victoria Park, Kingstown, and as others prepared for J'ouvert in the capital. .
NEMO, in a press release published on its Facebook page at 1 a.m. Monday, said the storm watch was issued at 11 p.m.
But while NEMO urged all residents to activate their disaster response plans and to heighten preparation for the possibility of adverse impact by this weather system, no announcement was made to patrons at the Victoria Park or via the many sound system throughout the city.
I-Witness News understands that the storm warning was also announced on state-owned radio.
In addition to J'overt, there are the Monday Street Party, and Mardi Gras on Tuesday before Vincy Mas 2013 climaxes.
Junior Carnival was postponed from June 29 to July 4 because of torrential rain.