Ten-year-old Laron Jones, St. Vincent and the Grenadines' top performer in the Caribbean Primary Exit Assessment, has even more reasons to celebrate.
The Questelles Government School student was the overall winner of the 11th Primary Schools' Public Speaking Competition on Wednesday, five days after he learnt of his performance in the CPEA.
"I am happy; it's added to my joy," Jones, who won the prepared speech category of the competition and defeated eight other competitors, told I-Witness News.
CPEA top student laughed off sister's call about results
The prepared speech was on the topic "Small Creatures, Big Threat — Stop Vector Borne Diseases".
Kayla Ballantyne of Winsor Primary School was second overall, and also won the impromptu segment of the competition.
In third place was Mikayla Friday of Kingstown Preparatory School.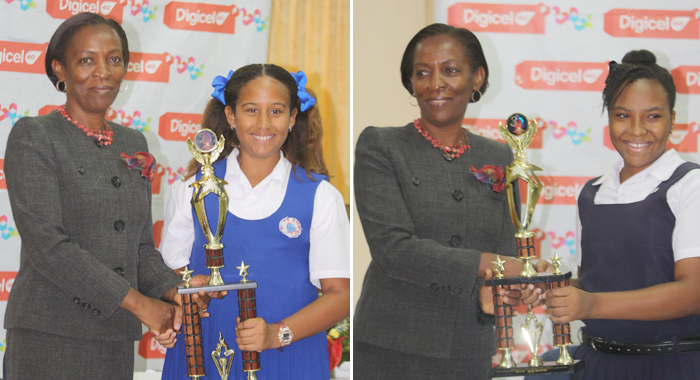 Jones told I-Witness News of his feelings going into the competition.
"Even though I went into one (competition) before, I was a little bit timid," he said of the competition, which was held in Kingstown.
"I was nervous because I hadn't gone into a competition for a while," he further told I-Witness News.
Jones said he was surprised that he won. "I went over the limit of time and it had many other good competitors," he said.
Jone said his parents, lawyer Roderick Jones and teacher La Fleur Jones, helped him with his prepared speech.
FEATURE: Parents of CPEA top performer say exam is too stressful
One of his teachers, Kelita Commissiong-Jones provided impromptu questions for him to practise.
Jones, who will attend St. Vincent Grammar School in September, told I-Witness News he plans to travel to Trinidad, Tobago, Grenada and Union Island during the summer vacation.
The other competitors were Xaverna Black of Evesham Government School, Oslya Ollivierre of Bequia Anglican Primary, Kyla Rawlins of Marriaqua Government School, Zunia Baptiste of CW Prescod Primary, Angelica McDonald of Belmont Government School, and Jaydel King of Barroullie Government School.
Paget Farm Government School was the 2013 Public Speaking Champion.