As at midday Thursday, political activist, Sehon Marshall was not yet confirmed as this country's Deputy Consul General to  New York, but Minister of Foreign Affairs, Sen. Camillo Gonsalves, told I-Witness News that Marshall was the government's choice for the position.
"Mr. Marshall's name was submitted to Cabinet, Cabinet has approved the name and it has been sent forward to the Public Service Commission to go through its regular processes. As of now, I am not aware that they have formalized their processes, and Mr. Marshall has not as yet signed a contract," Gonsalves said.
The post became vacant in February, when former Seventh-day Adventist pastor, Edson Augustus, was fired for taking money from persons in the United States and promising to help them source US Permanent Resident Cards ("Green Cards"), the government said.
"… there are many a slip between cup and lip, and it has not been finalised," Gonsalves said of Marshall's appointment.
"It is unfortunate that it is already in the public domain and I would like to wait until everything is finalised before I make any formal announcement in that regard," he said.
Controversy
Marshall is going through the formalities of becoming a diplomat at a time when he is being criticised by Vincentians at home and abroad for comments he made about Vincentians in the diaspora.
Speaking on a radio programme within the last two weeks, Marshall said that before the Unity Labour Party (ULP) came to office, civil servants used to quit their jobs and migrate to the United States to become nannies and dog walkers.
"I want you to tell me since the ULP has taken over in 2001, which teacher, which nurse, or which policeman has resigned his or her job and gone America to babysit people children or walk people dog?" said Marshall, who taught school from 1991 to 1999.
"The reality is that these people are there in the USA right now, they are in Canada right now, and the people they left here in the same jobs are better off in St. Vincent than those persons in the US.
"… These people in St. Vincent and the Grenadines can buy a ticket and go to New York, even if they have to take a small loan from Teachers' Credit Union or GECCU and so on, and go up and come back for summer, but those individuals, a lot of those individuals who left in those times — and they left as teacher, they left as police, they left as nurses, they went up and they did less than illustrious jobs — they can't even afford a passage to come back home. Some of them have never come back home, and that's a fact," Marshall said.
"If those persons who left, if you were to do a comparison between a number of them — not all of them, of course – a number of those teachers who left and went to the US and Canada and so forth and those teachers who stayed, you will well find that the teachers who stayed are in a much better position than those who resigned their teaching jobs and left. They have property, they have vehicle, a lot of them have gone on and done the BA too — they have a bachelor's and so forth.
"A number of our diasporans, they have not been able to do a lot in terms of even self improvement, so that if they come back now, what they will have is probably the same couple subject of the School Leaving Certificate with which they left St. Vincent and the Grenadines. That is the point I am making, and I not trying to create a division. So, even in the US where they went, even in Canada where they went, times are hard; a lot of it is because they are not straight, some of it is because they have not upgraded themselves, but the reality is, if you were to do a comparison with the professionals they left here doing the same teaching jobs and themselves, a lot of them will realise that "maybe if I had stayed I would be better off,"" Marshall said.
'I have not heard the comment'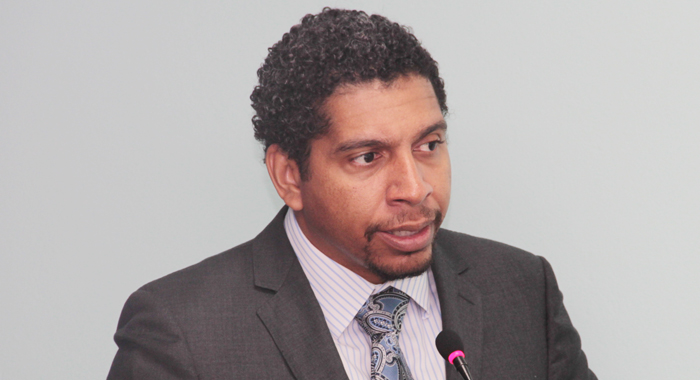 Gonsalves, who was overseas at the time of the radio programme, told I-Witness News on Thursday that he has not heard Marshall's comments.
"I have not heard the comment so I don't want to comment on the comment because I haven't heard either the actual words that were used, or the context in which they were used, so I don't want to comment.
"What I will say is that I have lived in various Vincentian diasporas at one point or another in my life, most recently in the New York diaspora, and I know there are Vincentians in the diaspora in New York, in Canada, in England, all about, from all walks of life, from all professional backgrounds, but two things unite them: one thing that unites them is their sense of home and being a Vincentian, and the other thing that unites them is their desire to work hard and to better themselves and their families' lives, and I think those are two features that are universal among members of our Vincentian diaspora," said  Gonsalves, a former ambassador to the United Nations.
"I think the role of every member of our Vincentian diaspora should be celebrated, because to get up and leave your home to go to a foreign land to try to better yourself or your family is a very brave act, it's a noble act, and I want to salute every member of our diaspora and say that the government of St. Vincent and the Grenadines is willing to partner with you not only to develop St. Vincent and the Grenadines but to try to make you life in your adopted homeland easier and more fruitful," the foreign affairs minister said.
Marshall recently completed a Master of Arts degree in international relations and affairs at Khazar University in Azerbaijan.
He is a former co-host of the "Morning Scoop" programme on the ULP-owned radio station, Star Radio.