St. Vincent and the Grenadines (SVG) in mid-October denied entry into its territorial waters an oil tanker that had two crew members who were exhibiting symptoms of Ebola.
Prime Minister Ralph Gonsalves made the disclosure to Parliament on Friday as he elaborated on his comments in Cuba on Oct. 20 that this country, like the rest of CARICOM, is not prepared for the possible arrival of the virus.
The latest outbreak of Ebola began in West Africa, where it has claimed more than 4,500 lives, and has since reached the United States.
Gonsalves told Parliament that around 7:30 p.m. on Oct. 14, he received a call from Permanent Secretary in the Ministry of National Security Godfred Pompey saying that an oil tanker, the Noble Spirit, was off Jamaica and but was denied entry there because two Filipino, who boarded the tanker at Houston, Texas on Oct. 10, had high fever and vomiting –two of the symptoms of Ebola.
Gonsalves said the tanker was scheduled to call at SVG at 11 p.m. that same night.
Gonsalves, who is also Minister of National Security, said he instructed the Coastguard, the Signal Station and all the relevant agencies that the vessel would not be permitted to enter the waters of SVG.
"It turns out that when it came down from St. Lucia, we allowed it innocent passage, it changed its course and went to Barbados, and was not allowed to land in Barbados."
Gonsalves told lawmakers that he didn't consider it "necessary and desirable to talk to the people about that — certainly not at that time."
He said that from the outside the water of Barbados, the vessel went to Equatorial Guinea.
"Mr. Speaker, Honourable Members, you see the potential for harm. It (Ebola virus) would be on any vessel, which comes in at any place in our archipelago of islands.
"So, I can't start to talk about complete readiness until I have that sorted out in every respect. I am at a particular level of readiness, but not as yet at a level which I could say we are fully prepared; I can't say that. No place in the region, and the great United States of America, it is for you to judge, not me, with all their resources, as to whether they were prepared."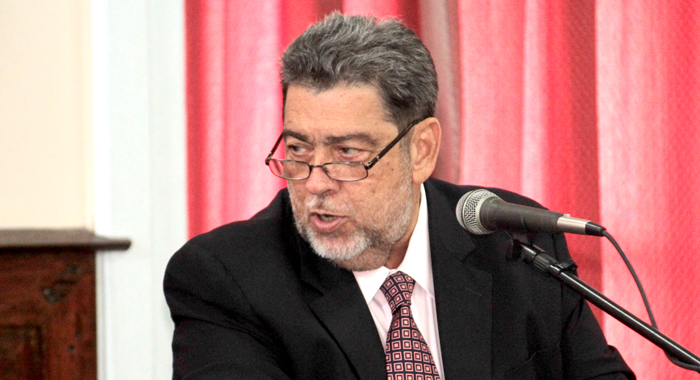 Gonsalves said he was informed by the communication department of the Office of the Prime Minister that because he told the ALBA Ebola summit in Cuba on Oct. 20 that SVG and the rest of the Caribbean, except Cuba, are unprepared for Ebola, it has been taken "as something that we are not doing anything.
"But we are doing far more than other countries in the region, certainly in the OECS. That is why what we have done, the OECS conference recently has adopted what we have done as the template in going forward with Ebola," Gonsalves said.
Related: SVG unprepared for Ebola – Gonsalves
"But, Mr. Speaker, if I go to a conference, an ALBA conference on Ebola, am I going to go their with any false pride and say 'We have been doing remarkably well, we don't need any assistance, we can handle things on our own'?
"Well, I would be a complete and utter fool and I would also be dishonest," Gonsalves said.
He noted that SVG has 25 points of entry, which have to be monitored.
"And the point I was making at the ALBA conference is that we are an archipelagic state. We have in St. Vincent and the Grenadines, here in the Caribbean, a greater problem than any country here in CARICOM save and except the Bahamas. They have more island on which people are inhabited than we have."
He said the government has to cover each of the inhabited islands of SVG.
Gonsalves also told Parliament that in his presentation to the Ebola summit, he made the point to the World Health Organisation and the Pan-American Health Organisation, that in setting out their guidelines, they need to take cognizance of that fact that "not one size fits all sizes".
Gonsalves also noted that on Aug. 29, SVG banned entry for anyone coming out of Guinea, Liberia and Sierra Leone.
"Well that is not strictly embraced by the WHO and we put in a regime of requiring a PCR Ebola test for anybody who leaves Nigeria, and you must have that test for no earlier than seven days after you have left the country," he said.
Gonsalves said SVG has put those things in place while the government is doing the education, training, and setting up the systems internally.
"We have to be on guard, and we have been vigilant from the beginning," he told Parliament.