By E. Glenford Prescott
The Windward Islands Volcanoes, despite top quality performances with bat and ball from all-rounder Alston Bobb, crumbled in ashes when they went down to host Jamaica by 13 runs in the final half hour on day three in their first round Professional Cricket league (PCL) on Sunday at Sabina Park.
SCORES: Jamaica Franchise 208 & 161, Windwards Volcanoes 110 & 247.
Bobb, who has been one of the top players at the local and sub-regional levels but has found it tough to hold a regular place in the Windwards team despite out performing all rivals, came into his own with a man of the match performance that included an 11-wicket match haul and scores of 36* and 39 in a losing cause.
The diminutive Vincentian left-hander has been forced to sit out while St. Lucia's Gairy Mathurin partnered lead offspinner Shane Shillingford, promoted to the top position in Shillingford's absence.
Since making his first class debut in March 2009, the 31-year-old Bobb has prior to this season seen a meagre six matches in the Windwards colours. In those six matches, he has taken 12 wickets at an average of 21.92 with a best of 4/53. Those 12 wickets all came in 2014, when he was able to get three matches in the absence of Shillingford and the dropping of Mathurin.
Given the opportunity to show his class as the lead spinner in the first round match against Jamaica with Shillingford not selected, Bobb grabbed the chance with both hands.
In Jamaica's first innings, he returned his career best of 6/45 in helping to dismiss the hometeam for 208. Medium pacer Mervin Mathew assisted with 2/35. Nikita Miller 57*, Jon-Ross Campbell 46, Marquino Mindley 43 and captain Tamar lambert 30 led the Jamaica batting.
Miller and Mindley had put on 70 for the ninth wicket after the host had stumbled to 120/8.
The Windwards Volcanoes then fizzled out for 110 with Bobb hitting a topscore of 36* and Tyrone Theophile 24 getting most of the runs with 19-year-old pacer Mindley 5/35 and Miller 4/25 doing the damage.
Bobb then took his second 5-wicket haul of the match 5/48 to dismiss the Jamaicans for 161. Mathew took 3/19 with Nkrumah Bonner 41, Carlton Baugh 31 and Damion Jacobs 29 leading the batting.
Set 261 for victory, the Windwards Volcanoes seemed well on their way when Devon Smith (74) and Theophile (40) had put on 97 for the opening partnership. Andre Fletcher (15) went at 139/2 and who added 38 with Sunil Ambris (30) going at 174/3. The Windwards Volcanoes then moved from red-hot to lukewarm as 3 wickets — Ambris (30), Romel Currency (two) and Lindon James (0) — fell for the addition of 4 runs.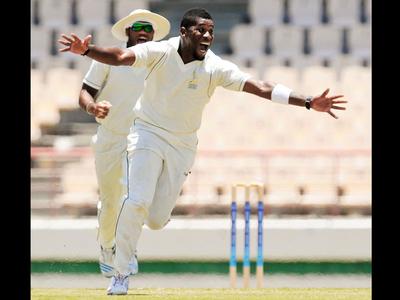 It was then left to Bobb and skipper Liam Sebastien (25) to fight a rear-guard action in posting 65 for the seventh wicket before Sebastien went at 243/7 still 18 runs short of the target. Then in dramatic fashion   Windwards tail was then cut off by the legspin of Jacobs 7/72 as they lost their last 3 wickets — Mathew (0), Peters (0) and Bobb (39) — for the addition of 5 runs, to lose by 13 runs.
It was not the first time that Jacobs had wrestled the Windwards to the ground.
Earlier this year, the 29-year-old, in only his fourth first-class game, finished with 8 for 47 as the Windward Islands crashed from 155 without loss, to 217 all out in their first innings on the third day of the Regional Four-day Final at the Beausejour Cricket Stadium.
It was the fifth-best figures by a Jamaican in the history of the modern West Indies first-class championship.