Leader of the Opposition Arnhim Eustace has spoken publicly about his feelings after seeing Edgar Cruickshank during the final moments before his death Saturday night.
Cruickshank, 68, a former South Leeward council member of the ruling Unity Labour Party (ULP), died after a car crashed into persons at an opposition New Democratic Party (NDP) meeting in Clare Valley Saturday night.
Eustace said that after the meeting came to an abrupt end, he went to the casualty department of the Milton Cato Memorial Hospital, where 10 persons were taken after the accident, including one who was given a CAT scan.
"I was there when Mr. Cruickshank breathed his last. As a matter of fact, I was standing outside of the door when the doctors worked on Mr. Cruickshank. And it had been pointed out to me, because you could see through the class, that much of the effort of the doctors was focused on his upper body. It was quite obvious that his legs were broken. It then signalled to us that something much more serious had happened in the case of Mr. Cruickshank," Eustace said on his weekly radio programme on Monday.
"And just about the time I was thinking of that, the doctor came to the door and I moved to go towards him, into the room in which Mr. Cruickshank was lying. And he simply said, 'He did not make it.' I then went into the room and saw Mr. Cruickshank lying there lifeless. His son came in about the same time about myself," Eustace said.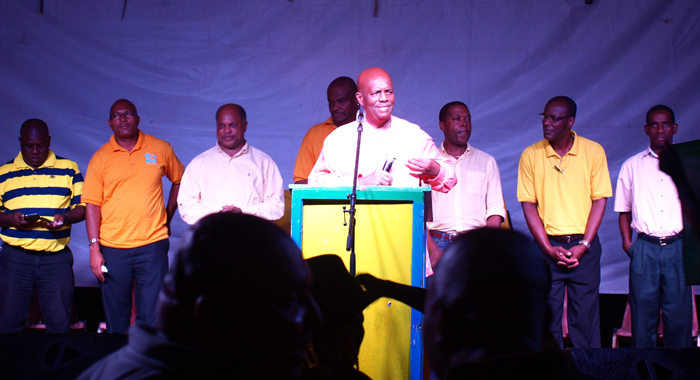 Police said on Monday that Cruickshank "was pronounced dead on arrival at the Milton Cato Memorial Hospital".
"It was a situation I would not like to see ever repeated in this country of ours. I would never like to see that again," Eustace said.
"When one thinks about the kind of reasons, which really makes you shudder, as to what we have become here in St Vincent and the Grenadines," Eustace said, noting that he had expressed condolences to the Cruickshanks and those close to them, in a statement on Sunday.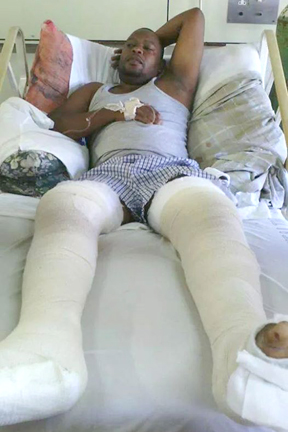 Eustace said Cruickshank's family will have "a pretty hard time accepting the reasons for their loss.
"But I urge them to remain calm and to put their faith where it needs to be put, in Almighty God," he said.
Eustace also expressed concern for the well being of videographer Orville "Ruff" Samuel who was also injured on Saturday.
"Both of his legs were broken and he has indicated to me that the doctors' forecast or prognosis is that he will need five to six months before he is able to walk properly again and that has serious implications for his general well-being and the fact that his wife is about to give birth, and he is self employed. He will not be able to work for a while," Eustace said.
He further indicated that Samuel will have to undergo further surgery for the installation of a piece of steel in his left leg.
"I really want to thank the people who were around at the time that they didn't lose their calm and undertake actions which would have caused the situation to be worse than it is. A lot of people were there and I think they demonstrated a lot of maturity at a time like this," Eustace said.
Eustace also read the following prepared statement on the programme:
"The events of Saturday, December the 6th, 2014, are of national, not just partisan significance. I do not endorse the notion that what occurred is but another battle in the political war between the NDP and the ULP. What occurred on Saturday, December the 6th, is an affront to all the people and the nation of St. Vincent and the Grenadines. I say that St. Vincent and the Grenadines will not tolerate any attack on long-entrenched freedoms, be those freedoms constitutionally derived or of the sacred, God-given variety. Each of us is bestowed by God the liberty to choose. Mr. Edgar Cruickshank made what would be his final choice in the days before his death. He made that choice and the reason therefore are known to certain Vincentians of late. While in fact he has been silenced, his story shall be told, his message shall be delivered. We need a swift and thorough investigation into this matter, devoid of political interference. An investigation has started. I appeal to all our citizens, every one of you to remain calm. I know we all have our emotions but I urge you to remain calm while this investigation is being conducted and we will push for a very swift, but comprehensive investigation into this matter."
He further said:
"I know that there are a lot of feeling out there, a lot of emotions running at this point in time, but our objective must be to get to the bottom of this issue. It has serious implications for the nation of St. Vincent and the Grenadines, very serious implications. So, my fellow citizens, I beseech you to remain calm."