A Fitz Hughes woman who was initially overlooked for a new government-constructed house after the December 2013 floods, now has a new home.
Florestine Spring, a mother of seven, lost her house in the December 2013 disaster.
For months, she, her boyfriend, four of her children, and a grandchild, lived in a building in Fitz Hughes that previously housed a village shop. The building had not electricity or water connection.
But on April 26, Minister of Housing, Montgomery Daniel presented Spring with the keys to a brand new two-bedroom house at Cumberland.
Various community groups in Canada collaborated to raise funds through radiothon, raffles, and, among others, church donations, which resulted in EC$81,700.98 being raised for construction of the house.
The SVG Adhoc Committee of Canada spearheaded the efforts.
The government of St. Vincent and the Grenadines donated the approximately 4,200 square feet of land on which the house is built.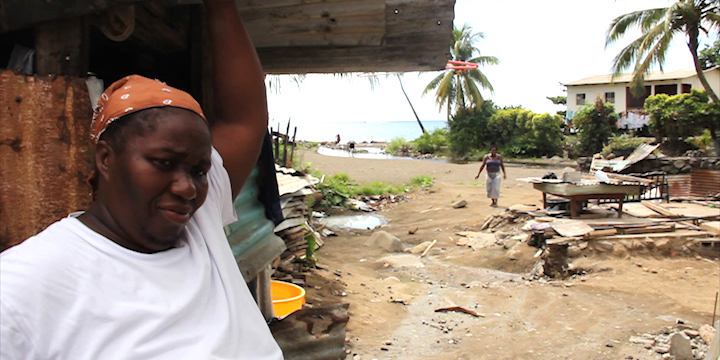 The house has 592 square feet of floor space and is constructed in the no-income style. General Manager of the state-owned Housing and Land Development Corporation (HLDC), Kenyatta Alleyne, said at the handing over ceremony.
He said the house is fully self-contained and was built in the original design of other houses in the area.
The project was executed by the Lions Club St. Vincent, which spearheaded the distribution of funds and selected the HLDC to construct the house, said club president, Michael John.
Coreas Hazels Inc. provided the tiles, grout, and thinset for the flooring of the house.
Managing Director/CEO, Coreas Hazels Inc., Joel Providence reaffirmed his company's continuing interest in the welfare of the people of North Leeward.
Providence added that Coreas Hazels Inc. is prepared to give further assistance to Spring in the event that she will need to make future extensions to her home.
Also, Providence pledged EC$1,000 to Spring's daughter, a third former at the Petit Bordel Secondary School.
The sum will provide for her educational support at the start of the new school year in September.
Also, the best performing student in the primary school exit examination in North Leeward will receive a full scholarship for five years from Coreas Hazels Inc., Providence announced.
Delivering the feature address, Minister of Housing Montgomery Daniel said many families suffered great losses in the December 2013 floods.
Disaster victim Florestine Spring denies asking for house to be rebuilt on location
He said that initially, Spring's name was not among those submitted to Cabinet for housing in the aftermath of the December 2013 floods.
This, he said, was misinterpreted and generated some media attention.
The matter, according to Daniel, was brought to the attention of Prime Minister Ralph Gonsalves who then conferred with him to rectify the matter.
Thereafter, plans were discussed to source funding for a new home for Spring.
The construction of the house began Oct. 23, 2015 and was completed on April 19, 2016.