Prime Minister Ralph Gonsalves has denied receiving a cheque for EC$5,000 from PetroCaribe SVG or PDV SVG, two companies that deal with Venezuela's oil supply initiative with St. Vincent and the Grenadines.
He further suggested in Parliament on Thursday that he would sue anyone who says he did.
Gonsalves made the denial in Parliament on Thursday, where Leader of the Opposition, Arnhim Eustace quoted what he said was the cheque number, value, account number and payee.
"Cheque number 512 issued on the 30th of April 2013; payee, Dr. Ralph Gonsalves; cash account number, 10000300; amount, 5,365.88 and similar cheques numbered 510 and 509 to Vincent Beache and Pompey in similar amount," Eustace said.
The information was revealed as lawmakers debated the PetroCaribe (Special Purpose) Fund Bill, 2016.
Under PetroCaribe, SVG and other participating countries pay for a portion of their fuel imports from Caracas upfront and keep the remainder as a 1 per cent, 20-year loan.
The loan monies are to be used to fund social programmes.
PetroCaribe has been in operation in SVG for 22 years and the government says that the legislation which it passed on Thursday is to provide for the establishment and proper administration of the PetroCaribe Special Purpose Fund and for connected purposes.
But Eustace and his opposition colleagues opposed the bill, saying that it is so wide that it is virtually a duplication of the Consolidated Fund, but without the requisite oversight and transparency.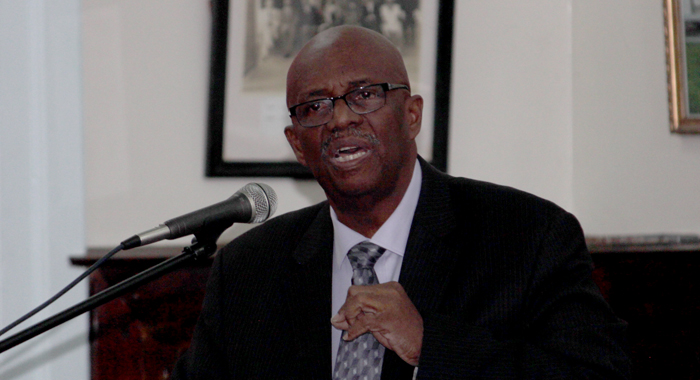 Eustace told Parliament that he has information in relation to PetroCaribe St. Vincent Ltd. that shows that in 2015 there were 386 recipients of cheques totalling $24,533,330.
"I don't know whether any of this money went in relation to debt…"Eustace said, adding that the information is not available to opposition MPs.
Eustace said he knows how the money was paid out, adding that he was "not suggesting this is a matter of corruption. I am saying that's the reality of what was paid…."
He said some of the persons and institutions that received payment, including those mentioned by the Prime Minister, were Jamaican firm, Tank Weld (EC$3.6 million); EC$2.9 million the December 2013 floods, Canadian bank note (EC$2.57 million), local firms; the Farmers Support Company; and EC$2.3 million for the Roads Building and General Services Authority (BRAGSA).
"And there are a lot of individuals," Eustace said, adding, "the point I am making is that 24 million dollars was spent in a year under this arrangement but we don't have knowledge about it because these things are not made public because you don't have any accounts for some of these special arrangements that are put in place.
He said there was an EC$200,000 payments to LIAT, EC$250,000 for housing rehabilitation; and monies paid to the Tourism Authority.
"Why are these in a special arrangement? Why can't these be part of the Consolidated Fund where you have a better control and better reporting requirements?"
Eustace said he had a "long, long list, and all this does is raise a lot of questions which should not be raised."
He said EC$1.8 million was paid to the Accountant General and EC$ 75,000 to Deane Clouden, adding that other individuals who names he would not call also received money.
"What are these things for?" Eustace said, as a voice from across the floor challenged him to call more names.
"I see monies paid for a number of people: Dennis Cain, the Cuban Embassy, Christopher Velox, Melissa DeFreitas, Murray Heights Hotel, Rochelle Forde. I see a lot of different things here being paid out of the money," he said, re-emphasising that his point is that millions of dollars are being spent without Parliament having "a clue" why.
"I can't be part of a parliament where public funds are being disbursed and we don't know," said Eustace, who, along with other opposition lawmakers was attending their first meeting of Parliament for the year.
Opposition MPs have been boycotting Parliament as part of their protest over the December 2015 election result.
"The point is this, we need to explain to the public of St. Vincent and the Grenadines what these payments are for, why you wrote 386 cheques in 2015 to 65 recipients to the tune of 24.3 million dollars. That is what you need to explain to the people of St. Vincent," Eustace told Parliament.
"And let me tell you something too, you know: I saw in the information I got for 2013, I saw payments being made to the Honourable Prime Minister on the 30th of April 2013. I don't know what they are for but I assume they are for a purpose, which has been decided. We have to know all these things so that people can't ask any questions. They must be clear because the knowledge is made available.
"I have seen payments in 2013 to Mr. Beache; to the Permanent Secretary in the Ministry of Security in similar amount, but nothing is said to the public, no accounts are provided — no audited accounts are provided.
"What am I to do when I see that kind of information? It raises questions, which should not be raised. I'm not doubting that they [may] be for a proper purpose but if we are not getting any information on how these special funds are operating, and these special arrangements, questions will be asked and I am asking them now."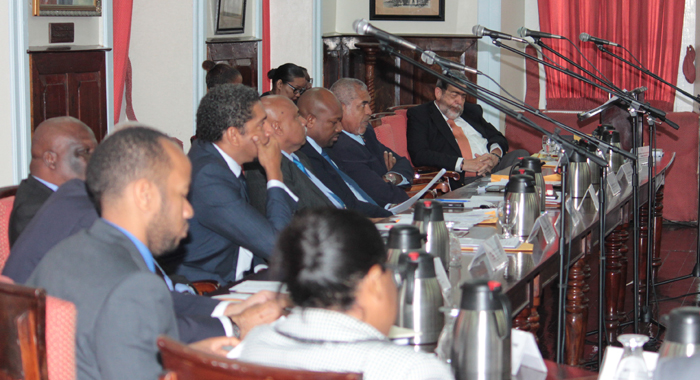 In response, Gonsalves told Eustace to read from the information he has that in relation to Ralph Gonsalves and the specific sum that was paid and for what purpose.
"… If not, there would be an insinuation that there is something improper and because there is a sum of 24 million dollars which is paid out in a particular year, you don't say that particular sum in 2013. And you will have the information for what purpose so that you can simply say that, because there will be nothing improper, I would assure you."
Eustace said a cheque was paid in April 2013 in the sum of 5,365.88 to Dr. Gonsalves and cheques in the same amount to Vincent Beache and Permanent Secretary in the Ministry of National Security, Gofred Pompey.
"How I will know what purpose? I have the sum. If you had published the information about the account, we would know," Eustace said.
Gonsalves said: "I am coming also to say I have not received a cheque from PDV Caribe – PDV SVG. I hadn't got one form Petro St. Vincent and the Grenadines, which you had said…  But I want to say to you also that I never received a cheque either from PDV SVG…"
Gonsalves said he is the nominal shareholder for the government of SVG for PDV SVG, a company in which the government of SVG owns 45 per and Venezuela owns 55 per cent.
"A meeting was held in Venezuela of the shareholders. Sir Vincent Beache and Godfred Pompey are directors of that company and we went to that meeting. No money came to me to attend that, at that meeting."
Gonsalves said if a director is attending meetings, the company will make the arrangements for him to have his accommodation and his meals.
"Sometimes they may give you the money yourself. In this case, to attend the meeting, I never received any resources for myself. PDV St. Vincent and the Grenadines, a plane came here, they made all the arrangements in relation to the hotel, the meals, internal transportation and everything. I never received one single cent for attending the meeting. But you see, the narrative which was being presented—"
Gonsalves agreed to give way and Eustace said that in the cheque register of PDV SVG for January to December 2013, the headings are cheque number, date, the payee on the cheque, the cash account and the amount.
He went on to quote the information of the cheque he said was related to Gonsalves, adding that when he made his presentation, he said he was not imputing any improper motives.
"The fact remains that we are not getting any proper information as Members of Parliament on the whole PetroCaribe issue," Eustace said.
But Gonsalves pointed out that the bill that was being debated  was about PetroCaribe and the setting up of special service fund for a company which is 100 per cent owned by the government of SVG.
'That is what was being discussed. PDV St. Vincent and the Grenadines is a majority Venezuelan-owned company. That has nothing to do with the Consolidated Fund or any loans to the Argyle International Airport, the SET Programme, to any other programme of the government.
"… You were full of mischief and you wanted to present–you were talking about PetroCaribe St. Vincent and the Grenadines and you conflated another company…" Gonsalves said, adding that Eustace said the cheque was issued by PetroCaribe SVG
He said it was not the case that he got a cheque from PetroCaribe or PDV SVG.
"I am saying to you, if I go to Venezuela and anything for PDV, they provide a plane, we go down on the plane and they put me up in a hotel; I eat my meals, they transport me; that is what it is. I don't know who have given you what information. I am telling you what is–"
But as Eustace continued to cite his information, Gonsalves challenged him to make the statement out of Parliament, suggesting that he would sue if Eustace does.
"I want you to go out and say, and prove it in the court that I received a cheque from anybody what you are talking about… I am saying to the honourable members what are the facts and to let it be known loud and clear, I never received any cheque from PetroCaribe and when I went to Venezuela in 2013 in April or May, or whatever time that was, it was to attend a meeting of which I am the minority shareholder of a joint venture company and where the expenses are paid by the company. That's all…
"I invite you to say outside — look at the Hansard and say exactly what you say here outside. I invite you to do that," Gonsalves said.