The views expressed herein are those of the writer and do not necessarily represent the opinions or editorial position of iWitness News. Opinion pieces can be submitted to [email protected]
 There is no better way to show that the completion and operation of Argyle International Airport (AIA) will do little to boost holiday visits to the mainland than to compare its current tourism numbers to those of Bequia, the first shining gem in our necklace of enchanting Grenadines islands.
Though it is only 9.3 miles (15 km) south of St. Vincent Island (SVI), Bequia differs from the mainland in several important ways.
The second largest of the Grenadines islands at seven square miles (18 sq km) and with a population of under 4,500 residents, Bequia is minuscule compared to the SVI mainland that measures 337 square miles (115 sq km) and contains a population of some 104,500 people.
There are other differences as well. Though volcanic in origin like SVI, hilly Bequia is far less mountainous and has much less precipitation than the rain-drenched mainland interior, features which have encouraged the construction of the network of roads that crisscross the island which, in turn, has permitted the construction of luxurious villas all across the land.
Table 1. Foreign Tourist Visitors, 2015
| | | | | |
| --- | --- | --- | --- | --- |
| | Stopover Air Arrivals | Cruise Ship | Yacht | Total |
| St. Vincent Island | 20,000 | 82,079 | 6,358 | 108,437 |
| Bequia | 3,303 | 13,361 | 27,593 | 44,257 |
Source: data available on request from the SVG Tourism authority
There are two even more critical differences.
Bequia has several fine (but not outstanding) white sand beaches along shallow and protected bays (Princess Margaret Beach, Lower Bay, Moonhole, Friendship Bay, Spring Bay, and Industry Bay). SVI has only three narrow mixed sand beaches (composed of pulverised white coral combined with black volcanic rock granules) along a tiny strip of land on the southeast coast at Indian Bay, Villa, and Young's Island.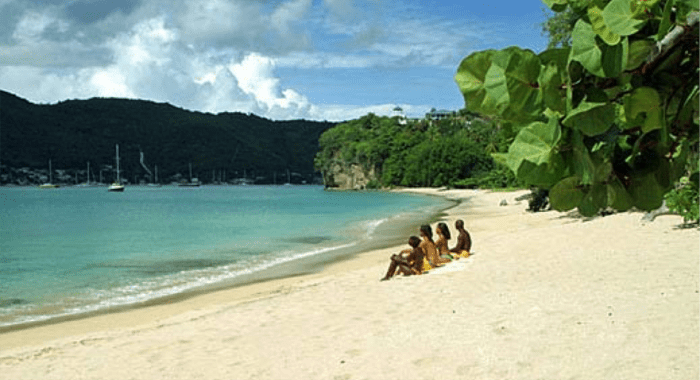 Second, SVI has a cruise ship terminal capable of berthing all but the biggest ocean liners and cruise ships. Bequia's Port Elizabeth port has no such facility.
But there are also important similarities between SVI and Bequia that are central to their comparison. First, both are part of the united country of St. Vincent and Grenadines (SVG). Second, despite an inter-island post-slavery variation in livelihood strategies (farming on the mainland and fishing in Bequia), both share a common history, language, and culture. Third, both are easily accessible by plane from international airports in nearby St. Lucia, Barbados, and Grenada. Fourth, neither has an international airport. Fifth, except for the caveat mentioned above, both have excellent sheltered harbours for receiving most types of cargo and other vessels.
The fact that the mainland receives six times more cruise ship passengers than Bequia (see Table 1 above) minimises the lack of a cruise ship docking facility at Admiralty Bay, a constraint felt especially by elderly or disabled holidayers reluctant to take a small, cramped tender to get to shore.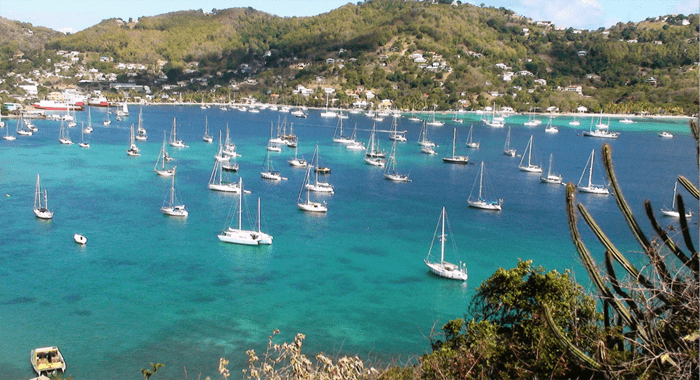 Though the data in Table 1 suggest that the mainland had twice as many holiday visitors as Bequia in 2015, this greatly undercounts the unknown number of people – a figure that surely totals in the thousands, judging from the scale and variety of accommodation available on Bequia and the non-stop daily ferry service transporting visitors between the two islands — who landed first at Arnos Vale before taking a ferry or other commuter boat to their actual destination in Bequia.
(Parenthetically, if I am correct, the grim 3,303 stopover air arrival figure for Bequia in Table 1 — nearly 40 per cent lower than those who arrived by air in Mustique — composed largely of international tourists or business people, substantiates my claims in two previous essays (not listed in the link below) that the construction of James F. Mitchell International Airport was as ill-advised as the building of a cruise ship terminal on the mainland instead of Bequia. This is because a terminal on Bequia would have attracted many more actual onshore cruise ship passengers than the Kingstown facility. This is partly because the 82,079 figure in Table 1 exaggerates by over 80 per cent the number of passengers who disembarked, an assertion I will elaborate on in a subsequent essay. Moreover, a cruise ship facility on Bequia would have provided much more overall employment and revenue because its tourist-oriented shops, restaurants, and bars would have attracted many more non-cruising visitors year round.)
The attractiveness of Bequia as a tourist destination can also be seen by combining figures from the number of rooms listed in Ins and Outs of SVG 2016, a commercial publication commissioned and widely circulated by the SVG Tourism Authority, and those listed on other Internet travel sites including the metasite tripping. This calculation yields a total of at least 724 rooms in hotels, resorts, apartments, villas, cottages, and other facilities on Bequia versus 561 on SVI. I say "at least" because many of the tripping listings, especially for Bequia, are private homes, apartments, and villas with three or more bedrooms. Moreover, it is reasonable to assume that the occupancy rate of the Bequia rentals is much higher than their mainland counterparts simply because Bequia is a much better known and attractive beachfront holiday destination than SVI.
If I am correct, then there must be at least 1,200 rental bedrooms on Bequia, or over 60 per cent more than the 750 number I estimated for the mainland using a more detailed analysis than presented here (see essay 36 by clicking on the link below). If these Bequia rooms are occupied, on average, only 60 per cent during the year — a modest figure by Caribbean tourist numbers — by two people staying for an average of 14 nights, this yields 37,440 annual hotel visitors (1,200 bedrooms x 2 guests x 26 two-week periods x 0.6 occupancy rate), again highlighting that most Bequia tourists visit by sea rather than air, once more showing how ill-advised and wasteful the construction of the self-named James F. Mitchell airport has proven to be. This figure also means that Bequia attracts nearly two and a half times more stopover tourists than the mainland in the absence of an international airport and the presence of Bequia's underused and pint-sized regional airport.
What accounts for this difference in tourism levels between SVI and Bequia? This tiny Grenadines island has several good white sand beaches, plenty of upscale accommodation, little holiday-season rainfall, exquisite coastal scenery, lots of fine dining in hotels and stand-alone restaurants, some appealing art galleries displaying the work of local artists, a few handsome boutiques, a long oceanfront walkway, and a much lower per capita crime rate than the mainland — in short, just the features that discerning beach-loving tourists longing for a relaxing and worry free vacation are looking for, attractions that are limited on the mainland.
No wonder, then, that there was an official groundbreaking on November 8, 2016 attended by the Prime Minister, the Honourable Dr. Ralph Gonsalves, and 45 local and international guests, of Firefly Villas, a Bequia Development Ltd. project, which will see the construction of an exclusive collection of 39 beachfront homes starting at US$630,000 located on an approximately 15-acre private beachfront enclave at Spring Estate (Searchlight newspaper, November 22, 2016, p. 23).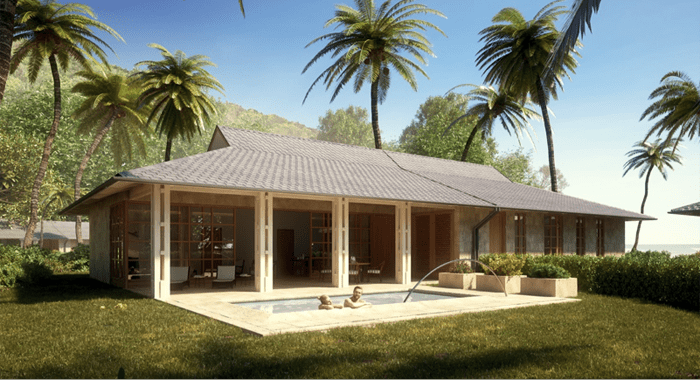 This is how the same Searchlight newspaper piece described Bequia:
"Located in the idyllic Grenadines island chain just south of St Vincent … Bequia … is treasured for its pristine white sand beaches, lush green interior, crystal clear turquoise sea that offers unrivalled diving and snorkelling and unhurried, tranquil pace of life."
Everything that applies to Bequia applies even more to the other gems – Canouan, Mustique, Palm Island, Mayreau, the Tobago Cays, Petit St. Vincent, and Union Island — in our charming chain of Grenadine islands, suggested that the keys likely attract at least four times more stopover tourists than the mainland, only a few of whom ever land at Canouan's international airport by overseas charter aircraft from the United States. So much for the need for an international airport – something Canouan has had since 2008 — to stimulate international tourism.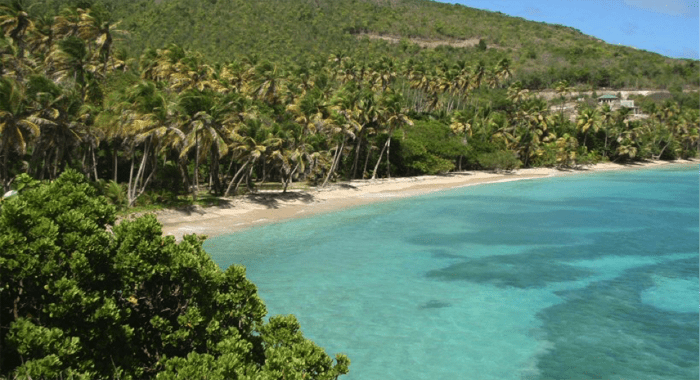 Meanwhile, we on the mainland must satisfy ourselves with three meaningless "air service agreements" with countries who citizens will never fly here and an alleged promise by a mid-sized Canadian construction company with no international experience, Pace Developments Inc., to build 50 cottages on 36 acres at Mt. Wynne on lands that various government have been trying to sell, lease, or give away for over 25 years.
The burning question is why Bequia Development Ltd., hotel builders and managers with decades of international experience, much of it in the Caribbean where they already own and operate the luxury Firefly hotels in Mustique and Bequia which are "… firmly established as destinations of choice for generations of guests including rock stars and royalty [and with] a reputation for faultless hospitality" have never been interested in investing in a project at Mt. Wynne/Peters Hope.
Ask Ralph.
***
This is the 38th in a series of essays on the folly of the proposed Argyle International Airport.
My other AIA essays may be found here.
C. ben-David